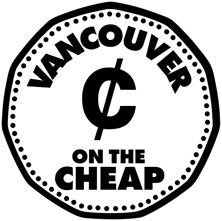 If you were to create a Venn diagram where one circle was labeled "cheap" and the other labeled "awesome", the middle point where they cross over could be labeled "Vancouver on the Cheap". In other words, this is a weekly series on things to do and places to go in Vancouver that fall into that magical category of being both cheap and awesome.
Got a cheap-living tip you'd like to share? Send it in here or tweet it to @andreaxuaxua (#cheapthing)!
Vancouver is lucky to have The Firehall Arts Centre - not only do they bring in some excellent, diverse theatre to the East Side all year round, but every summer they host the Dancing on the Edge Festival. This year's Dancing on the Edge includes a FREE performance. Called 15X AT NIGHT, the show is performed every night at 10pm on Granville Island. The show, and the festival, runs until July 11.