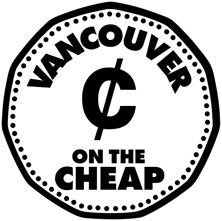 If you were to create a Venn diagram where one circle was labeled "cheap" and the other labeled "awesome", the middle point where they cross over could be labeled "Vancouver on the Cheap". In other words, this is a weekly series on things to do and places to go in Vancouver that fall into that magical category of being both cheap and awesome.
Got a cheap-living tip you'd like to share? Send it in here or tweet it to @andreaxuaxua (#cheapthing)!
We are about halfway through possibly the greatest thing to ever happen in Vancouver's food scene: a food truck giving away FREE FOOD. That's right. Just Eat Canada (a food delivery app) is trying to remind you of how many delicious food choices are out there by trucking into your neighbourhood and giving you delicious, local, free food. This is a promotional stunt that we can all get behind.
Remaining dates and locations:
Tuesday, Oct 27 - Around Waterfront Station (approx. 3:30pm - 7:30pm)
Monday, Nov 2 - Around Waterfront Station (approx. 3:30pm - 7:30pm)
Wednesday, Nov 4 - Around Yaletown (approx. 4:30pm - 8:30pm)