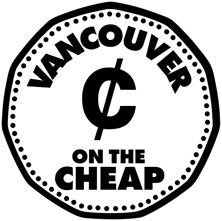 If you were to create a Venn diagram where one circle was labeled "cheap" and the other labeled "awesome", the middle point where they cross over could be labeled "Vancouver on the Cheap". In other words, this is a weekly series on things to do and places to go in Vancouver that fall into that magical category of being both cheap and awesome.
Got a cheap-living tip you'd like to share? Send it in!
A while back I had an old computer I needed to get rid of. Obviously, being a good citizen of the world, I wanted to recycle it. Imagine my surprise when I found out that you have to pay money to recycle most electronics. I mean, i get it, recycling electronics safely is expensive and there's only so much funding to go around. It was just unexpected, I mean, everything else is free to recycle, and some things we actually get paid to recycle (or technically we get our recycling fee back, but you know, a penny spent, etc.) Then I found out that many electronics recycling depots simply ship our used electronics overseas to countries without safety or environmental regulations. Not cool.
A little research, however, and I found something far better than I could have ever imagined while on the hunt for someone to recycle my dinosaur-of-a-computer for free: Free Geek.
Free Geek is a three-in-one:
One: They recycle old electronics for free in a safe and environmentally friendly way. No shipping old toxic computers off to developing nations where people with no training or safety gear are forced to take them apart bare-handed.
Two: They are a school, training people in how computers work and how to build them (handily using your old computer to do it!)
Three: They are a thrift store, selling used and refurbished electronics at amazingly low prices.
Oh, and if you volunteer and build a few computers, you get one for free. No fooling!
Here's a little video by the good folks at Free Geek, summing up their activities:
http://www.youtube.com/watch?v=uV6XPMQAHEw
A lot of the items in their thrift shop are on the older side, but depending on what you need that might not make a difference, or might even be helpful! For example, my grandmother of a computer (8 years young) needed a new power cable, but it's a model that Apple doesn't make anymore. The best I could find was almost $50 from Mac Market, or $20 once shipping was included online. I got one for $18, tax included, at Free Geek. WIN!
Plus, if you are interested in learning more about computers, you can go here and learn for free instead of paying for an expensive computer course. DOUBLE WIN!