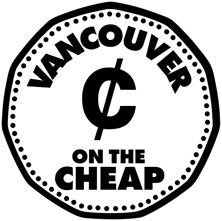 If you were to create a Venn diagram where one circle was labeled "cheap" and the other labeled "awesome", the middle point where they cross over could be labeled "Vancouver on the Cheap". In other words, this is a weekly series on things to do and places to go in Vancouver that fall into that magical category of being both cheap and awesome.
Got a cheap-living tip you'd like to share? Send it in here or tweet it to @andreaxuaxua (#cheapthing)!
To be perfectly honest, I've always been mildly confused by the Kitsilano Showboat. Mostly because it seems like a great little venue for all sorts of events, but I never really hear about it being used for anything but the occasional daytime kids show. Well turns out I was wrong, and I couldn't be happier about it! Tomorrow night there is a Penton's Alley concert happening there, followed by a fireworks viewing (complete with musical simulcast). This is part of a series of events showcasing local musicians on fireworks nights. And the evening is free, with donations accepted towards both running the Showboat and Parkinson's Disease research.
Saturday, August 2 at 7pm
Penton's Alley and Fireworks
Kitsilano Showboat - 2300 Cornwall at Kits Beach