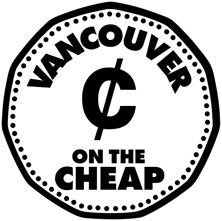 If you were to create a Venn diagram where one circle was labeled "cheap" and the other labeled "awesome", the middle point where they cross over could be labeled "Vancouver on the Cheap". In other words, this is a weekly series on things to do and places to go in Vancouver that fall into that magical category of being both cheap and awesome.
Got a cheap-living tip you'd like to share? Send it in here or tweet it to @andreaxuaxua (#cheapthing)!
Unbeknownst to most, there is a really vibrant and active dance scene in Vancouver. One culprit in the conspiracy to fill this city with dancing is the Vancouver International Dance Festival. Every year they bring local and international dance companies to the stage in venues all over the city. Now, most of the time tickets to see dance are pretty expensive, but the VIDF has you covered. They have a host of FREE dance shows running throughout the festival from March 7-29. All you have to do is buy a $3 VIDF membership (standard fare at any arts festival) and you're good to go.
Here's the line up of free shows:
Kokoro Dance - Site Specific Works (March 2 at Lonsdale Quay, March 9 at Woodwards Atrium, March 16 at Roundhouse Turntable Plaza)
Vancouver's beloved Butoh dance company is joined by the band Spring in presenting unpredictable, unique, and of the moment performances inspired by their settings.
Modus Operandi - New Work (March 13-15 at The Roundhouse)
Quirky, athletic, and full of endless character- Modus Operandi is a training initiative that grew our of Vancouver's rapidly rising Out Innerspace Dance Theatre. For VIDF, the company will be unveiling a brand new work.
Michael Sakamoto & Rennie Harris -Flash (March 19 & 20 at The Roundhouse)
A conversation in movement between two remarkable artists, Flash brings together Michael Sakamoto, a transdisciplinary creator best known for his innovative and philosophical approach to butoh, and Rennie Harris, an award winning, critically acclaimed hip hop choreographer who has served as USA cultural ambassador to Egypt, Jordan, Palestine, and Israel.
605 Collective - Leftovers/Cella (March 21 & 22 at The Roundhouse)
Members of the wildly popular Vancouver company present a pair of solo works: Leftovers, created and performed by Josh Martin, and Cella, created and performed by Lisa Gelley with a live accompaniment by Gabriel Saloman.
10 Gates Dancing Inc. in partnership with Public Recordings - Room with Sticks (March 27-29 at The Roundhouse)
Drawing upon decades of experience as a performer, choreographer and educator, and influenced by his six years of study as a monk in the Hakukaze soto zen monastery, 10 Gates' Tedd Robinson is well known for his idiosyncratic and unique creations. Collaborating with Ame Henderson and Charles Quevillon, the company returns to the VIDF with a site specific work that will transform the Roundhouse Exhibition Hall.