Each week we'll uncover some unusual and (hopefully) interesting facts about the city. This week we take on the Vancouver seawall.
1. There are Ashes Buried Inside the Seawall
Master stonemason Jimmy Cunningham worked on the seawall from 1917 until his retirement in 1955. For those 38 years, Cunningham cemented together thousands of 45-kilogram stones and supervised hundreds of workers. The seawall became his life's work and he continued to keep a watchful eye over the construction process until his death in 1963. His ashes were buried in an unmarked location within the wall when it officially opened in 1971.
2. The Seawall Officially Opened on September 26, 1971
On September 26, 1971, the seawall's last block was tapped into place by H. H. Stevens, who helped initiate the project in 1914 as a Member of Parliament for Vancouver. This marked the official opening of the seawall, however the entire loop around Stanley Park was not completed until September 21, 1980.
3. The Seawall was Proposed to Protect Stanley Park's Shoreline
The seawall was originally proposed to protect Stanley Park's foreshore from erosion, particularly between Prospect Point and Brockton Point. It was believed that erosion was being caused by the waves created by passing ships. The Park board proposed that the federal government help finance the construction because they were leasing the park land to the city. The government continued to offer financial assistance until 1967.
4. Prisoners and Sailors Worked on the Seawall
The seawall saw its fair share of workers, including prisoners in work gangs, sailors on "punishment detail" and unemployed people seeking work during the Great Depression.
5. Cycling on the Seawall Used to be Illegal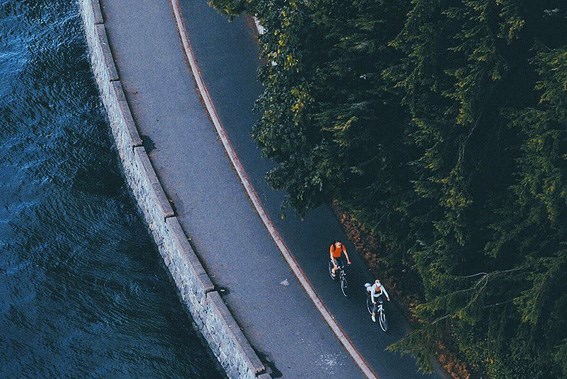 Cycling on the seawall was outlawed due to frequent collisions and rising tensions between pedestrians and cyclists. By 1976, the VPD had issued 3,000 tickets to rogue cyclists. The issue was not resolved until 1984 when the bicycle lane of the seawall was designated one-way in a counterclockwise direction around the park.
Read more from our "5 Things You Didn't Know" series HERE.