The free Magic Lantern show at DOXA was one of the coolest surprises on the documentary film festival's 2011 lineup — and it wasn't even a film.

An early Vancouver street scene, captured on a rare 'Magic Lantern' glass slide.
The 'Magic Lantern' is a Victorian-era slide projection contraption that was popular as a form of entertainment before moving pictures took over.
Strathcona resident Michael Lawlor keeps a working 100-year-old Magic Lantern projector and curates a stellar collection of glass photographic slides of Canadian and American locales — and about 90 peeks of old Vancouver that I'm not sure the city's archivists have seen.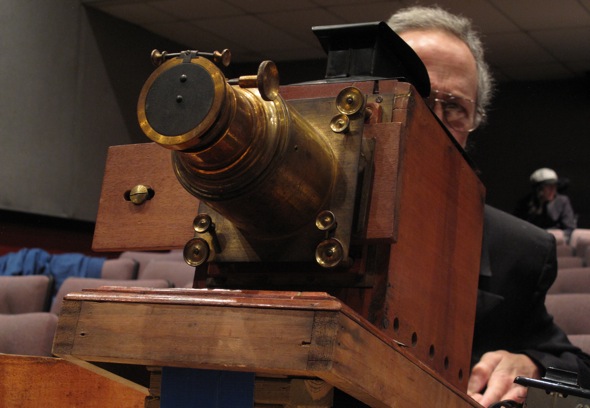 A Magic Lantern: part brass, part wood, and all magic.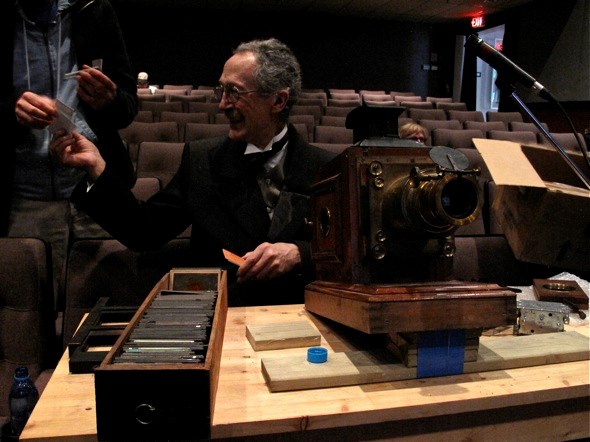 Michael C. Lawlor and his projector at the Pacific Cinematheque for DOXA 2011.

An 'animated' kaleidoscope slide, with rotating handle.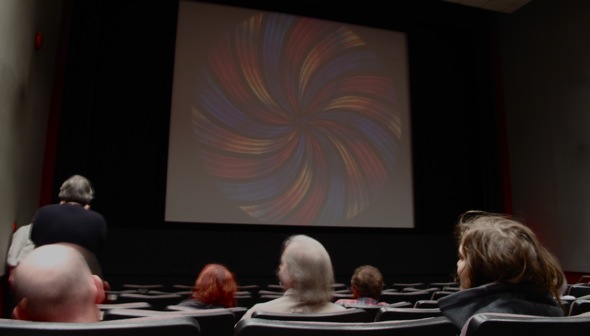 As the crowd settles in, Lawlor display colorful abstracts from the early-1900s: "These are all slides that would have been shown between movies," he said.
Lawlor brought in local historian John Atkin to provide some context and explanation of just what was being shown in the old Vancouver slides.
Keep scrolling for some highlights from the Vancouver slide set, and information about more Magic Lantern shows.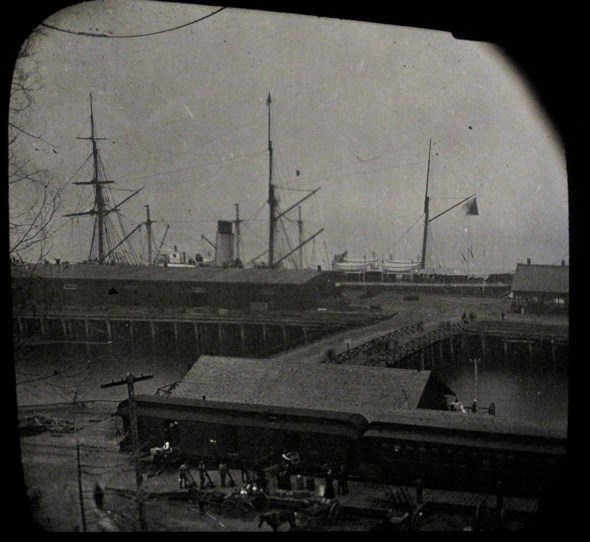 Baggage handlers handle bagged at the old CPR station (a shed), on a pier at the foot of Granville Street in the 1880s: "This is one of the very nice images that I haven't seen before," John Atkin said. "Quite rare."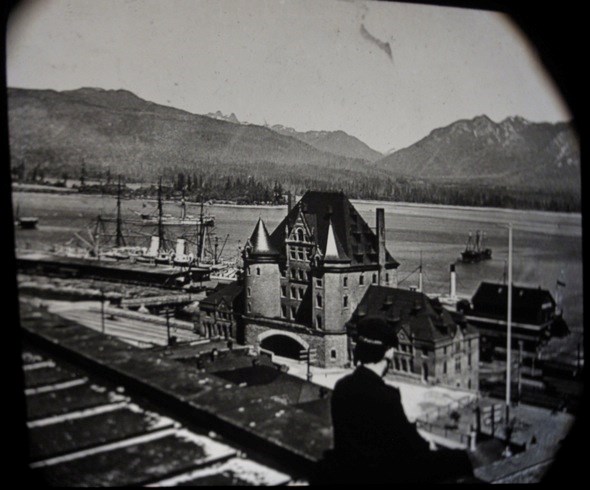 A man looks over the Chateau-style CPR station that was built in the area where the SeaBus terminal is today.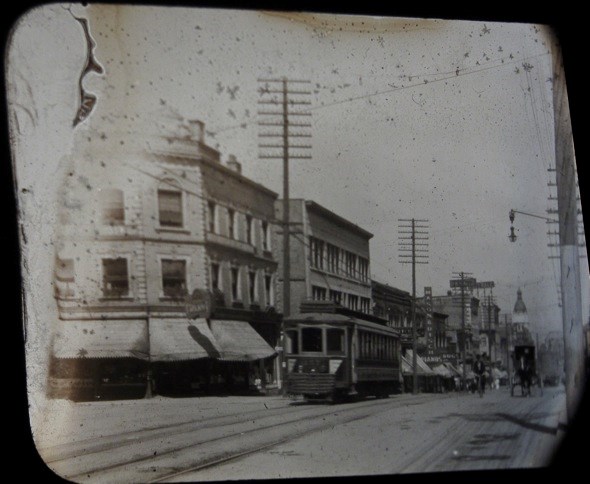 Multi-modal: A trolley, a cyclist, and a horse wagon on Granville Street, facing north, in 1893 or so.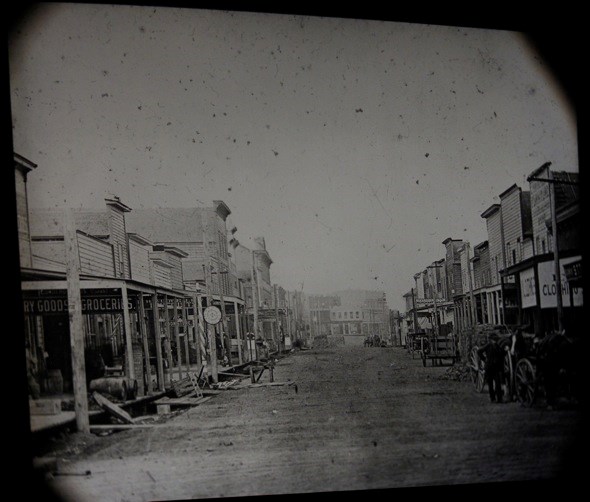 A man, his wagon, and horse on Cordova Street in the late 1800s. Note the planked sidewalks.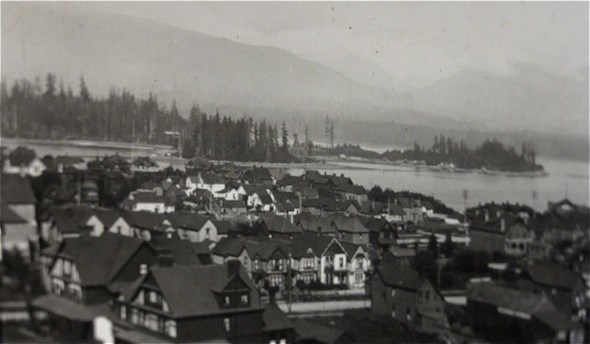 Houses in the West End, and Brockton Point.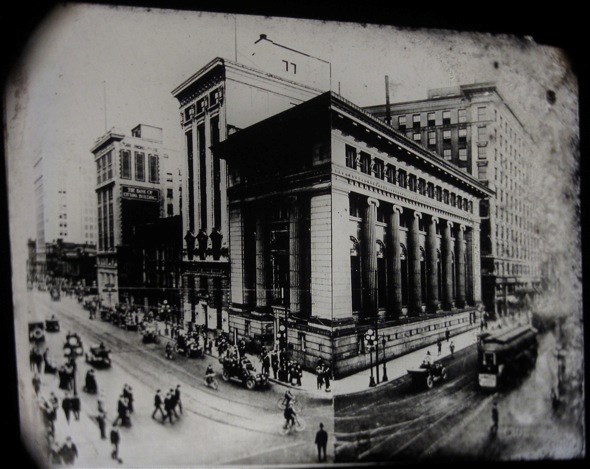 A slide by Leonard Frank, who was trying to make a composite stitch. It sort of worked.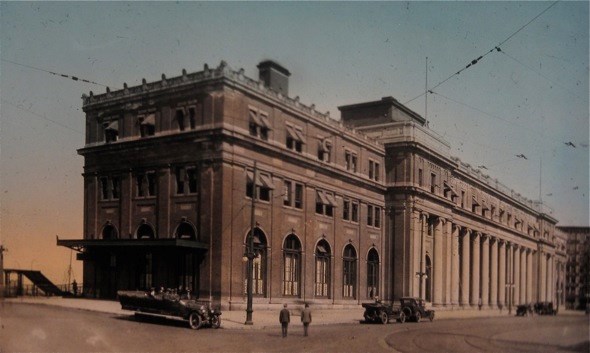 Tourists wait in a tour company car outside the CPR terminal, now 'Waterfront Station', shown brand new in a 1914 hand-tinted slide. This was well before a parkade covered up the original West entrance and a second-floor entrance was punched through.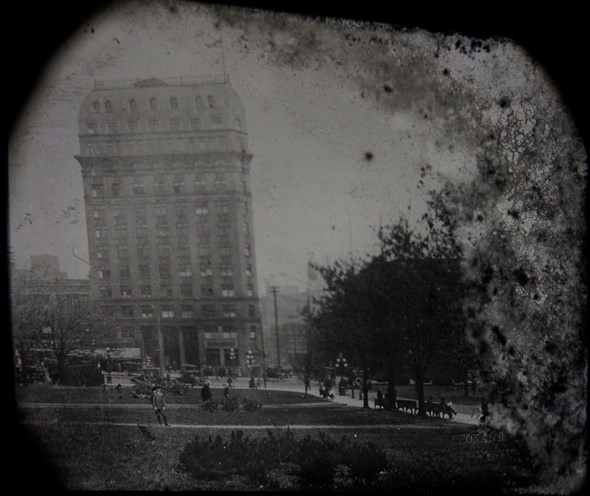 A gent poses in Victory Square, before it was Victory Square.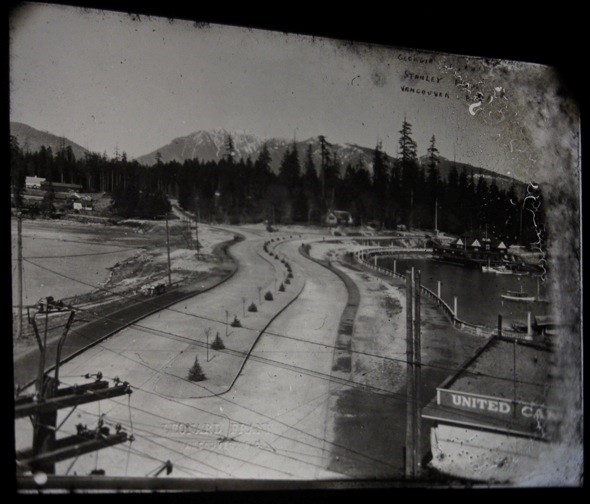 The Stanley Park causeway, just finished, but no Lions Gate Bridge to go to just yet: "You can see that Lost Lagoon hasn't filled up yet, and those little cedar hedges have since grown into fairly substantial trees."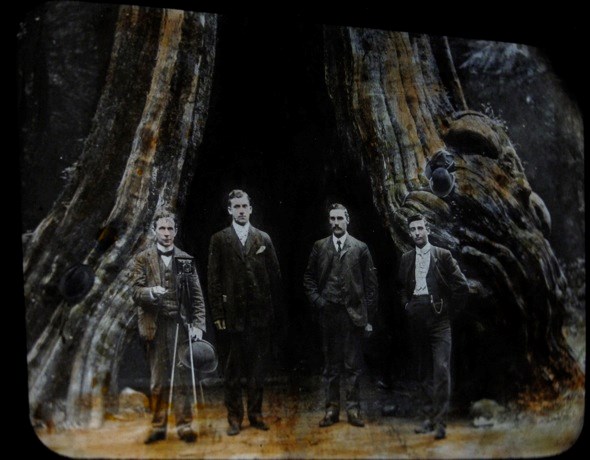 One of the most famous objects in Vancouver: The Hollow Tree.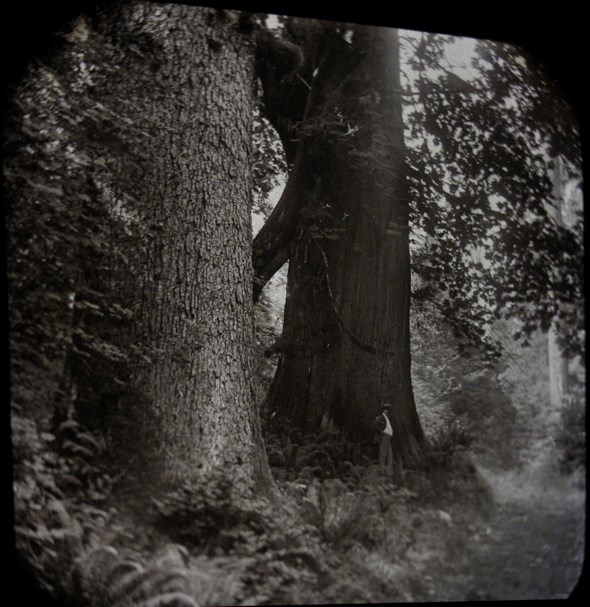 Somewhere just outside of Vancouver: "People did have a total fascination with the West Coast landscape, with the ability to leave the city and come up against these incredibly large, quite gorgeous-looking trees."
Yes, it's late notice: Lawlor has another free show tonight (Wednesday, June 8) in a few hours (at 7:00 pm) at the Bob Prittie Library at 6100 Willingdon Ave. in Burnaby, near Metrotown.
"It will be a History of Magic Lanterns, and I will be showing many different types of slides used over 150 years," he said.
He is also in the midst of preparing a show of early Canadian farming slides, to be shown on September 22 at the Stewart Heritage Farm in Surrey.
An exhibition of prints Lawlor made from Canadian Pacific Railway slides dating from 1885 to 1930 is also on display at a free exhibition at The Burnaby Village Museum until August 31.
You can find more information on Magic Lanterns from several pages linked off of Lawlor's web site.