A while back, Jef Choy brought you Kevin Sansalone's top 9 spots in North Van. In case you're not familiar, Kevin is a force within the snowboard industry. One of the original Seymour Kids with a 20 year history in the sport, he heads up Sandbox Films and Whitegold Snowboards, grew up in Deep Cove and is definitely a fan of this city. I am very proud to bring you Kevin's Most Awesome interview!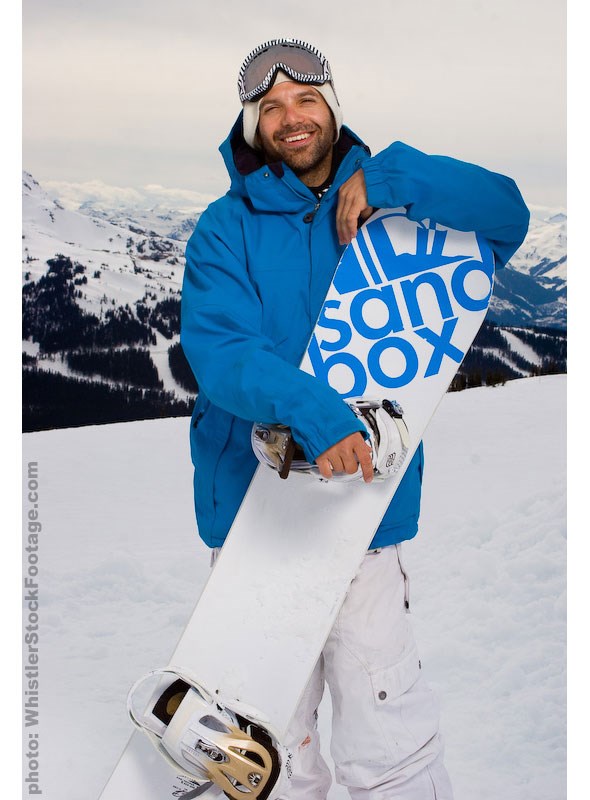 What makes Vancouver so awesome?
There is a lot that makes Vancouver so awesome but for a snowboarder/skater it's the absolute best spot. We have three amazing mountains within half an hour of each other and we have a ton of really good skate parks and skate spots.
Who's your favourite Vancouver snowboarder of all time?
All the riders from Seymour inspire me from the old school shredders to the new shredders.
What's your current favourite restaurant in town and why?
Arms Reach in Deep Cove for sure. I don't get to go too often but it's really good.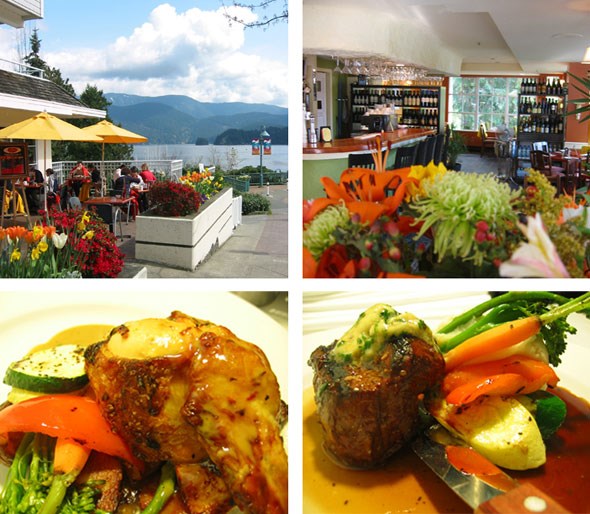 arms reach bistro
Favourite Vancouver band of all time?
D.O.A.
What's your favourite venue in town? Best show memory there?
Commodore, most memories are blurry.
What's the best neighbourhood in the city?
Deep Cove in North Vancouver, that's where I grew up and it's beautiful. You have the ocean basically at your front door and Mount Seymour out the back door.
What's your favourite place to go within an hour outside of the city?
Whistler, that's where I live now and it's got a sweet skatepark and some of the best snowboarding in the world. It used to take 1.5 hours from my parents in Deep Cove but now with the new highway it's only an hour drive.
Where do you usually find yourself on an average Saturday night?
In the winter I'd like to be up on Seymour shredding with the view of the city below and in the summer at one of the lit skateparks.
And on a Sunday afternoon?
Back up the mountain.
What was your involvement in the Nike 6.0 World Class Contest that we're co-sponsoring?
I helped out with picking some of the locations, it was really tough to pick the spots, there are just so many good spots out there. All are pretty unique and they all would be amazing to have up in the Mount Seymour park.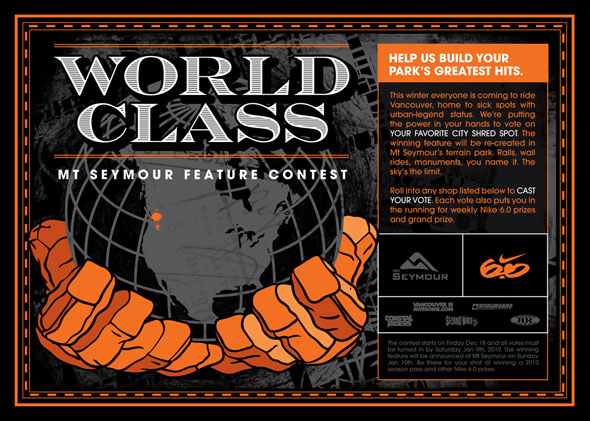 What's your favourite spot that you'll be voting for? Why?
I can't say... isn't this a silent vote? There are two online contests going on... 6.0 will be rebuilding a local Vancouver spot up at Seymour that will be decided in the shop contest. They are building another feature that anyone can vote on. For Vancouver, I like Delbrook...its a long flat handrail in a public park. It's easy to find, you can hit it anytime, and it usually has good snow. It's pretty popular, but it's a good place for a session with a crew. For the other Greatest Hits Contest, I really like the Burlington High spot. It's not too gnarly and has a lot of options and variety. Plus I've never hit it in real life.
How has the scene at Seymour changed over the years and what do you think this contest will do for it?
Seymour hasn't changed too much, that's the good thing about it. They have always been there as a staple in the Vancouver snowboard scene. Good contests, great core locals and good support from the mountain since day one in 1987. This will be a memorable season and hopefully set a new standard for the park at Seymour and the local mountains.
What are you most looking forward to concerning the Olympics?
I wanna try to get some tickets for the pipe contest, that should be all time, some serious stuff going down in the pipe right now.
What's the best piece of advice anybody's ever given you?
Bend your knees and go faster - Sean Kearns at snowboard camp.
In your early days of riding at seymour, what meant the most to do?
Just riding with my friends up there and having total freedom to do what we wanted. There were pretty much no rules and the sport was so young so we were exploring a lot and everything was fresh and new.
Describe the vibe of the original SKIDS crew?
It was the same as any local mountain crew really, just a bunch of kids having fun on the hill and pushing each other. We just had such great terrain and support from the mountain that it helped a lot of riders come up in the sport and it was kind of a little media scene too so riders got noticed.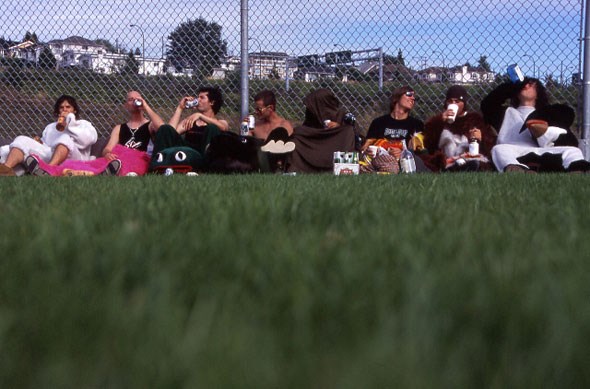 vintage seymour kids photo: evan chandler soanes
Why is Seymour the best of the best local mountain?
I'll never be allowed on Grouse or Cypress again if I don't ease up on hyping Seymour. All the local Vancouver hills are great, it's just that all the local skaters would go there to hike with their snowboards and it became the spot to go try this new thing called 'snowboarding'. Seymour had no choice almost to finally allow them on the chair lifts because the snowboarders were all over the ski runs anyway. Eventually Seymour had to support us and they became known as the more core supporter of snowboarding. The Seymour locals have always been a little more rough around the edges too. Seymour has much better and safer back country access than the other local mountains so it was easier for us to explore the backcountry there as kids. All the local mountains have night riding which you don't get at many resorts, that's pretty cool for people that work 9-5 and kids in school all day.
If we handed you 100 bucks, where would you go and spend it?
Maybe go try to buy a scalper ticket for a Canucks game.