A little more than 25 years ago, Rick Hansen set out on a global tour to raise awareness about wheelchair accessibility and spinal cord research. Dubbed The Man In Motion Tour, it started and ended at Oakridge Mall here in Vancouver, with Rick propelling himself in his wheelchair through 34 countries and 40,000 kilometres, and into the hearts and the minds of all of us. The tour not only inspired Vancouverites, British Columbians, and Canadians but it literally touched the world. Since then Rick has continued his work, raising more than $252 million for spinal cord injury-related programs and initiatives and being an ambassador of accessibility and the cause of spinal cord research.
I'm so humbled to be able to introduce this interview with one of my biggest heroes. A dude whom I high-fived 25 years ago on the original tour and whom I'll meet again on May 22nd, 2012 when I'll be running in his 25th Anniversary Relay as it wraps up here in our fair city - the final stop for the medallion that's been on the road since August 24th of last year as it's made its way across Canada and through the hands of thousands of other medal-bearers. Below are Rick's thoughts on this relay, Vancouver, accessibility, fishing and more!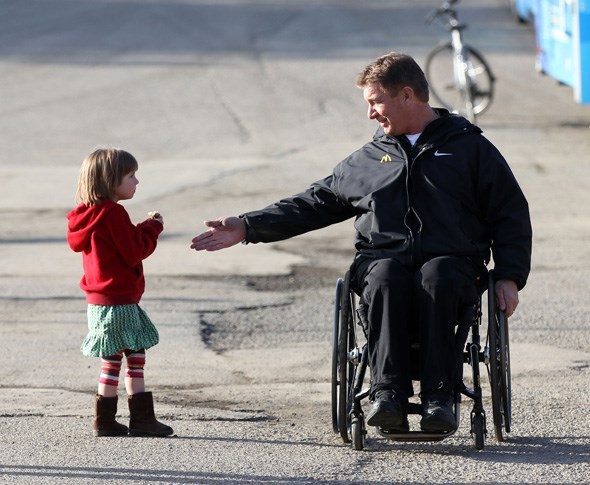 Photo: Rick Hansen Foundation
What makes Vancouver awesome?
Other than the beauty, setting and diversity of the city, to me, what makes Vancouver awesome is how accessible and inclusive it is. From our transit to restaurants and retail spaces, to the airport, to new infrastructure and facilities – by planning with all citizens in mind, that is truly awesome.
Who is your favourite Vancouverite of all time?
That's a tough one! I'll go with my first coach, and mentor, the late Stan Stronge. He was the one who got me involved in wheelchair sport, and coached myself and Terry Fox.
I was recently on a boat with Tony Nootebos (LINK) and he told me all about the Fraser River Sturgeon Conservation Society that you're the chairman of. What was the last fishing trip you went on?
The last trip I was on was with my good friend Tim Frick. We caught and tagged sturgeon in the Fraser River near the Port Mann Bridge.
What's the best saltwater fishing adventure you've been on?
That would have to be in Rivers Inlet. We caught at 60-lb Chinook salmon. It was the biggest salmon I'd caught. The night before, a number of individuals I was with agreed that if we caught a salmon of that size, we would agree to donate our time to help create a more sustainable salmon run in Rivers Inlet. It introduced me to conservation and sustainability – which has become a passion of mine.
How about fresh water?
Probably in Chilliwack, when we launched the annual Fraser River Sturgeon Classic. That program has become very important to me, along with the Fraser River Sturgeon Conservation Society.
*** Rick is the honorary chair of the Fraser River Sturgeon Conservation Society. Learn about it in this video below... ***
http://www.youtube.com/watch?v=HRrPuH2M5s0
Do you think they should bring back the TV show, The Beachcombers? Can you think of a favourite episode?
I always used to watch that show! I'm drawing a blank on a favourite episode specifically. I used to love watching that jet boat jump the logs. And of course, I loved to hate Relic.
Can you sum up your experience with the 2010 Paralympic Games in a single sentence?
A single sentence? This might be a run-on sentence... Being a part of the 2010 Olympic and Paralympic Winter Games was one of the greatest honours of my life, and one of the most inspirational periods I've experienced – to see how Canadians came together in welcoming the world, and representing our nation, I think all of us should be so proud of what we showed the world. There, I tried to keep that to one sentence!
If you were in Vancouver and I gave you $100, where would you spend it?
That's easy, I'd donate it to the Rick Hansen Foundation! But since I'm betting you're looking for something Vancouver-specific in your answer, if I were given another $100, I would probably take my family to the Vancouver Aquarium. The Aquarium is a great place to learn and enjoy a nice day in Stanley Park.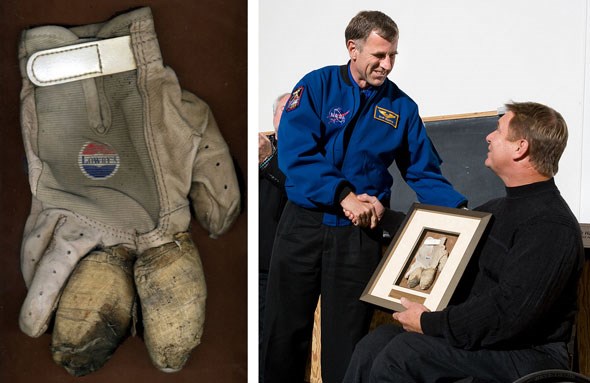 In the summer of 2007 a glove that Rick Hansen wore during the Main In Motion Tour travelled to space with Canadian Astronaut Dave Williams on the Space Shuttle Endeavour. Photo: Rick Hansen Foundation
So one of the gloves you wore on the original Man In Motion tour has been into space. Where is the 25th Anniversary medal going to end up after May 22nd?
Well, it was such an honour when Canadian astronaut Dave Williams brought the glove up to space aboard the U.S. Space Shuttle Endeavour. And I'm honoured again that Canadian Astronaut Chris Hadfield will be taking a participant medal from our 25th Anniversary Relay up to space on an upcoming mission next year (the actual medal is too heavy!) But in terms of the actual medal that is currently being passed along by 7,000 difference makers on our cross-Canada Relay, we're currently looking at ways to share the medal and the stories of the Relay's participants when the 273-day journey concludes on May 22 in Vancouver.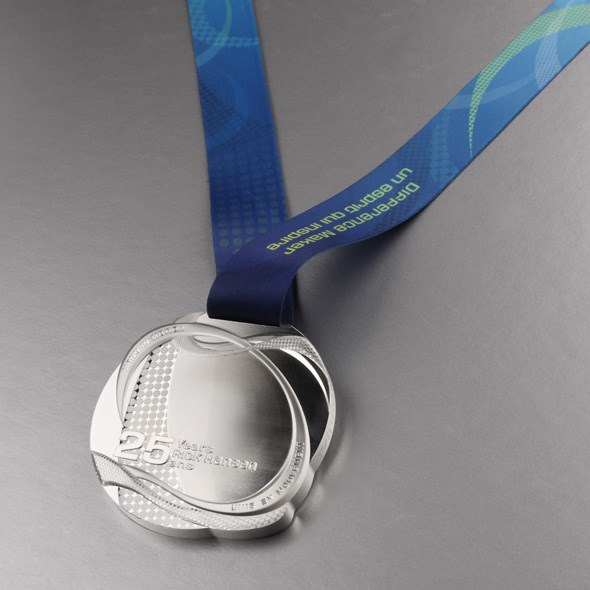 The 25th Anniversary Relay Medallion produced by the Royal Canadian Mint. Click HERE for our interview with the designer
What is the best piece of advice anybody's ever given you?
From my dad: "Never forget who you are, and where you come from. Always stay true to yourself."
What has Vancouver meant to the Rick Hansen Foundation?
Vancouver was the birthplace of the inspiration for the Tour and the Foundation. Vancouver means everything to the Foundation. We started the Man In Motion World Tour here, and we concluded it here; our Foundation is located in the GVRD; our partners at the Rick Hansen Institute, Vancouver General Hospital, UBC, ICORD, Vancouver Coastal Health, and so many more are here; and the Blusson Spinal Cord Centre – a world class facility dedicated to improving the lives of those with a spinal cord injury – is housed here. Simply put, Vancouver is a part of my life.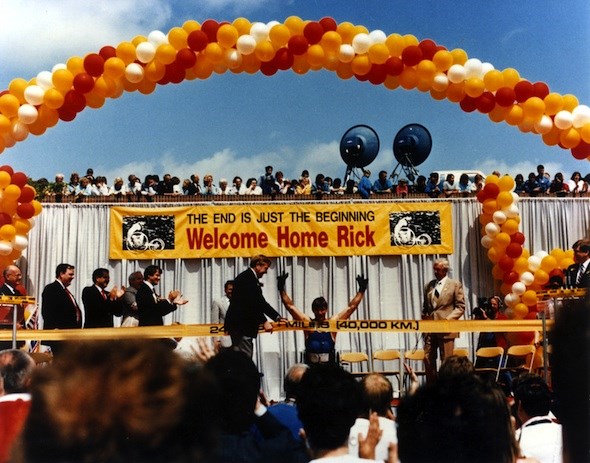 Oakridge Mall, 25 years ago. Photo: Rick Hansen Foundation
How does Vancouver stack-up in terms of its accessibility?
Vancouver is one of the most accessible and inclusive cities in the world. It's happened slowly over time, and through a lot of hard work by countless individuals, but there is lots to be proud of in terms of how far we have come. We can focus on the simplest examples of progress: for example, 25 years ago, just getting onto a sidewalk could be a struggle – and today we have curb-cuts everywhere. But what we need to focus on is that there is still much to be done. Retro-fitting older buildings and also designing new facilities with all individuals in-mind, whether it be an individual in a wheelchair or a person with a visual impairment. I'm hopeful for Vancouver's future.
What were your duties as Olympic Village Mayor?
Myself, and Olympic rower Tricia Smith shared our duties at the Olympic and Paralympic Village in Vancouver. These were honorary positions for the Games, and I was very proud to have been a part of the Games in this way. We officially opened the villages and also welcomed the national teams and dignitaries. Meeting and speaking with inspirational athletes from all around the world was such an honour.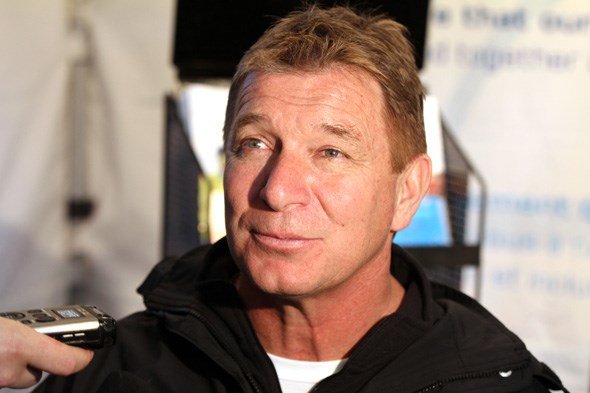 The mayor of Awesometown. Photo: Rick Hansen Foundation
Tell me about Celebration 25 and the end of the 25th Anniversary on May 22 in Vancouver?
May 22 of this year is going to be one of the biggest days in the Rick Hansen Foundation's 25-year history: The day itself is 25 years to the date that I concluded the Man In Motion World Tour. The Rick Hansen Relay, which began in August 2011 and has been re-tracing the route of the original Tour also concludes its nine-month cross-Canada journey. That evening is Celebration 25, our spectacular event that will honour amazing difference makers like David Foster and David Suzuki, along with everyday Canadians, and the event will also have performances by Sarah McLachlan, Jann Arden, David Foster, Marianas Trench, Johnny Reid, the Canadian Tenors, One More Girl and many more. As you can tell, it's going to be a big day!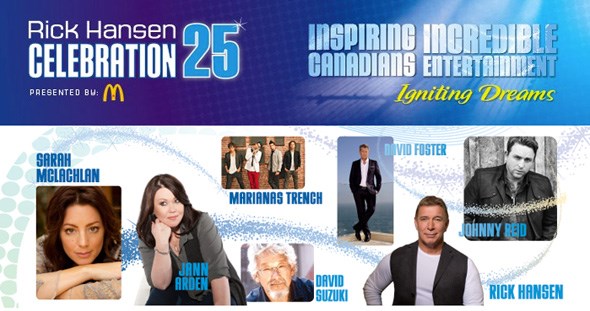 And what I'm most excited about is that the day isn't just about the end of the Relay or celebrating the end of the Tour. It's also about looking ahead to the future, which is why the Foundation is launching a new fundraising campaign called the Rick Hansen Day of Possibilities, to continue mobilizing Canadians to make a difference and inviting them to support the work of the Foundation in the areas of spinal cord injury research and accessibility programs. All across the country during the 25th Anniversary, communities have been so eager to help and have asked, "What can we do to support?" I'm really excited to be able to share with the whole country this next chapter.
Day of Possibilities will support the Foundation's long-term fundraising goals and the vision that one day, the newly injured as a result of spinal cord injuries will walk away, and the one billion people around the world living with various types of disabilities have equal opportunity to participate in all aspects of their communities. Anyone who is interested can check out www.RickHansen.com/possibilities to get involved.
For more about the Rick Hansen Foundation visit RickHansen.com
For more about the 25th Anniversary Relay visit RickHansenRelay.com