This isn't the first time V.I.A. has sung the praises of  Paul Anthony's Talent Time. Founder and president Bob Kronbauer even called it "The Single Best Live Event in Vancouver" back in 2010.  Seems like every media outlet in town has trumpeted this unique, heartfelt and often hilarious community-based expression.  Seriously, what's not to like?  But what makes this particular episode so special is that, for one night only, it's climbing out of the basement of the Biltmore and onto the sprawling stage at the Rio, on a Friday, for what they are promising to be their "largest stage show ever".  Wait a second.  I thought you were on a summer hiatus?
"I had every intention of taking the summer off," says creator and host Paul Anthony, "then I saw one of the greatest performances I had seen in years. Even if I could contain my excitement till September, the act is too big for the Biltmore stage. Then I started to think about other acts that need a larger performance area and it became very clear…we must put on our largest stage show ever at the Rio Theatre!"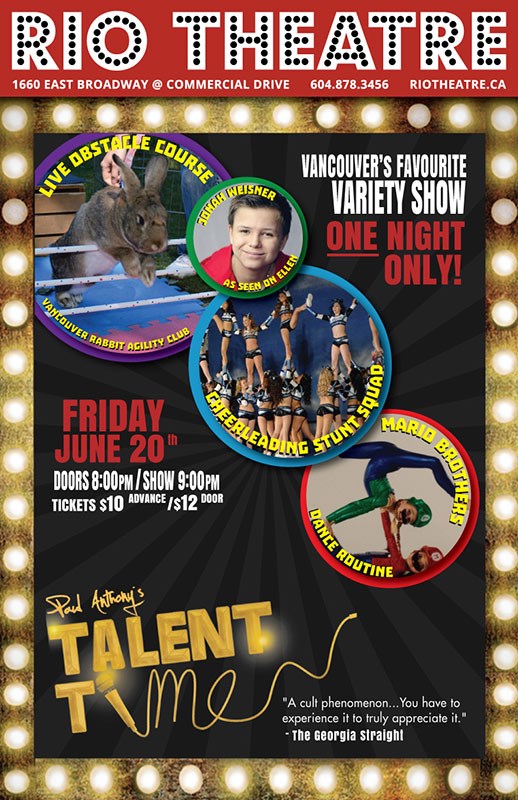 This live "Summer Spectacular" features the adorable Vancouver Rabbit Agility Club.  The club likens themselves to the Super Dog show at the PNE, "only a lot slower".  Eight trained rabbits will hop through an obstacle course in true tournament fashion, where only the most agile will be victorious.    The rabbits will share the stage with Splitz Gymnastics from Surrey, BC who will surely flip and twist their way into your hearts .   The show will also be spotlighting a 13 year old singer recently scouted for the American talk show, ELLEN.  The very talented Jonah Weisner from Mission, BC will sing a couple songs with Talent Time's stellar house band. Plus, 9 year olds Asiah Almerez and Leila Wheeler, will perform their award-winning Super Mario Brothers piece. Their much-hyped acrobatic dance has placed 1st in every competition entered, earning scores into the 90's!! The best part about this routine is that these two girls are best friends on and off the stage: that, and their large Mario & Luigi moustaches. The evening's festivities will be hosted as always by comedians Paul Anthony and Ryan Beil. Paul was the inaugural recipient of the BC Entertainment Hall of Fame Award and Ryan is a founding member of the Canadian Comedy Award Winning improv troop, The Sunday Service.
Where else are you gonna see a live rabbit race, high-flying gymnasts, comedy, sweet songs and a couple 9 year olds sharing a dance based on a 90's video game??  Only when Talent Time teams up with the Rio for their largest stage show ever!  This Friday June 20th.  1660 East Broadway at Commercial.  Cover is $12 , doors open at 8pm, and talent takes the stage at 9pm.