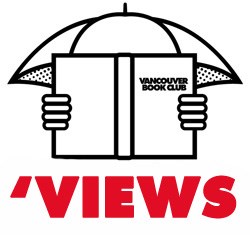 ReVIEWS, preVIEWS, interVIEWS, and overVIEWS: here's where you'll find out what the Vancouver Book Club team thinks about the literary scene in Vancouver. What you should read, where you should go, who you should sit up and notice.
Malarky, the debut novel from Anakana Schofield published this spring by Biblioasis, is the Vancouver Book Club's summer selection. We will be hosting our free event with Anakana this Thursday at the Prophouse Café.
Philomena is having a hard time being a widow. It's not so much the absence of routine that's causing problems. Rather, the 60ish Irish farmwife can't stop thinking about naked men. "At each other all the time, all day long. I can't get it out of my head," she tells her grief counsellor at the start of Anakana Schofield's Malarky. Not sure how to react to this information the counsellor recommends that she scrub her kitchen floor vigorously as a bit of distraction.
And so we are drawn into the life and story of Philomena, also called Phil, or Our Woman, or Kathleen (but only by her counsellor). What starts off as a somewhat straightforward narrative of a woman dealing with the death of her husband and her new "role" in society quickly develops into a back and forth of time and events, moving through infidelity, death, grief, and madness, but with a lot of humour.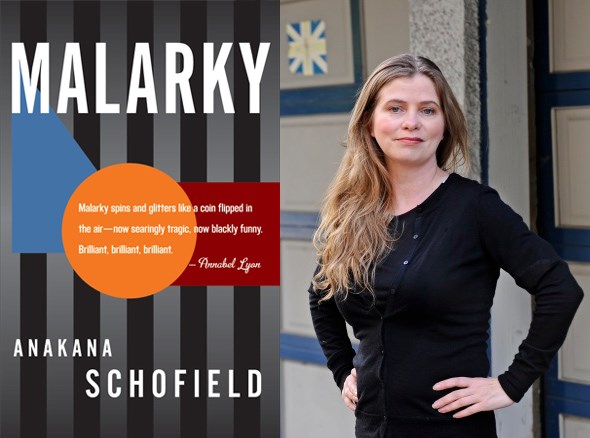 Author photo by Les Bazso/PNG
Presented as a series of episodes, Malarky plays on the idea of non-linear memory. We're taken back to Our Woman's witnessing of Jimmy, her best-loved child and only son, getting up to some "malarky" with a neighbour's boy, and then as she goes through the realization and acceptance of her son's homosexuality. At one point she reveals that she "had wanted to hit him about the head and shout these aren't the things I have planned for you" but her attitude shifts from anger to worry, that the men he meets won't treat him right. In fact she worries more for her son in these matters than she does for her daughters, so barely mentioned that it would be easy to forget that they exist.
Then there's her (still living) husband, Himself, who gets up to a bit of malarky of his own, or so says Red the Twit, who has recently communed with God and now feels the need to confess to Our Woman the details of her affair with Himself. The picture that Red paints is not one that meshes with Our Woman's image of her husband, of whom she "cannot fathom how or why another woman would let him near her." It is a mystery to her, and so she sets out to "figure this muck out."
Our Woman wants to see what all the fuss is about, for both of the men in her life, and so she embarks on extramarital affairs of her own, but with a twist: she wants to engage in the same activities as she has observed her son doing, on multiple occasions, and what she's read about in the magazines in his bedroom. (She becomes something of a voyeur when it comes to her son's sexuality.) And to add another element, as her son has now joined the army and is deployed in Afghanistan, she's become obsessed with anything to do with that region of the world, or in fact most things foreign, so she starts up with Halim, a young Syrian man who works as a security guard at a local department store.
Despite the heavy nature of the themes in her debut novel, Schofield infuses Our Woman with a winning combination of humour and practicality. When she doesn't immediately tell her daughters of their brother's death, she explains that Jimmy himself told her he was dead long before the official notification arrived, so she'd "long buried him before he died." When the people around her begin to suspect that something is not quite right with Our Woman, she strives to keep it together, observing that "just because they may think she's going mad does not mean she's under contract to oblige them."
Her charm and wit make you cheer for Our Woman, regardless of how increasingly odd her behaviour or actions seem. We willingly stay by her side as she questions, experiments, and attempts to find her way through the twisty road she finds herself travelling.
_ _ _ _ _ _ _ _ _ _ _ _ _ _ _ _ _ _
Have you read Malarky? Would you want to talk to Anakana about the book, or to find out more about Our Woman and hear Anakana read from the book? Join the Vancouver Book Club and Anakana Schofield Thursday August 9 at 7 p.m. at the Prophouse Café for our Summer Selection event.