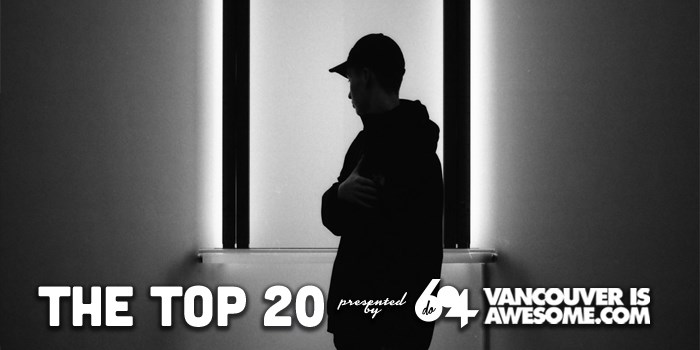 It's that time of the year again! Seasons Festival is back and badder than ever. One of the stars of the festival, Sam Gellaitry's futuristic genre-bending electro will take you to a whole new world.
In addition to Gellaitry, here are the 20 artists (Seasons artists and more!) that you must NOT miss this week in Vancouver, as picked by our city's #knowfun Selectors at Do604.
https://open.spotify.com/user/do604/playlist/3JZh1e5yI2WQI5zTZPLZ9s
Subscribe to the playlist, or return back every Monday to hear who's the best of the best playing Vancouver.
Mon April 10
Whitney at Biltmore
Get movin' and groovin' to Chicago's very own mellow yet poppin' rock band with a dash of psychy RnB vibes.

A Boogie Wit da Hoodie at The Rio
It's going to be LIT when A Boogie With Da Hoodie dominates The Rio.

King Gizzard & The Lizard Wizard at The Vogue
Surf through space with King Gizzard's psychedelic rock.

Tuesday April 11
Nicolas Jaar at The Vogue
Come show your support for experimental artist Nicolas Jaar's latest release "Sirens" at The Vogue.

Machine Gun Kelly at Harbour Event Centre
Spitting the fastest and most versatile verses. You definitely won't want to miss Machine Gun Kelly.

Wednesday April 12
Playboi Carti at Venue #Seasons2017
Jump on the waves Playboi Carti has created and you'll be vibin' all night.

Thursday April 13
Unlike Pluto at Monstercat Uncaged at Celebrities #Seasons2017
Fall in love with Unlike Pluto's wicked style when you're dancing all night to his crazy mixes.

Black Magique at Verboden Day 1 at The Astoria
You can't go wrong with Black Magique's mad bass and jangly synths.

SOSUPERSAM at MIA #Seasons2017
A flawless blend of rap, hiphop, R&B, and indie vibes, she'll keep you moving all night and steal your heart while doing it.

Friday April 14
Prozzäk at Commodore
Caught the 90's nostalgia feels? Don't fret! Prozzäk will be blasting you back to the past with their upbeat jams.

Pham at Fortune #Seasons2017
Conquer life's struggles with Pham's crazy fusion of electronic, hip-hop, down-tempo, and future bass.

Snoop Dogg at Rogers Arena
Catch your breath, the lineup at Snoop Dogg's Wellness Tour is going to get you high as a kite!

Galantis at #Seasons2017 Day 1 at Pacific Coliseum
Feel Galantis' boomin' bass pulse through your veins and take you far away from reality.

HOMESHAKE at The Rickshaw
Rad jams that feels like a breath of fresh air on a hot, muggy day. HOMESHAKE will shake things up then leave you wanting more.

Bear Mountain at Celebrities #Seasons2017
Bear Mountain will guide to you a whole new utopian future that's filled with tight drums and lush synth vibes.

Saturday April 15
Sam Gellaitry at Fortune #Seasons2017
Feel blessed when you hear his genre defying music that's bursting with solid bass and dream-like atmospheric melodies.

The Damned at Commodore
Taking gothic rock to a whole new level with their rapid pace, energetic atmosphere, and attitude.
Skiitour at The Fox
Fusing together everything - from funky to bassline house to epic black-diamond twerk - to bring you a wild time.

Wrekmeister Harmonies at The Cobalt
Hear the gradual decay of lightness fade into darkness with Wrekmeister Harmonies. From lush melodies to crushing howls and heavy doom.

Sunday April 16
Krystle Dos Santos at Guilt & Co
A voice that can be heard across oceans, you'll be mesmerized when you hear her seamlessly fuse jazz, soul, pop, funk and blues.

At anytime check out our Vancouver Events calendar to see the best of what's coming to our city. Never miss another great show!