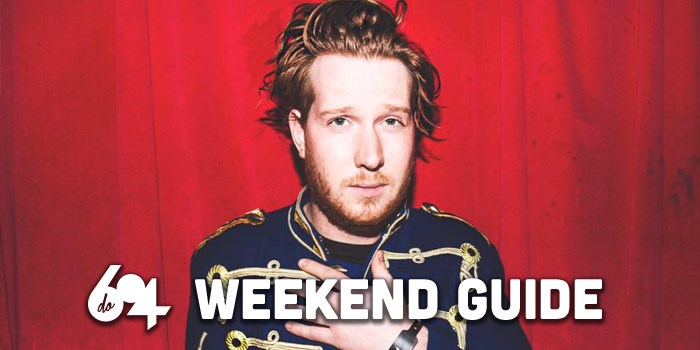 Get lost in
Bakermat's
bumpin' deep house with hints of jazz and soul. It'll make you forget about Raincover and take you to a place full of warm and sunny vibes. But this is just one of the 27 top things to do this weekend, as picked by our city's #knowfun Selectors at
Do604
. Here they are...
Thursday March 30
Bakermat at Celebrities
Feel good when Bakermat takes his tropical vibes to Raincity!

Cheap Thrills Vol 7: Shaun Verreault at The Roxy
Shaun Verreault will rock your world with his rockin' blues.

Inhabitants at WISE Hall
Explore the dynamic relationship between chaos and form through improvisation at it's finest.

Women & Podcasting Workshop at CiTR
Kevin Elaschuk, Roy Styffe at Frankie's
Friday March 31
Ambrose Akinmusire at The Blueshore Financial Centre for the Performing Arts
Get caught in Akinmusire's zigzagging jazz with influences from the coasts of California to bustling jazz from The Big Apple. 

Lawrence at The Biltmore
Keyboard driven powerhouse with explosive vocals will keep you poppin' all night.  

Timmy Trumpet at Celebrities
Bounce away and into the realm of global dance music. 

Chance Lovett and The Broken Hearted with Ora Cogan at The Fox
Soft Tendencies at The Waldorf
Saturday April 1
Colony House at The Biltmore
Connect with Colony House and everyone around you when their infectious melodies fill The Biltmore. 

Love Coast at Guilt & Co
Flawlessly blending modern day indie pop and blue-eyed '70s R&B to leave you feeling fresh and nostalgic. 

DOA at The Rickshaw
Feel their raw punk energy radiate and fill The Rickshaw.

The Prototypes at Red Room
Bill & Joel Plaskett at The Vogue
Sunday April 2
R2R: The Sun At Midnight at Vancity Theatre
Embark on an emotional journey of hope and challenges while trekking through the North's boreal plains.

Conjure The Night at The Chan Centre
Do you believe in magic? Feel like a kid again when these 4 mesmerize you with their compelling magic!

My Life As A Zucchini at The Rio
Follow Zucchini's search for a new life and overcoming sorrow with the help of his new friends!

Eye of the Storm at The Rio
Mariah Dear at Cafe Deux Soleils
All weekend
Capture Photography Festival - starts this weekend and runs all month
Vancouver South African Film Festival 
Have a great weekend checking out these events! You can always head to our
Vancouver Events calendar
, powered by
Do604
, for a full list of our recommended things to see and do in Vancouver.