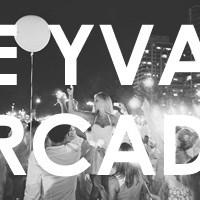 YVARCADE showcases and highlights the lifestyle and cultural scene of our beautiful city, uncovering the misadventures and shenanigans beyond social functions and local shindigs.
We fiercely promote all the diversity, food, culture, entertainment, and community Vancouver has to offer, along with the creative minds behind them.
Follow my work on RICKCHUNG.COM and Instagram at @RICKCHUNG.
Volume 137: Cocktails & Lego at the Vancouver Art Gallery on November 26, 2013. Hashtag: #CocktailsAndLego
It was a night of reliving your childhood with booze, of course. Local artist/author Doug Coupland, as a part of crowdsourcing his next art project, got together with Jelly Marketing, the Vancouver Lego Club, and some "towering ambition" for an evening of drinks, hands-on tower building, and architectural discussion in creative celebration of Lego as an art supply.
RSVP 33 co-founder Saschie MacLean smiling and wearing her Lego hat.
everywhere is anywhere is anything is everything
http://www.youtube.com/watch?v=HmE8ASraz20
(via Rick Chung)