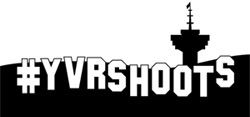 This series had its genesis when I began photographing Vancouver area location shoots last summer to get over a long post-Olympics funk. Film and TV productions like This Means War, Mission Impossible 4, Fringe and the new AMC series The Killing showcase our city in similar fashion and sometimes put a celebrity actor or two in the frame.
Filming of the American network Fall TV season got underway this week around North America. Here in Vancouver, Supernatural star Jensen Ackles began directing a season seven episode of the Friday night show. And crew of the other locally-filmed Friday-night-hit Fringe prepped for the start of filming season four next Thursday: scouting locations and rebuilding sets in studio. So this seems an appropriate time to pay tribute to the Vancouver-shot network series not returning to our TV screens in 2011-12.
Sci-fi series V, cancelled in June after two seasons on ABC, couldn't have been a better series to watch filming here. I will miss it most of all the axed series for its many downtown shoots and couldn't-be-nicer-to-the-public cast led by its lead actor Elizabeth Mitchell. On the same day last summer that I photographed Mitchell (below) as FBI agent Erica Evans filming at the Vancouver Art Gallery, a photo from an office tower above of dozens of V dead-body extras lying on the grass at Portal Park made the cover of one of our local commuter papers. It took me a couple of months to find her evil counterpart V Queen Anna, played by Morena Baccarin, outside of her studio spaceship and back on location. Last September, V series took over the atrium of the Vancouver Public Library for two full nights to film scenes of Baccarin, Mitchell and other cast members at a black-tie function (below) with a greenscreen wooden spaceship platform erected outside on the south plaza.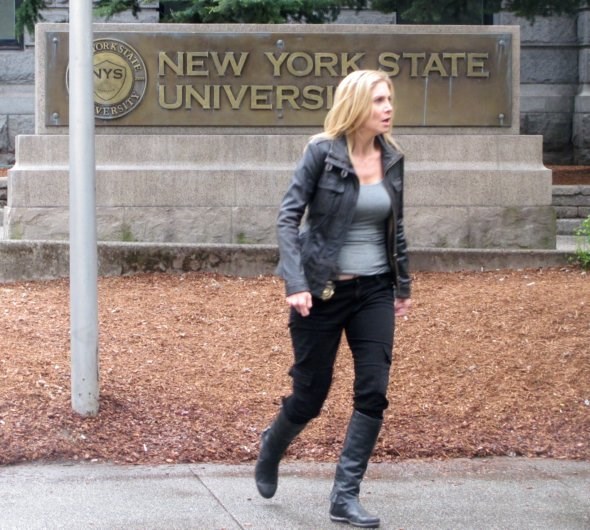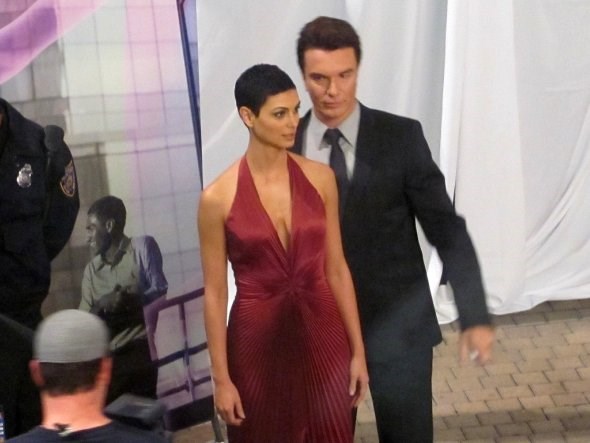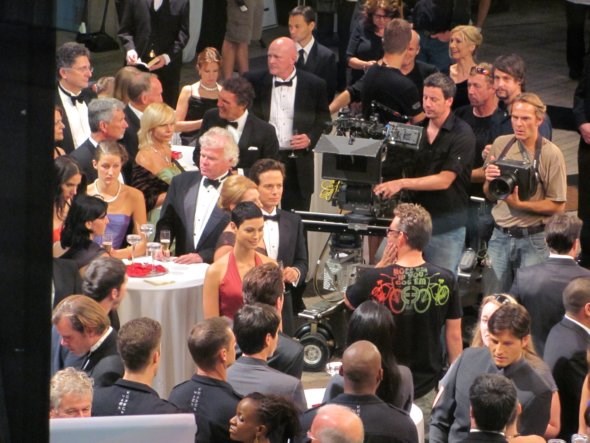 CBC Vancouver might miss V even more than me, since the series regularly rented a CBC studio for filming, put one of its V Ambassador Centres in a CBC outdoor corridor and filmed part of its series finale in the entrance lobby. V also made use of the Dr. Sun Yat Sen garden in Chinatown to pass as several Asian cities and turned the interior of Shannon Mews mansion into the Vatican with dozens of red-sashed cardinal extras. But one of the  most spectacular V shoots had to be the suicide-bomber scenes filmed over a late October weekend on West Hastings near Burrard, with fake gunfire and a massive fake explosion. Elizabeth Mitchell and her TV ex-husband Nicholas Lea posed with extras Inglourious-Basterds-style amidst fake debris (covering half a block) ahead of his death scene.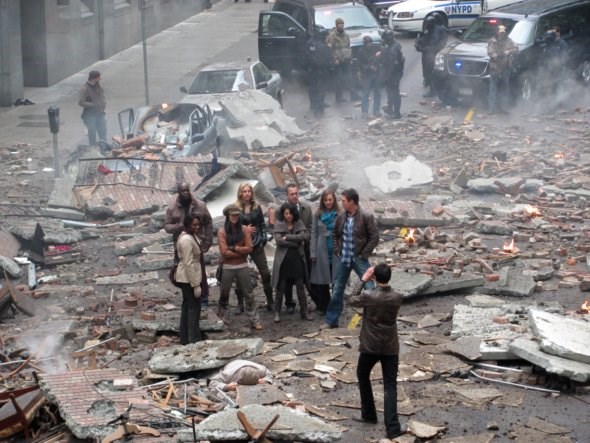 My photographs of a V night shoot at a huge set they constructed in the empty parking lot between the Olympic Village and the Cambie Bridge reminded one California fan of NASA. It did look otherworldy with the glow from the film lights lighting up that part of south False Creek. The $100,000+ lighting of series finale scenes back at Portal Park on a block of West Cordova near the Olympic Cauldron also lit up that area of downtown like a big-budget movie. V series, which had its second season episodes cut from 13 to 10,  is said to have poured all of its left-over money into these final scenes of main cast (below) being blissed by V Queen Anna from her V spaceship above.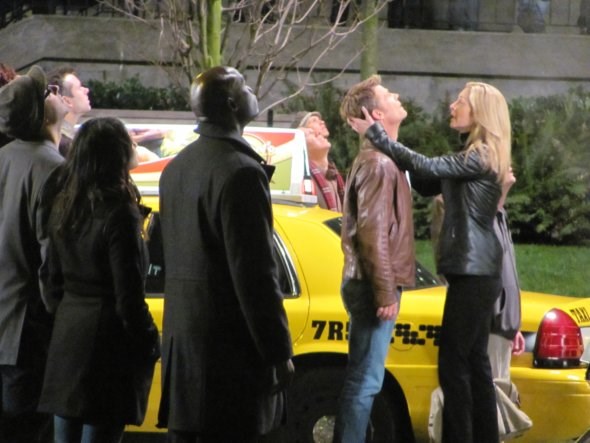 There is no doubt I will miss V series, but ABC did greenlight a new modern faity tale series Once Upon a Time to film in Vancouver starting July 18th. It stars Jennifer Morrison (who I photographed filming the pilot in the Shore Club in late March), Robert Carlyle, Josh Dallas and Ginnifer Goodwin (who is currently tweeting from her U-haul drive up the west coast to her new home-away-from-home).
Next on the list of shows I wish had got another season is Human Target, also cancelled in June after two seasons on FOX. While I didn't get to see as much of Human Target filming as V, what I did see was fun to watch because of the stunts. All three male leads -- Mark Valley, Chi McBride and Jackie Earle Haley -- did some of their own stunts at their big Christmas episode shoot inside the International Village (Tinseltown). I watched and photographed Valley practicing roundhouse kicks to limber up and saw Jackie Earle Haley do his own stunt-fighting. And Chi McBride, while not as athletic as his co-stars, proved no slouch either, bashing a villain extra with a Christmas bell while dressed in a boiling-hot Santa suit (a young woman kept his face cool with a portable fan between takes). Human Target saved the best for last though, filming its series finale on the roof of the Hotel Vancouver in a raging snowstorm. I asked the stunt coordinator David Chue how they achieved some of the visuals and yes, some of it was greenscreened in studio but a lot was filmed on the roof, too.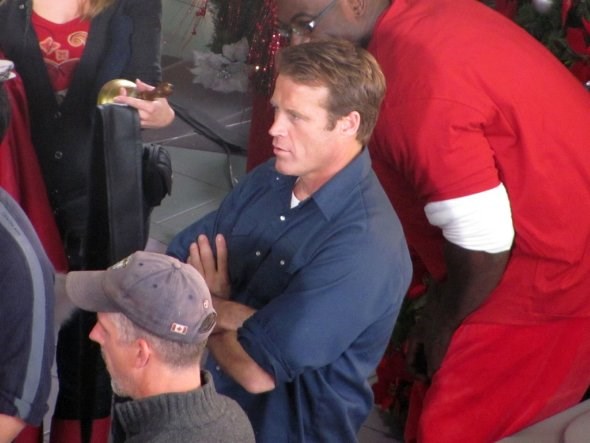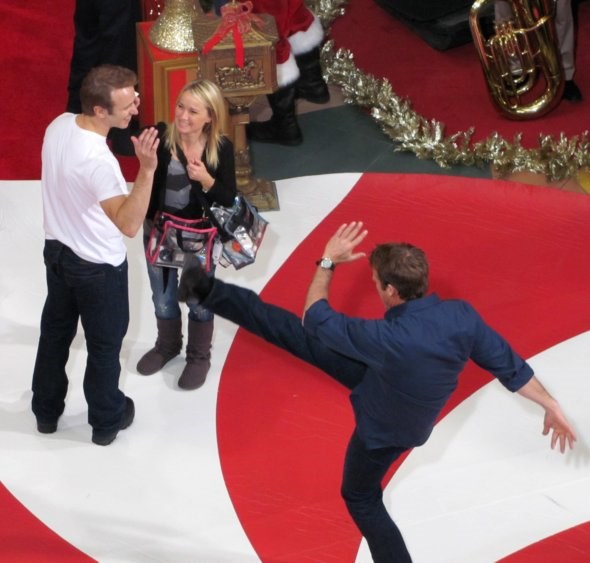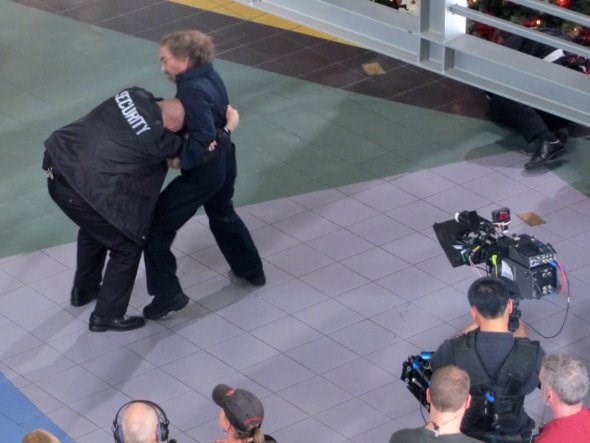 FOX cancelled Human Target with a slew of other dramas in an overnight bloodbath to make way for new series, one of which is the hotly-anticipated sci-fi mystery from JJ Abrams called Alcatraz. It stars Sarah Jones and  Jorge Garcia (who I photographed shooting the pilot in Gastown's The Blarney Stone in late January) but as a mid-season show it will not return for filming in Vancouver until late August.
The CW, which used to have four or five series filming up here each season, prematurely axed two of them last season and only greenlit one new one for this season. But in a sweet twist, the new series, The Secret Circle, stars Britt Robertson, who also starred in cancelled-halfway-through-its-second season Life Unexpected (seen filming below in Gastown). Six months after packing up her belonging to return to LA, Robertson is repacking to come back to Vancouver to resume filming her new Kevin-Williamson-created show about witches on July 18th. This series has a much better chance of becoming a CW hit than Life Unexpected, paired as it is with the current Kevin-Williamson smash, The Vampire Diaries, on Thursday nights.
To sum up: while it looks like location filming in Vancouver may not be as crazy-busy as last summer, it won't be as slow as some thought after so many locally-shot series ended prematurely. After all, The CW's Supernatural and FOX's Fringe are both back for full seasons and three out of the five Vancouver-filmed network pilots got picked up as new series -- ABC's Once Upon a Time, FOX's Alcatraz and The CW's The Secret Circle. If NBC had picked up the BSG reunion pilot 17th Precinct to series, I wouldn't have much to complain about period.
**************