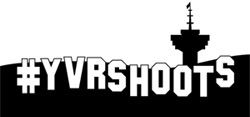 In the third year of this series, expect me to write about and photograph the current film and TV productions -- Tomorrowland, Once Upon a Time, Arrow, Supernatural, Bates Motel, Almost Human and our own Arctic Air and Motive -- which showcase our city and sometimes put a celebrity actor or two in the frame. Find out more on my daily blog yvrshoots.com.
Vancouver's own crime drama Motive began filming its second season around town after the Labour Day weekend. The hit CTV/ABC procedural is unusual for two reasons: Vancouver plays itself not somewhere else and Motive is a whydunit not a whodunit. At the top of each episode, we learn who The Killer and The Victim are and then follow along with detectives Angie Flynn (Kristin Lehman) and Oscar Vega (Louis Ferreira) as they solve the murder and uncover the reasons behind it. Here are the two leads on False Creek Fishermen's Wharf at Granville Island, walking down to a yacht.
On the way they pass a caterer (Niall Matter) walking back to a real life Lazy Gourmet van. The well-known Vancouver caterer must be a featured player in this crime because the night shoot took place inside its headquarters on West 5th Avenue.
Kristin Lehman and Louis Ferreira get on well, which is fortunate since they are expected to be in all 13 new episodes of this procedural-with-a-twist, supported by Lauren Holly (NCIS), Brendan Penny, Roger Cross, Cameron Bright and season two additions Warren Christie (Alphas) and Valerie Tian. But if the second season is anything like the first, then the real stars will be the guest actors cast as The Victim, The Killer and The Suspects. Joey McIntyre (New Kids on the Block) had a memorable turn as The Victim in Motive's season one premiere and Sci-fi Queen Amanda Tapping as a sexy psychiatrist in the season one finale, with that crime scene filmed in Yaletown's David Lam Park.
You never know what the motive will be. The show filmed this second season marriage proposal scene on a mid-September Friday night near Harbour Air and the Vancouver Convention Centre in Coal Harbour. The young lovebirds walked down the stairs and started dancing to some music. Then he dropped to his knees and proposed in take after take. Could this lovely couple be The Killer and The Victim?
We'll find out next year when CTV starts airing the second season in Canada and it returns to ABC's summer lineup in the U.S.