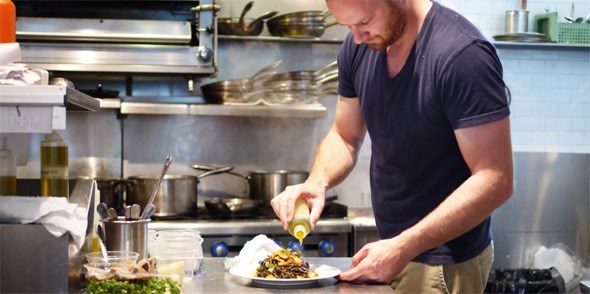 Made with love is a statement we often see on food labels these days. What does this acclaim of nurture really mean? Is the loving energy of the creator transferred into the dish via cooking tools? Does a sheer passion for cooking magically improve the end result?
In my opinion, made with love means, simply, that the time was taken to scrape every last bit of sauce onto the pasta, that an extra dose of olive oil or salt was added for good measure, that, instead of relying on a kitchen timer, one is standing at the stove waiting to remove the dish from heat at the precise second.
Ask for Luigi chef, J-C Poirier cooks with serious love. One bite of food at his cozy Strathcona Village eatery and you'll see.
Here are five cooking tips from J-C that will improve your kitchen game and help to create food that taste like love.
1. Invest in a bottle of high quality olive oil.
"A little drizzle can really bring your food to the next level whether it's pasta, pizza, fish, meat or salad. It's not to cook with, but to finish with. You don't want to cook with olive oil (for searing, I use rice bran oil)."
J-C's recommends Frantoia, Olio Carly (find it at La Grotta) and Partanna (quite spicy).
2. Cook pasta for one minute less than the package recommends.
"Transfer it from the pot directly to the sauce in the pan and finish it there for a couple of minutes — you'll have a way better result. People usually cook it too much and then they either throw out all the pasta water or rinse it. With the starch and seasoning in the pasta, you're building the flavour of your water. If you need to reduce your sauce more, use pasta water."
3. Test your meat before you make the full batch.
"If you're making meatballs, sausages, burgers or meatloaf, take a bit of the mixture, make a little patty and cook it in the pan or microwave so you can taste it before you cook the whole thing. That way you can rectify your seasoning if it's not right (add more salt if it's undersalted, or add more meat if it's too salty)."
4. Keep it simple.
"Buy ingredients at farmer markets. Usually, good seasonal produce will take care of itself — you don't have to do too much to it. People usually add add add, but I prefer to remove and keep it simple."
J-C's favourite local suppliers include Stoney Paradise (their tomatoes are "crazy good") and Sapo Bravo Organics (for the best peaches, prunes, cherries, zucchini, fennel etc.)
5. When cooking to impress, don't try something new.
"Let's say you have a date or you're cooking for your boss, don't try something that you've never made before (or use an ingredient that you've never used before). Do something that you know will be good."
Bonus Tip
"My general advice with cooking at home is: when you think you've added enough salt, just double it. Sometimes people are scared of salt, but our body's need salt. It's a fact. Invest in a good salt, like sel de guérande (grey salt) or maldon salt (these kinds still have all the minerals our bodies need)."
For more information on Strathcona Village (900 E. Hastings), visit www.strathconavillage.com to register and follow the hashtag #StrathconaVillage online for more updates on other local gems and more.
And, it's time for contest #2... a $100 gift certificate to Ask For Luigi is up for grabs.
To enter...
1. Post a picture to Instagram with the hashtag #StrathconaVillage
2. Tell us what you love about the Gastown, Chinatown and/or Railtown neighbourhoods.
And congrats to last week's winner, Viranlly Liemena!
We're giving away a $100 gift certificate each week for the next five weeks, so stay tuned to my Instagram account (@erinireland) for updates. The next winner will be announced on Friday, September 26th. Good luck!
[SPONSORED POST]