Welcome back to On the BC Beer Stump (ARCHIVE) where I feature and rate British Columbia craft beers available in bottles and cans.
Today on the stump we've got Glassbender Brewing's Farmhouse Ale, an incredibly unique beer. In fact it's the only beer available from this tiny operation brewing out of The Settlement Building at 55 Dunlevy. It's a project that was started by Postmark's Chief Brewer, Craig Noble, while he was working on his film, Craft (craftbeermovie.com/), which is all about the craft beer revolution. Showing complete dedication to the craft of filmmaking and learning, for the production of the movie he took on an apprenticeship at a farm brewery, attended beer school in Vermont and earned his cicerone (beer sommelier) certification. As he was wrapping up Postmark came knocking and took him in as their Chief Brewer, and the beer he had been perfecting with help from the folks he was interviewing took the back seat for a moment. Luckily for us it's now available, and it is something else.
I should probably note that this review might be slightly biased as over the past couple of months Craig and the team at Postmark have been working with myself and Vancouver Is Awesome on a very special collaboration beer which I'll be telling you more about in the coming weeks. Many of these beers which you'll be seeing on the stump will be getting there by way of my visits to the beer store but this one was given to me by Craig, who educated me about the process and told me the fantastic story of how it came to be. So mix a small amount of bias in (as I'm a Craig Noble fan) with a deeper knowledge of the story, and that's what I'm presenting to you here.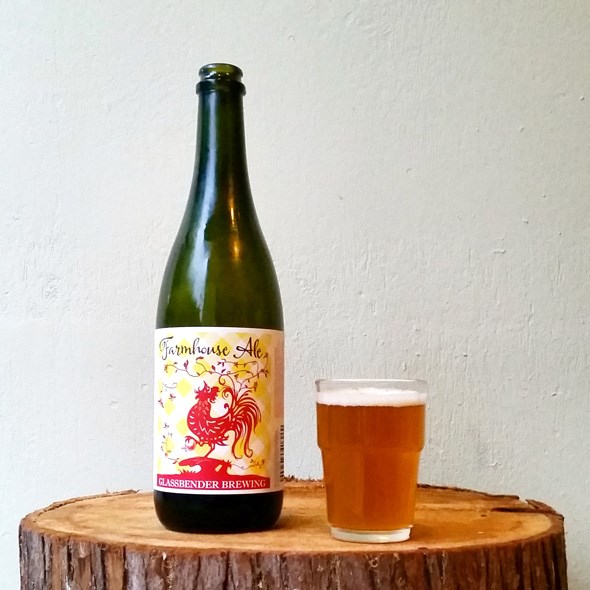 Glassbender Brewing's Farmhouse Ale – 5.4% ABV | IBU 27
QUALITY/TASTE: 9.5/10
PACKAGING/BRANDING/STORY: 8.5/10
TOTAL SCORE: 18/20
What makes this beer really special, aside from it being worked on by 12 of the people featured in the film Craft, is that it's been bottle aged since June. This bottle you see here has been sitting at 55 Dunlevy developing natural carbonation and getting to the point where it's just right, before they got it into stores (it's available in Legacy, Firefly, at 55 Dunlevy and elsewhere). In fact the name Glassbender comes from the fact that it's slowly pressurizing to a point where it could (but wouldn't) break/bend the bottle it's in. The head is quite frothy and it almost pours like a champagne.
While the label isn't one that'd speak to me from the shelf on its own, the story I'm privy to by Craig telling it to me justifies the folk art-ness of it, as well as a solid tie-in of his film as it was actually designed by the art director of Craft and the rooster pictured is featured as a motion graphic in one of the final scenes. The journey that Craig and his brand have been on from the first time he set foot into a brewery as an apprentice to his completing his film and then being brought in to head up my favourite local craft brewery makes this saison all that more tastier. And while it's not as sessionable as most of Postmark's brews at 5.4% it's certainly a bottle I'd recommend picking up.
This Wednesday Craig is doing a screening of Craft at Meanam where they're doing a food pairing with this wonderful ale! Learn more and get tickets HERE.
****************************
Bob Kronbauer is the founder and editor-in-chief of Vancouver Is Awesome and loves everything about the craft beer movement in BC. In his former life he worked as a creative director and graphic designer on projects for companies such as Nike, Threadless Select, Stussy, Livestock, Girl Skateboards, Electronic Arts, Palm Pictures, and others. This series is meant to encourage excellence in packaging design and branding as well as the production of the beers themselves.
If you work with a BC beer company and and would like to be featured on the stump email bobk@vancouverisawesome.com to arrange shipping. Please note that if he really doesn't like it, he won't write about it.
http://beta.quiet.ly/list/share/4b805-best-craft-breweries-in-greater-vancouver?width=590&height=0&heightAuto=true&showGradient=true&showMapView=true&showAuthor=true&showLogo=true&showListTitle=true&showListDescription=true&showTitles=true&showDescriptions=true&showWeblinks=true&makeClickable=true&sharePage=true&showEmbedCode=true&showIcons=true&embedTheme=dark&titleSize=18&titleType=quietly&descriptionSize=14&descriptionType=quietly&useOriginalImages=false&lastSlide=default&lastSlideMsg=&lastSlideUrl=https%3A%2F%2Fwww.facebook.com%2FVancouverIsAwesome
http://beta.quiet.ly/list/share/f161b-7-more-vancouver-craft-breweries?width=590&height=0&heightAuto=true&showGradient=true&showMapView=true&showAuthor=true&showLogo=true&showListTitle=true&showListDescription=true&showTitles=true&showDescriptions=true&showWeblinks=true&makeClickable=true&sharePage=true&showEmbedCode=true&showIcons=true&embedTheme=dark&titleSize=18&titleType=quietly&descriptionSize=14&descriptionType=quietly&useOriginalImages=false&lastSlide=default&lastSlideMsg=&lastSlideUrl=https%3A%2F%2Fwww.facebook.com%2FVancouverIsAwesome