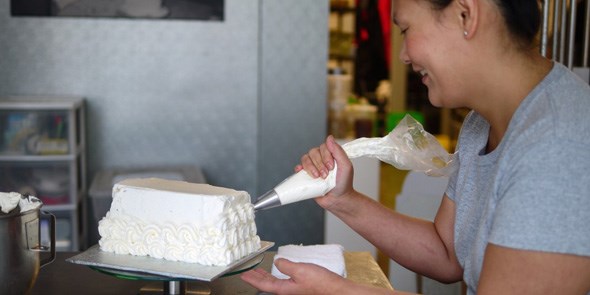 The oven scars on her forearms tell the story: Eleanor Chow is an experienced pastry chef. Years ago, at the age of 19, her career began at Joe Fortes. A slew of impressive employers followed, including CinCin, La Rua, and Lumiere.
Today, when she's not caring for her 21-month-old daughter, you'll find this successful entrepreneur running the show at one of Strathcona Village's finest artisan bakeries, Cadeaux. In the world of pastry, Ellie Chow is living the sweet life. And what makes it even more fabulous is that she lives in the 'hood.
"I love this area. It's so close to everything and it's surrounded by small businesses. There are no big companies around here," Ellie explained as we sat chatting in the back of her bustling bakery.
Which other independently-owned, neighbouring companies do Ellie's well-respected taste buds frequent on a regular basis? Here are five drinks and bites that she highly recommends you try out inStrathcona Village.
Stop 1: Bao Bei, 163 Keefer St
What to eat: The Rice & Omelette
Ellie says: "It's just an egg with turnip, but it's absolutely phenomenal. They have an ever-changing menu, but I get the simple things because that's what's awesome. The marinated eggplant and the crispy tofu are also great."
What to sip: a Chino Margarita
Ellie says: "I also order Negronis, although they're not on the menu. They'll make it anyways."
Stop 2: Chambar, 568 Beatty St
What to eat: Frog's Legs
Ellie says: "They're great, and the mussels are good. And ohhh, the lamb tajine. And the steak…the steak is always amazing. The food is just amazing."
What to sip: Any cocktail, any wine
Ellie says: "The cocktails here are amazing. Don't ask me which one because they're always changing. A main reason I go here is for the wine. Jason Yamasaki is the wine director and every time I go, I look at him and say, "I just want something delicious," and he brings me exactly what I want, every single time. Their wine program is phenomenal."
Stop 3: Wildebeest, 120 W Hastings St
What to eat: Foie Gras Poutine, Hazelnuts, Smoked Olives, Deep Fried Smelt
Ellie says: "Their food is always heavy and meat-centric so I don't eat there as often as my figure allows."
What to sip: a "Slurpee"
Ellie says: "I'll always go to Wildebeest and sit at the bar, upstairs. I love their slushee machine."
Stop 4: Calabash, 428 Carrall St
What to eat: The Roti
Ellie says: "I love their chicken roti. It's so simple and full of flavour. I also love their seafood roti. Those two are a tie, depending on the day."
What to sip: Dark and Stormy and the Coconut Jambi
Ellie says: "They're so refreshing and just so good. And Calabash is open late — they're always bumping. The vibe is just so awesome and these guys really go for it."
Stop 5: L'Abattoir, 217 Carrall St
What to eat: Steak Diane
Ellie says: "I love their Steak Diane and I adore their bread basket. It's fantastic with different brioches. Half are pastry and some are bacon-y and fishy."
What to sip: Anything from Shaun and Lin at the bar
Ellie says: "Shaun and Lin at the bar are just amazing, as are Paul (the GM) and his crew."
Cadeaux Bakery is located on Powell Street in Railtown, part of the Strathcona Village neighbourhood. For more information on Strathcona Village, head to 945 East Hastings or visit www.strathconavillage.com to register. For more updates on other local gems, follow the hashtag #StrathconaVillage online.
Contest Details
And, it's time for contest #4! A $100 gift certificate to Cadeaux Bakery is up for grabs.
To enter...
1. Post an image to Instagram (or tag an old shot) with the hashtag #StrathconaVillage
2. Tell us what you love about the Gastown, Chinatown and/or Railtown neighbourhoods.
And congrats to last week's winner, @Melanie_Bowen!
We're giving away a $100 gift certificate each week for the next two weeks, so stay tuned to my Instagram account (@erinireland) for updates. The next winner will be announced on Friday, October 10th. Good luck!
[SPONSORED POST]