If you've been reading V.I.A. for awhile you know that myself and comedian/author, Charlie Demers, have had a very public ongoing feud about which restaurant in Punjabi Market on Main Street is the best. My vote has always been with the All India Sweets at the corner of 49th and Charlie is backing the Himalaya a few hundred meters up on the same block.
A few months back Charlie and I came to a bit of an agreement after he handed me my ass in THIS exchange (scroll to the comments). I then returned with THIS jab, and then a little while later he took me for lunch at his beloved Himalaya. And he paid for it. Below is a photo of him afterglowing.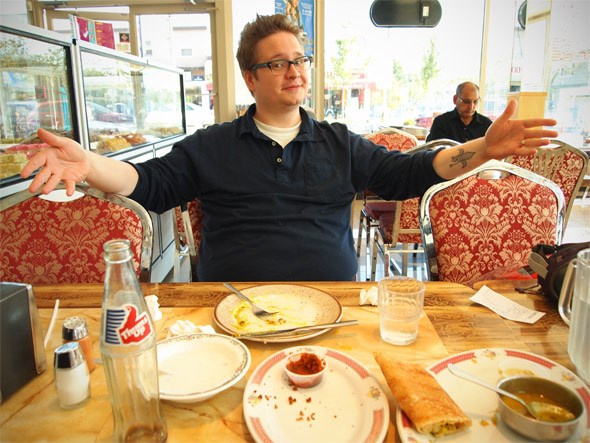 Now based on this meal we shared I won't say that I like the food at the Himalaya any better than I do my cherished All India but I will admit that Charlie's spot has a leg up in that they have my favourite pop, Thums Up, which you can read about HERE. It's the best pop on earth and the All India doesn't serve it.
You win this round, Demers!