I've wrapped up Day 5 and this time I've included some meat. This recap also features the Yaletown Farmers Market, the latest to join in the flurry of markets in Vancouver and runs until September 26th. I was ecstatic about this week's market because one of my favourite bakeries Purebread was in town.  Based in Whistler, Purebread offers some of the most delicious baked goods and breads I've ever tasted to the point where 99% of the time they're in town I show up. I think I might be a Purebread groupie...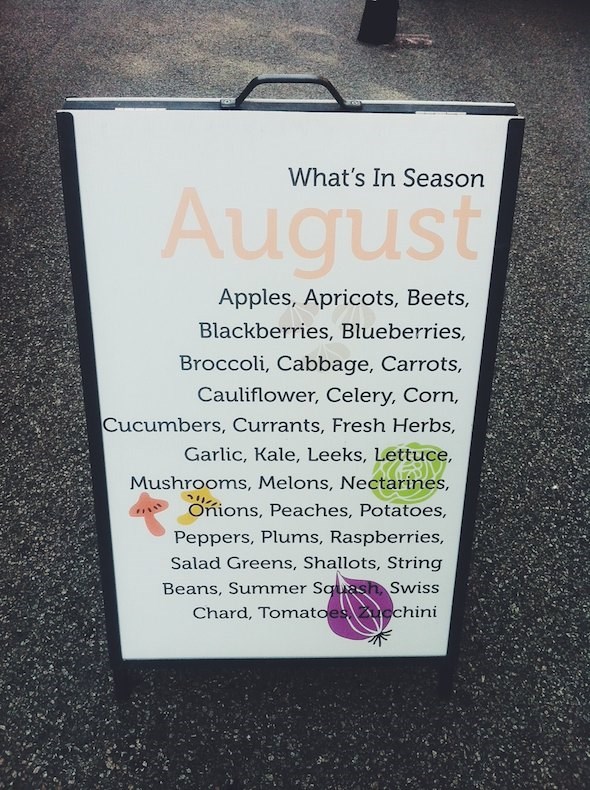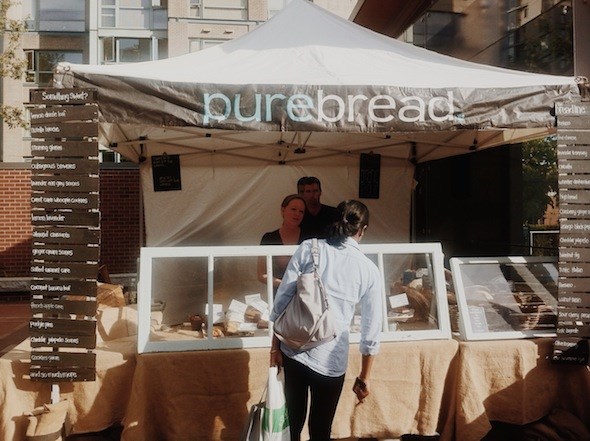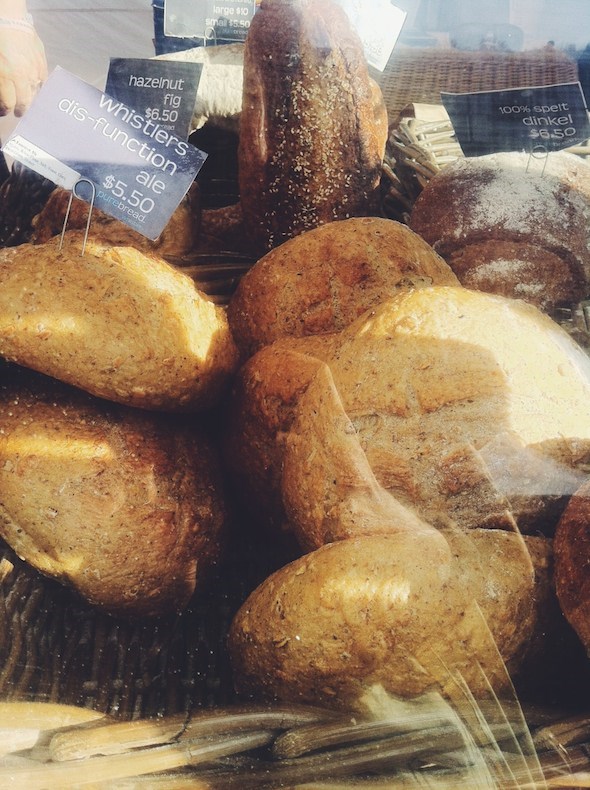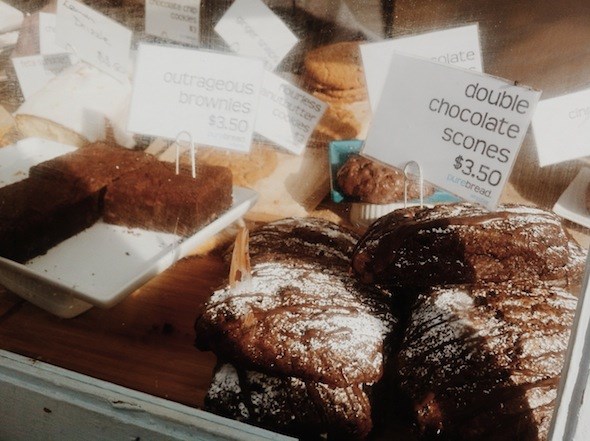 You see those "outrageous brownies" to the left? They actually are outrageous. I love them so much that I spent my last bit of change to buy one the day before payday. And my chocolate chip cookie connoisseur boyfriend thinks their cookies are some of the best he's ever tasted.
Solefood Farms was also one of the vendors at yesterday's market and I'm a huge fan of their fresh fruits and veggies as well as their mission. You know those massive plots of veggies you see by BC Place? That's them. They turn vacant lots into street farms and provide individuals with limited resources with jobs and training in agriculture, exposing them to a supportive community of farmers and food lovers. I'll also add their strawberries were some of the best I tasted this season.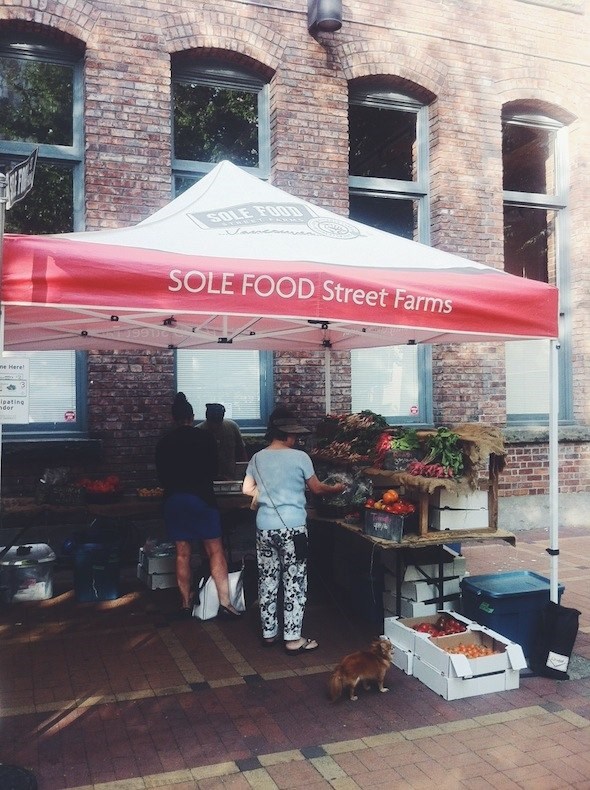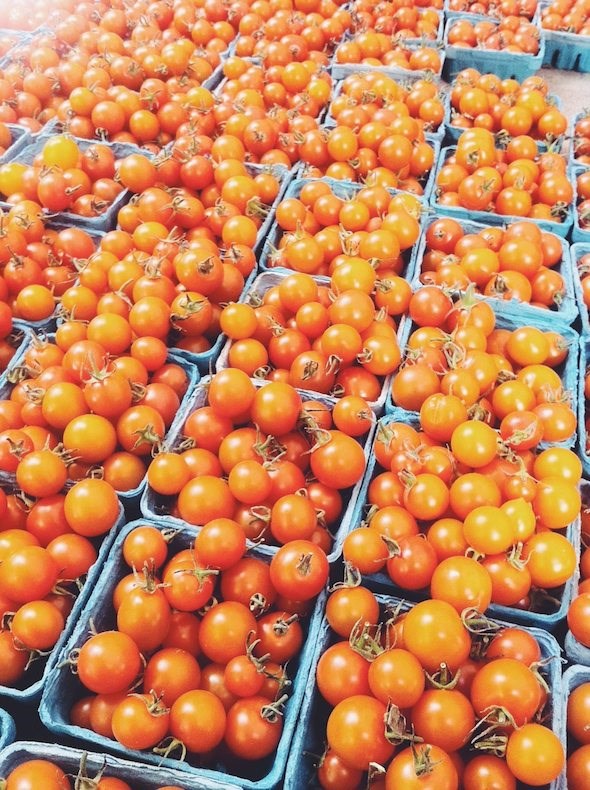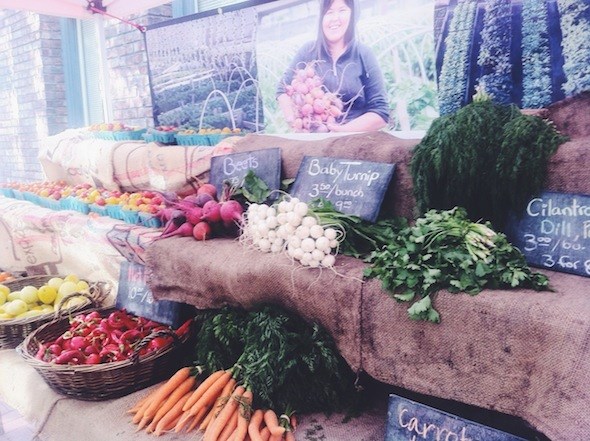 My curious sweet tooth also led me to checking out The Pie Hole, a company started by two sisters and their love for pie. They use local and seasonal ingredients whenever possible and aside from markets you can pick up their pies at Norton Commons, The Mighty Oak, Glenburn Soda Fountain & Confectionery, and Nourish Market.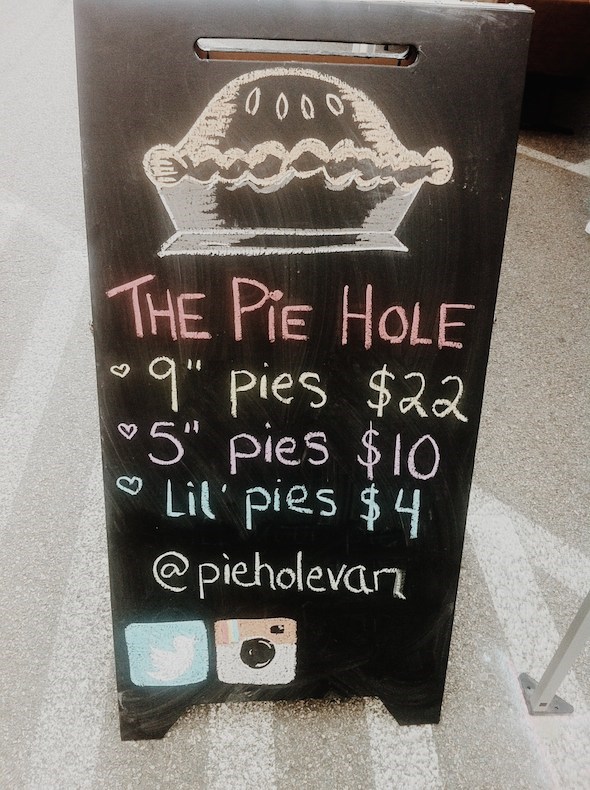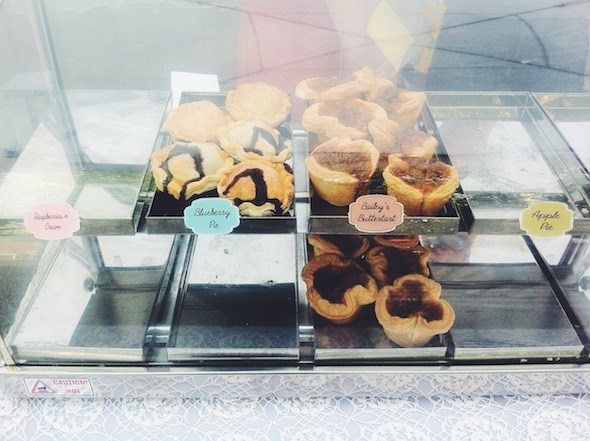 Nice Pops had a stand set up nearby and I spoke with one of the girls who let me know pretty much all the fruit they use comes from the Okanagan. They're also going to be sticking with seasonal fruits so expect frequent changes to their selection. If you're not able to hunt down their cute bicycle cart you can find their pops at The Mighty Oak, Chinatown Night Market, and Harvest.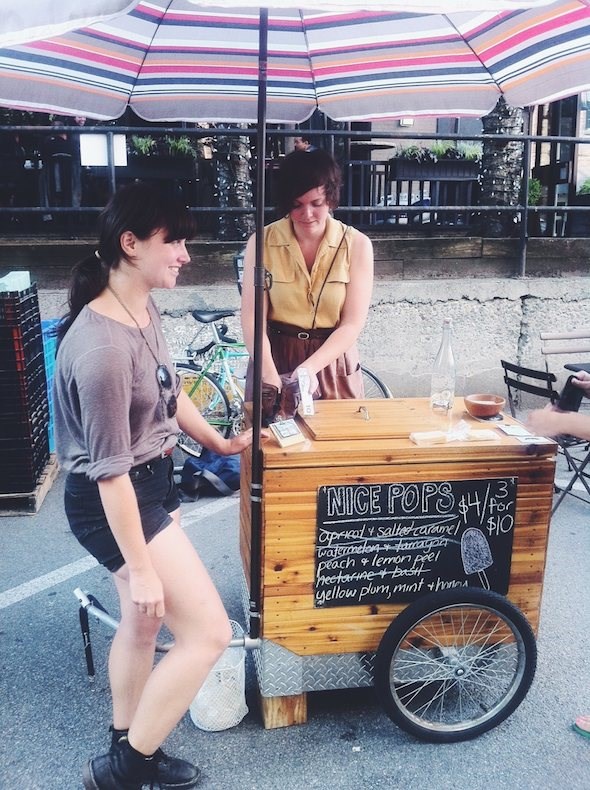 Moving on to the meat, I stocked up on some BeerBrats at last week's market but visited their stand for some photos and a quick chat with Michael. After probing him if the meat was organic we covered where the meat comes from, the (difficult) process for a farm to be certified organic, and he pointed out inquiring about the quality of the meat is just as important as inquiring about the treatment of the animals. Michael knows his stuff, and speaking with him made me realize how important it is to take a minute to speak with the vendors to know more about where your food comes from and how it's made. What's awesome about BeerBrats is the meat is local and they include locally hand-crafted beer! I picked up a 4-pack of the Granville Island Brewing Pale Ale English Bratwurst the week before and cooked it up for dinner.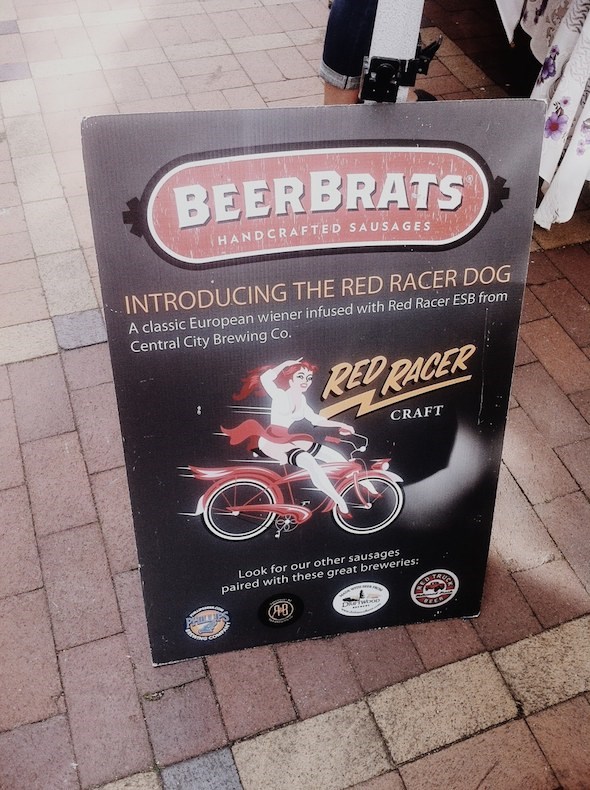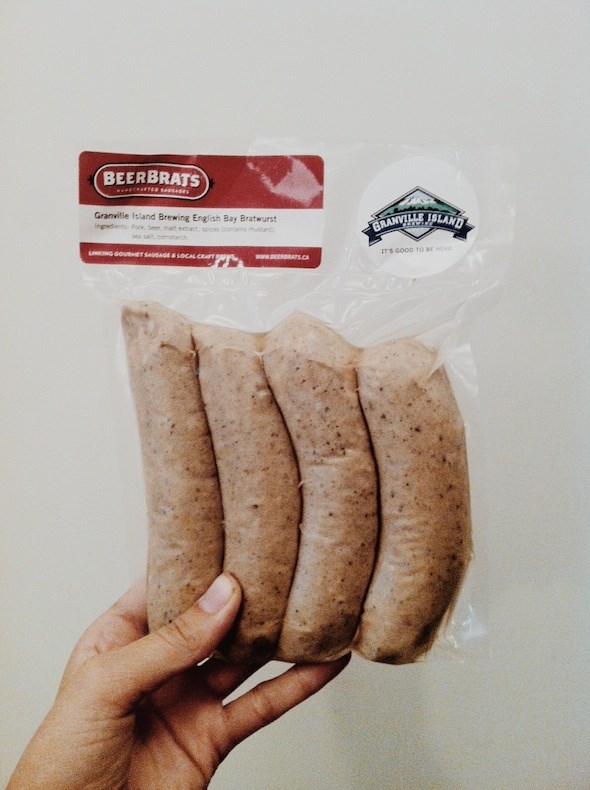 Inspired by local favourite Bestie I thought I'd try my hand at making currywurst. I baked up some fries made from some local potatoes as well as some sauerkraut to balance out the meat to veggie ratio. I'll be honest, the sauerkraut was a disappointment and my Czech relatives would be pissed if they found out I tried to make "quick" sauerkraut. It's an art form. An improvised salad was a quick fix. But the sausage? So good! It should just be mandatory for beer to be in all sausages.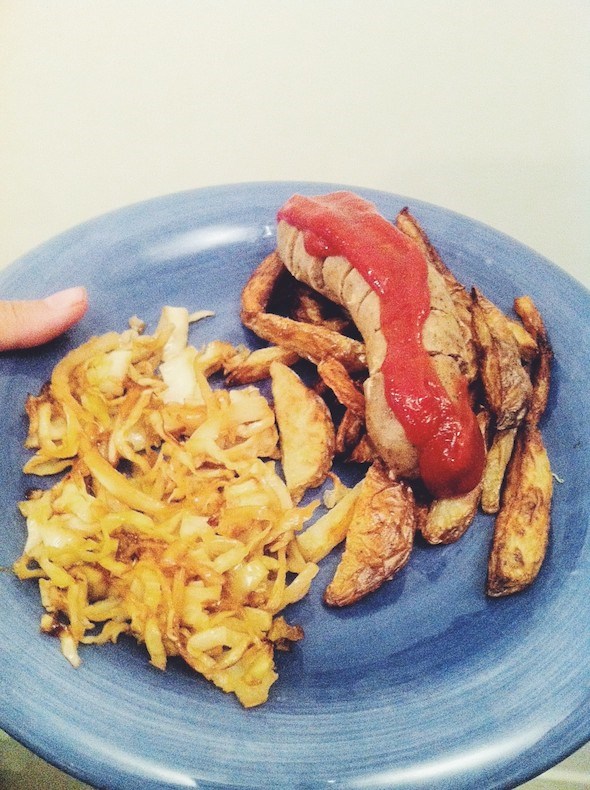 Stay tuned tomorrow for a recap of Day 6!