Love it or hate it, Valentine's Day is just around the corner. Vancouver restaurants have made it clear that February 14 isn't all about couples. While some of these feature menus are designed to be shared between two people there's something for groups and even singles (speed dating anyone?). Whether you're looking for casual takeout or an excuse to splash out with something indulgent, Vancouver's food scene has you covered.
Here are some of the places where you can dine to celebrate love in Vancouver this Valentine's Day.
Valentine's Day falls on a Tuesday this year and so newcomer Italian West-Coast fusion restaurant Nox has made its Valentine's Day features available the weekend before (Feb. 10 and 11) too. Pan-seared steelhead trout with smoked garlic potato croquette, wilted greens, and a seafood broth is the feature dish with dark chocolate and almond panna cotta for dessert. Plus, Nox has introduced three special zero-waste Valentine's Day cocktails: the Club Clover with Ampersand gin, lemon, Esquimalt dry Vermouth, berry foam, and a fruit leather garnish; the sparkling Bona Dea with prosecco, raspberry gin foam, and berry dust; and the Campari soda Aphrodite with ricotta washed Lillet, hibiscus syrup, and garnished with a mini Italian macaroon.
The romantic Winterlust domes overlooking the harbour at H Tasting Lounge in The Westin Bayshore are the perfect location for an extravagant yet intimate six-course Valentine's Day Champagne dinner. Steelhead salmon topped with fresh shaved Italian Alba white truffle and five spiced duck breast with black truffle and duck dumplings will be paired with rare vintages of Piper-Heidsieck champagne. The menu is Japanese-inspired and only available on Valentine's Day.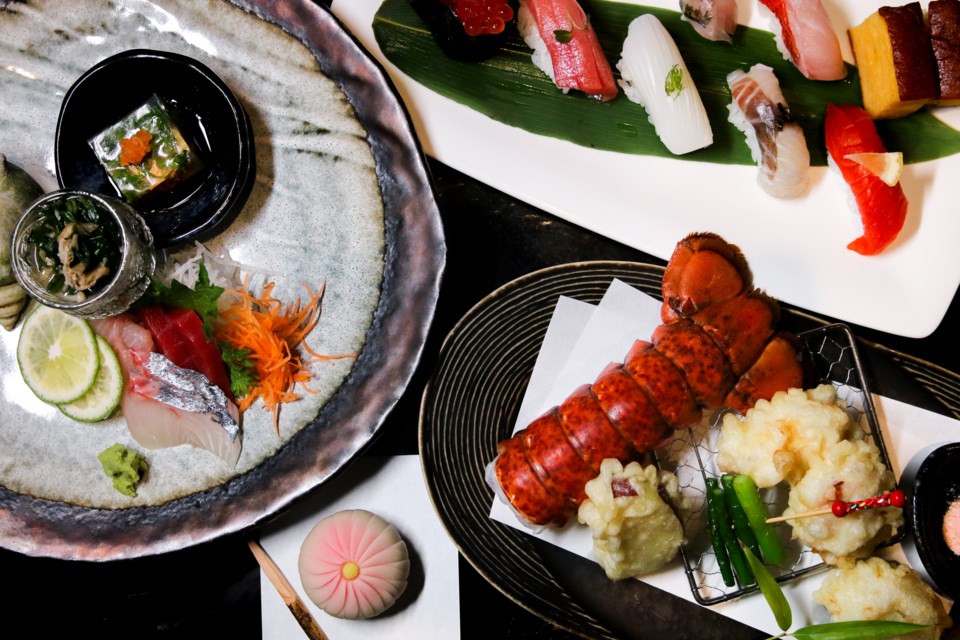 Upscale Japanese restaurant Yuwa, tucked away on W 16th Avenue next to La Glace ice cream is hosting a Valentine's Day omakase. Pre-orders are required and the menu features three kinds of appetizers and sashimi, lobster tail, rotate scallop tempura, a nine-piece nigiri platter, and traditional Japanese wagashi confectionery for dessert for $100 per person.
Yaletown's Minami restaurant is offering a five-course surf and turf dinner called Futari no Shokai (first time for two) featuring sashimi, lobster tail, wagyu, and Aburi with a raspberry lychee vanilla mousse for dessert.
Minami's Michelin-recommended Coal Harbour sister restaurant Miku has put together a special Kaiseki tasting menu. Kaiseki is a traditional multi-course Japanese dinner featuring fresh seafood, sashimi, Aburi sushi, and dessert.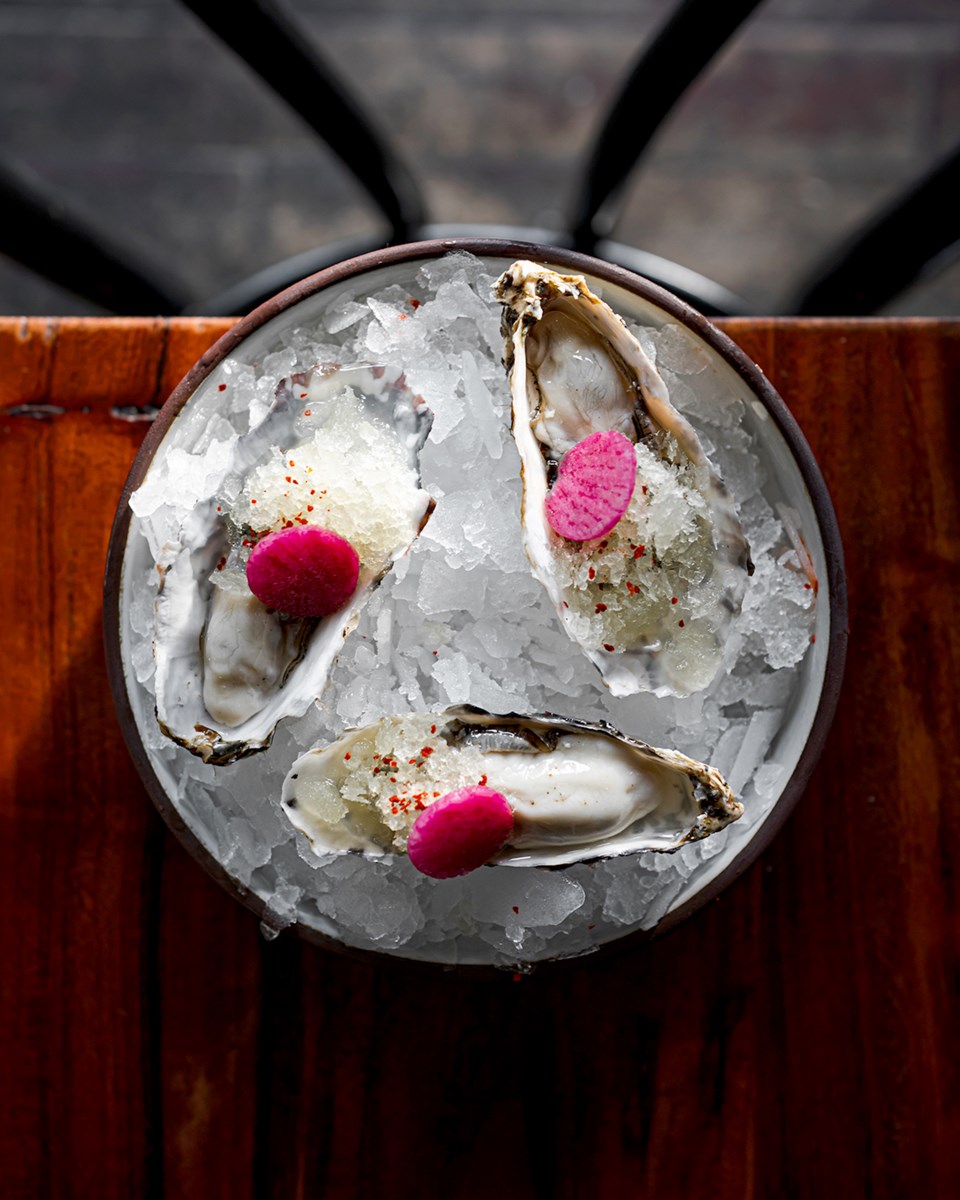 Valentine's Day at Bar Susu isn't exclusively for couples. Chef de cuisine Marc Marayag has put together a sharing-style tasting menu that can be enjoyed by groups of friends and loved ones. It starts with fresh oysters and guests can add wine and sake pairings curated by wine director Brittany Hoorne or non-alcoholic cocktails by bar director Joe Casson.
Bacchus Restaurant inside the Wedgewood Hotel has a prix fixe menu for Valentine's Day with optional wine pairings. Guests can choose from dishes such as butternut squash and mascarpone ravioli with seared Atlantic scallops, Foie Gras terrine, braised Canadian prime short rib, and roasted cauliflower. And for dessert, a decadent Valrhona Chocolate Torte.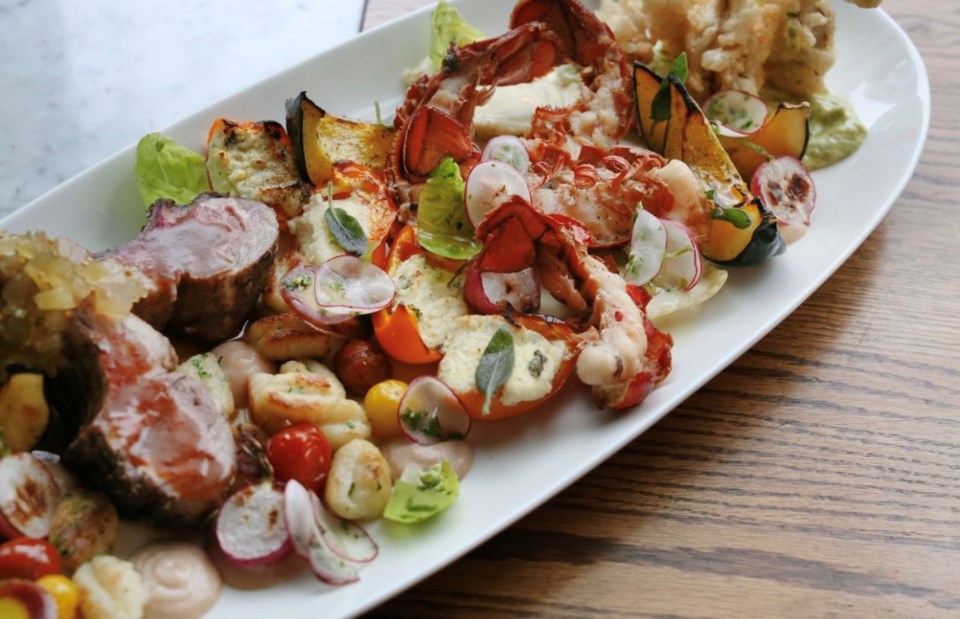 Trattoria will celebrate Valentine's Day at all three of their locations in Kitsilano, Burnaby, and West Vancouver with a surf and turf lover's sharing platter. The platter comes with a roasted rack of lamb, crispy gnocchi, brown butter poached lobster tails, butternut squash ravioli and sides of roasted acorn squash, artichoke fritti, ricotta stuffed baby peppers and radish puree. Anyone with room left can also add the dessert love platter for two which has cappuccino mousse, white chocolate panna cotta and long stem chocolate covered strawberries.
Couples or friends lucky enough to dine at the popular Michelin-recommended Ask For Luigi can expect a three-course fixed menu of a polpo alla griglia (octopus) antipasto, a lobster ravioli or Elk Osso Buco entree and a classic tiramisu for dessert. A special Rosato Spritz cocktail feature is also on offer with sparkling rose, Cocchi Rosa Vermouth, rose soda, and grapefruit or guests can order a special Piria Lambrusco di Sorbara by the glass.
Michelin recommended Kitchen Table restaurant Bacaro is known for its cicchetti (Italian small plates) and that's exactly what kicks off their special five-course Valentine's Day menu. On February 14, the prix fixe menu consists of a buffalo mozzarella and caviar cicchetti, a scallop crudo or squash sformato antipasti, a pasta course of sbocciare which is stinging nettle pasta shaped into a rose filled with cheese, caramelized onions, and black truffle. For their entree guest can choose between espresso spiced venison, olive oil poached sablefish or farro risotto and a crostata al cioccolato (halfway between a chocolate pie and torte) for dessert with cherry gelato.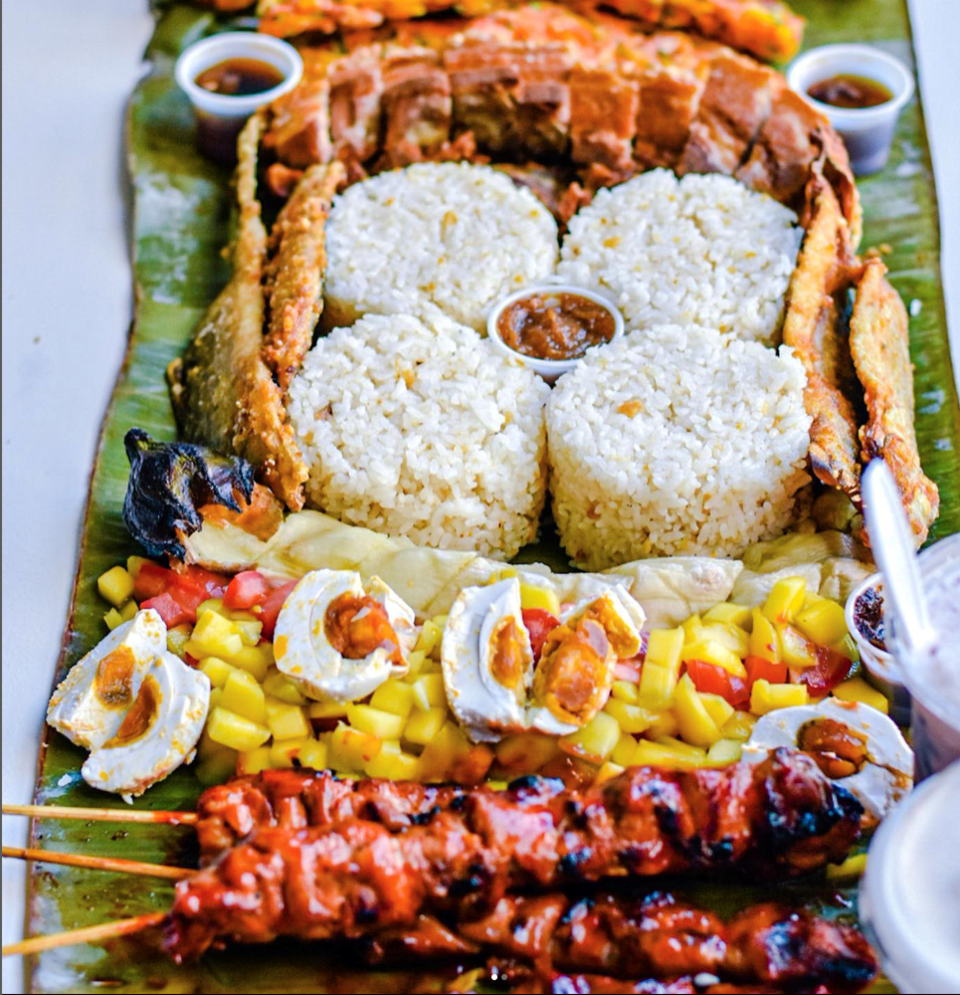 A boodle fight, also known as Kamayan, kinamot or kinamut is a Philippine military tradition where food is piled high on banana leaves for soldiers to share with their bare hands. Filipino bake shop, Goldilocks is offering its original take on the concept for Valentine's Day. The 'Goodle Fight' for two has been named the Lover's Quarrel and features chicken BBQ, Lichen Kawali (pork belly), and garlic rice with diced tomatoes, green mango, salted eggs, grilled eggplant, and deep-fried crispy vegetable fritters. And for a sweet finish, their famous turon (banana fritter) is included too.
Black and Blue, the Glowbal group restaurant for steak lovers, will be featuring a three-course Valentine's Day menu on February 14th plus an amuse bouche of saffron ravioli with quail egg. The first course is a choice between an heirloom Tomato Tart or pan-seared Hokkaido scallops but guests can also upgrade to a wagyu crudo. The main course for the carnivores is a beef tenderloin Rossini or a black truffle fettuccine for vegetarians. Applewood smoked sablefish is also on the menu for people who fall in the middle. For dessert, guests can choose a warm buttercake, mille-feuille, or a hazelnut praline bar for two.
Vegan/vegetarian restaurant Nightshade in Yaletown is also making its four-course Valentine's Day menu available from Feb. 10 to 14. Starting with a truffle gyoza, mushroom sate and polenta, leek and ricotta stuffed squash, and a passionfruit cheesecake.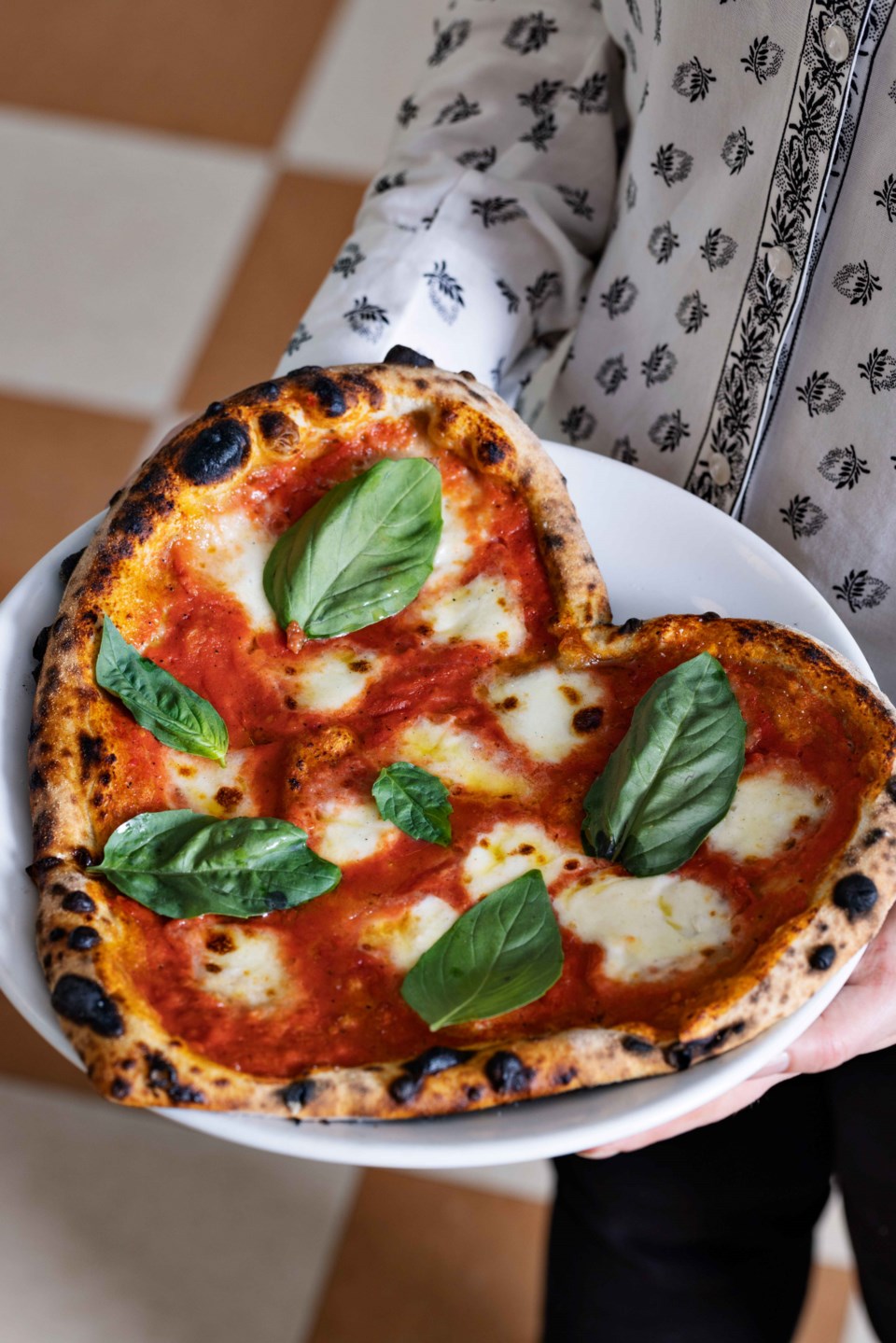 Pizzeria Farina is bringing back the heart-shaped margherita pizza for one night only while quantities last. Available for dine-in or take-out on February 14 but not through Uber Eats.
Honey Salt inside the Parq hotel is known for its brunch but on Valentine's day, it's shaking things up with a prix fixe dinner menu, optional wine pairings, and a chocolate orange espresso martini cocktail feature. Those looking to really indulge and impress their date can upgrade to a VIP Booth Package for $325 per couple which includes the Valentine's Menu for Two, a bottle of Mionetto Prosecco, roses, chocolate-covered strawberries, and a custom menu with your names. The dinner itself is three courses and guests can choose one of three appetizers–burrata salad, scallops, or beef carpaccio–and one of three entrees–Miso roasted Spring Salmon, Roast dry-aged duck breast, or 63 Acres Striploin & black tiger prawns. There's also an option to add a Nova Scotia lobster tail.
BCKitchen, also located inside the Parq Hotel and Casino, will be doing Valentine's Day a little differently. The casual bar-restaurant will be hosting a ticketed speed dating event on February 14 from 7 to 9:30 p.m. Participants will go on 12 five-minute dates facilitated by 25Dates.com.
Lastly, for the Parq hotel, the Victor is also offering a four-course Valentine's Day menu starting with a 'love at first bite course' of crispy pomme dauphine with caviar and sour cream. Guests can choose from appetizers like Dungeness crab frisee salad, pan-seared foie gras, or the intriguing mille feuille sushi. For entrees, Valentine's classics like lobster and wagyu tenderloin are on offer and there's a raspberry chocolate cheesecake for dessert. Before Feb. 10, guests can pre-order gift baskets of roses, chocolate-covered strawberries, and truffles to be waiting at their tables as well.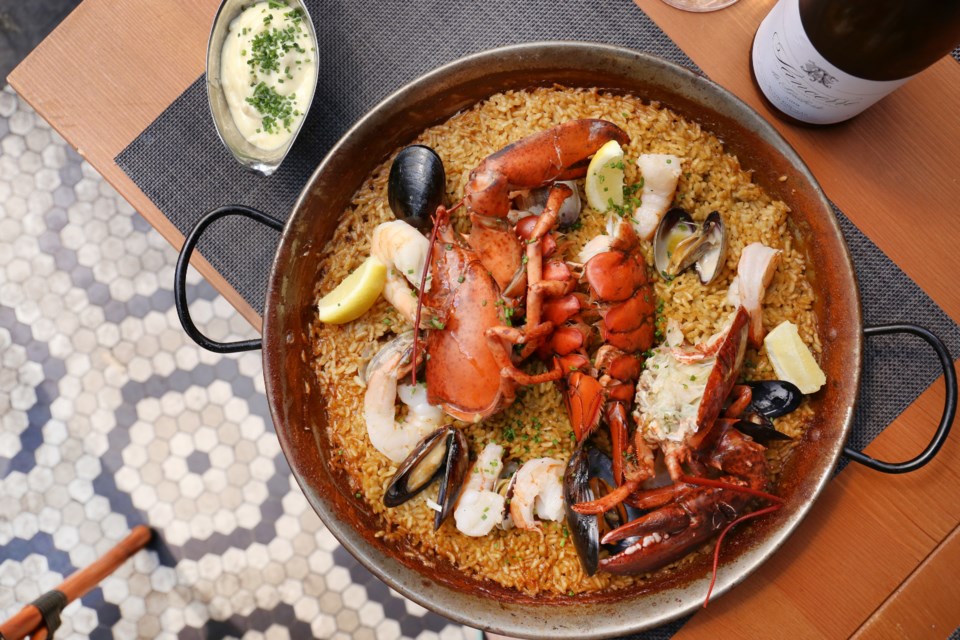 The Coast Valentine's feature menu is available from Feb. 10 to 14 and includes pan-seared scallops, tenderloin steak Oscar, lobster and seafood paella for two and a surf and turf platter.
For one night only, Italian steakhouse C|Prime is offering a multi-course Valentine's Day Menu suitable for sharing. To start, a wagyu beef and ahi tuna tartare duo amuse bouche, followed by a Tortellini duo of crab and lobster cream and short rib with garlic cream. The main course is a one-pound grilled Canadian Lobster and 12-ounce Blue Dot ribeye with roasted fingerling potatoes. A shareable raspberry white chocolate and whiskey dark chocolate dessert round out the meal with chocolate strawberries to take home.
Five Sails (one of the best views in town) is pulling out all the stops with its one-night-only five-course Valentine's Day set menu starting with oysters, caviar, albacore tuna tartare and tempura. Course number two is Nova Scotia lobster, of course. Followed by foie gras and branzino for two. Course number five is chateaubriand steak for two with roasted root vegetables and port jus and to finish, strawberries with a lime mousse dessert.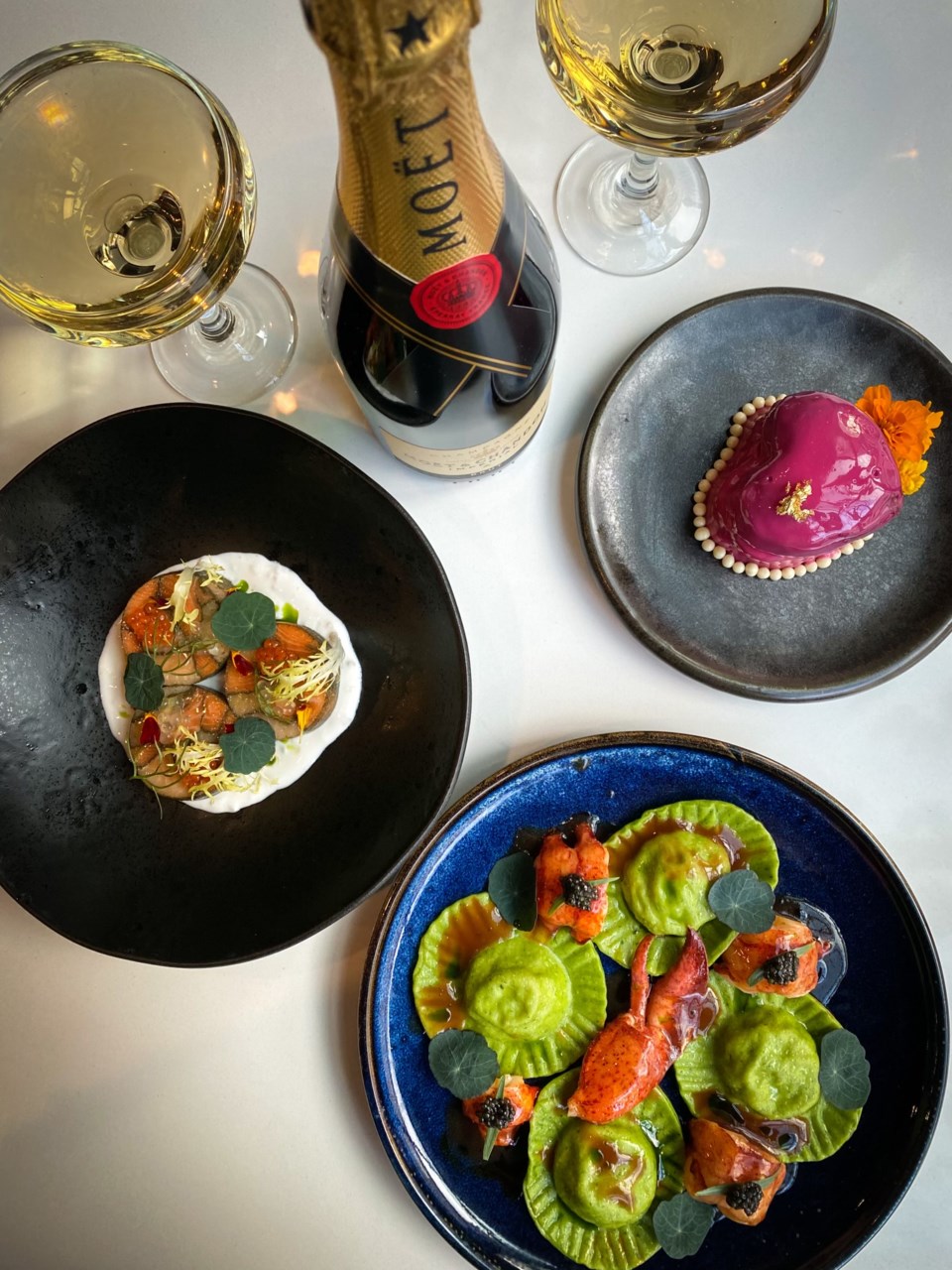 Fanny Bay Oysters has put together a three-course menu available on Feb 14 to 16. The seafood-forward features don't skimp, starting with a salmon mosaic using kelp powder, ikura, and citrus orbs followed by smoked scallop ravioli with poached lobster and caviar. A red velvet cake with cream cheese icing finishes the meal. Pair the menu with the 'Don't Shuck with my Heart' cocktail feature of Empress gin, grapefruit, lemon, and grenadine.
Di Beppe—cafe by day restaurant by night—has a one-night-only a la carte menu for Valentine's Day that features a crispy potato and burrata antipasti, tomato salad, spinach and ricotta ravioli and a sweet Italian Maritozzi bun for dessert. Those who stop by during the day can pick up an assorted selection of heart-shaped treats as well.
Smitty's Oyster House Main Street
Smitty's is celebrating Valentine's Day with a seafood tower for two plus a bottle of bubbly for $200. The seafood tower special includes crab, lobster, shrimp cocktail, mussels, oysters and tuna tiradito (a sliced version of ceviche) and is available Feb. 10 to 12 and obviously on Feb. 14.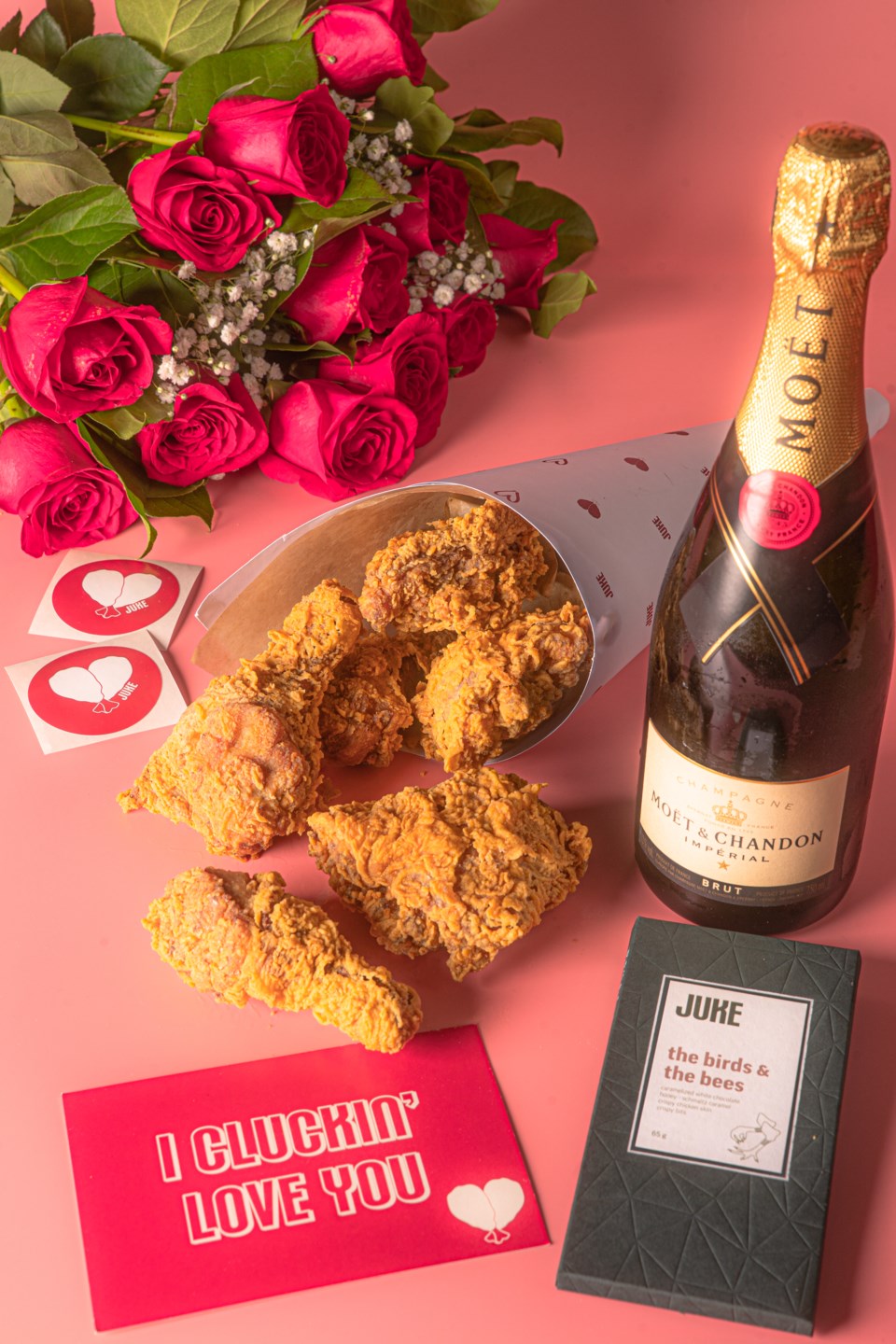 Juke has declared the 'holy romance trinity' to be a fried chicken bouquet, a bottle of bubbles and the Juke x Beta 5 Birds and the Bees chocolate bar collaboration. All are available for pick up on February 14 between 10 a.m. to 6 p.m. for gifting to your beloved with a card that reads 'I cluckin' love you.'
Valentine's Day guests at the Farmhouse can enjoy their menu as a set four-course tasting with optional wine pairings or order dishes a la carte. The meal begins with Oysters Alla Livornese followed by semolina gnocchi, roasted beef tenderloin, and chocolate rose semifreddo for dessert.
Each guest to Cibo and Uva will be greeted with a small bottle of Prosecco on Valentine's Day and can choose between tuna tartare, caprese or carpaccio to start before moving on to the main course of ravioli Florentine, honey glazed salmon or steak. Dessert is a choice of tiramisu, lemon cake or chocolate mousse.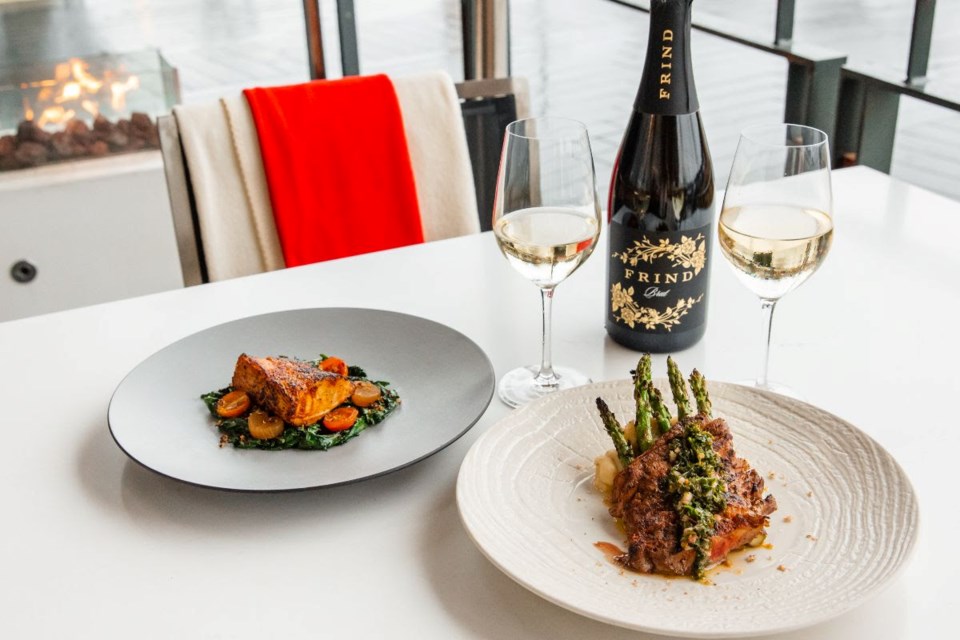 Ancora's executive chefs Jorge Kim and Sebastian Delgado have prepared Peruvian-meets-Japanese Nikkei menus for both of the restaurant's locations and guests can add on wine pairings chosen by the sommeliers. At the Ambleside location in West Vancouver, dishes include bluefin poke rice crisp and tenderloin beef tartare to start, with oysters, lingcod ceviche, scallop shooters and lobster tortellini to follow. For their main entree, guests can choose between Aji Panca glazed sablefish or 5oz boneless ribeye and pavlova with meringue, lemon curd, mascarpone cream and fresh berries for dessert.
Similarly, at the False Creek location scallop Nikkei, beef tartar, and risotto are on the menu to start and guests can choose between Branzino or Pato for their main with Pavlova for dessert.
Notch8, located inside the Fairmont Hotel Vancouver, is offering an indulgent three-course dinner menu that includes vegetarian beet "tartare" or baked oysters to start, Brome Lake roasted duck breast, grilled Arctic char or goat cheese and potato galette as main, and bitter chocolate and Griotte cherry bar to finish.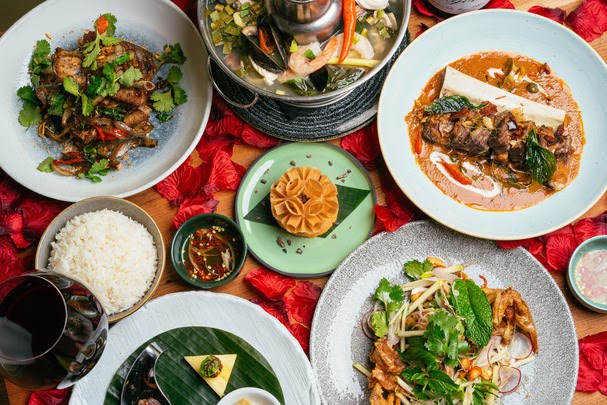 Chef Angus An has developed exclusive dine-in tasting menus and take-home dinner sets that are only available for February 14. The Tai dishes are made to share between at least two people and consist of a set of four snacks, an appetizer plus soup and salad, two main-course dishes of curry and stir-fry, and a duo of light desserts, all chosen a la carte. For the take-out experience, there are three menus available to choose from: vegetarian, pescatarian, and signature.
Located inside the Vancouver Marriott Pinnacle Downtown, Showcase is introducing three special cocktails for Valentine's Day including the infamous Love Bird(s) served in bird-shaped glasses that can accompany the three-course prix fixe menu. Dinner begins with an oyster amuse-bouche, followed by your choice of scallops, seared duck breast, or mushroom and sweet potato bread pudding. The main courses are grilled octopus, roasted beetroot cannelloni, or beef tenderloin and for dessert, there's chocolate raspberry rose cake or chocolate mousse with strawberry and hibiscus shortcake.