Nothing says comfort on a cold winter day like a grilled cheese sandwich. Hi-Five Grilled Cheese is a tiny tuck shop window located in Gastown serving up a delicious menu of take-out only grilled cheese sandwiches. Already a must eat destination for the late-night drinking crowd, Hi-Five is now excitedly open for lunch during the week. Enjoy a TBT for $3.00 (traditional American cheese) or splurge on the excellent Cheddie Vedder (aged cheddars, sriracha & garlic butter) for $5.00. Add a side of the made in-house tomato soup for $3.00. Cash only. 109-22 East Cordova St. Tues-Fri 11:30am-2:30pm. Thurs. 8pm-1am. Fri & Sat. 8pm-2am.
While Vancouver's Chinatown has seen an influx of new hipster restaurants, it's still the go to downtown destination for handmade Chinese buns and bakery goods. New Town Bakery, a Vancouver institution since 1980 is a must visit for their outstanding steamed/baked buns and bakery goods all under $3.00. The baked pork bun ($1.50) is one of Vancouver's best along with their award-winning apple tarts.($1.20) Cash only. 148 East Pender St. (604)-689-7835. Mon-Sun 6:30am-8:30pm.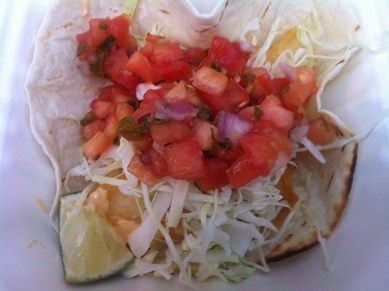 Tacofino Burrito Bar
Tacofino's $5.00 fish taco, available from their take-out Burrito Bar, comes with deep fried tempura ling cod, chipotle, mayo, cabbage, and salsa wrapped up in flour tortilla perfection.  The line-up moves quickly and this fish taco with a cult following is worth the wait. It's always a good day for a Tacofino fish taco. 15 West Cordova St. (604) 899-7907
Mon-Thurs 11:30am-3:30pm. 5pm-10pm. Fri. 11:30am-3pm. 5pm-midnight. Sat. 11:30am-midnight. Sun. 11:30am-10pm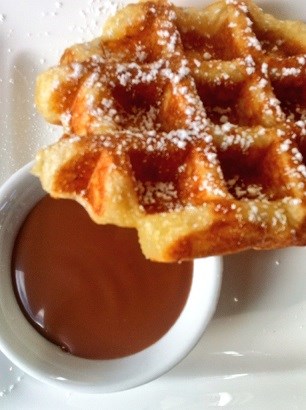 Café Medina
Vancouver's "it spot" for all day breakfast, Café Medina also serves up their famed homemade Belgian waffles with a choice of topping to go. Your only dilemma may be choosing which topping to accompany your waffle. Toppings include dark chocolate, milk chocolate lavender, white chocolate, salted caramel, raspberry caramel, passion fruit, and maple syrup. Waffle each $3.15. Optional toppings each $1.00. Sugary warm heaven, who doesn't love a waffle on a cold day?
780 Richards St. (604-879-3114). Mon-Fri. 8am-3pm. Weekends 9am-3pm.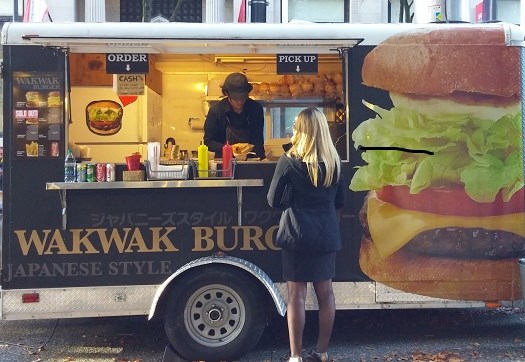 WakWak Burger
This food cart located on Granville Street at West Pender serves up the now named Wakwak Burger along with the newly created Menchi Katsu burger, a breaded and deep-fried   meatball burger. While the price point is now $3.42 plus tax for the Wakwak burger and $4.75 for their new "it burger", the Menchi Kastu, it's still under $5.00 to enjoy Vancouver's legendary street food burgers with a Japanese twist. Cash only. Granville St. at West Pender St. Mon-Sat. 11am-7pm.