Halloween spirits don't just have to refer to ghosts. Blood red juices and poison green liquors combine at these Vancouver bars to create spirited concoctions that scream Halloween.
If you're planning a night out with friends (in costume or not, though we highly encourage it), these bars are the perfect place to stop for some spooky fun. From goth-themed pop-up bars to secret speakeasies, these haunts have at least one Halloween libation on the menu.
This pop-up at Downtown's Butcher and Bullock is only on until Halloween. The space has been decked out with skulls, life-size coffins and occult elements that give it a dungeon House of 1,000 Corpses feel. The bar menu pays homage to classic horror and goth themes with drinks like Screaming Banshee, a combination of Botanist gin, Giffard L'Abricot, pineapple syrup, and greek yogurt. Or Lilith's Cup with Mount Gay Black Barrel, Aperol, vermouth, passionfruit syrup, and glitter. One cocktail is even named for the cult classic, Hellraiser and has tequila, spiced rum, Cointreau, and spiced oat orgeat for a warming autumnal effect.
To get guests a taste of what to expect, Black Lagoon has shared a teaser playlist of the kind of tunes they'll be playing.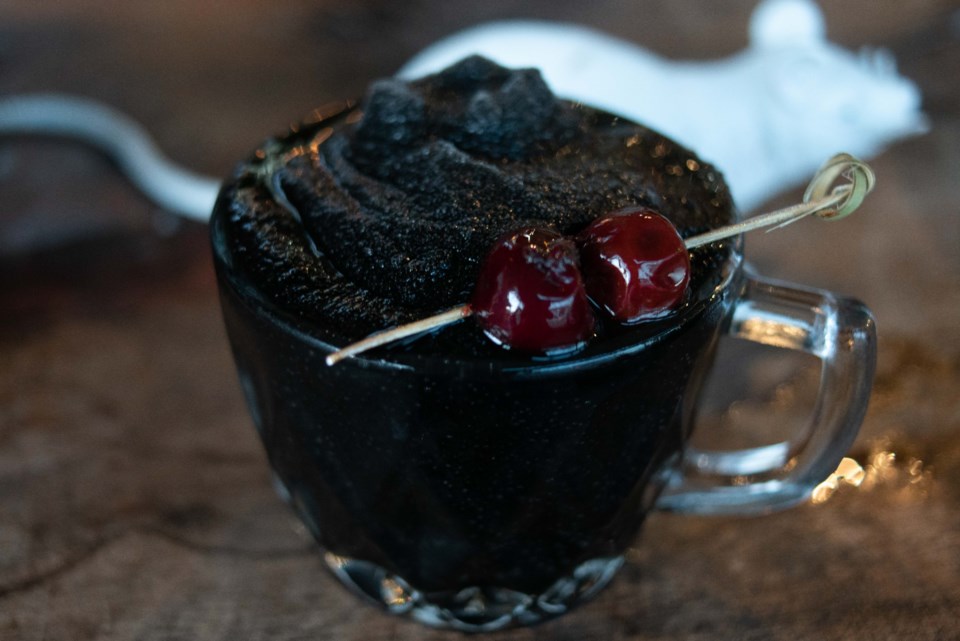 Each year, Odd Society Spirits lives up to its name and conjures the most inventive and unusual cocktails for the spooky season. This year the distiller and tasting lounge has three different tricks and treats from Oct. 27 to 30.
There's a spellbinding Black Heart Manhattan slushy, and an electric green Last Word Shot made of wallflower gin, tequila Blanco, génépy, maraschino, vanilla Bianco, lemon and lime. Plus, a Nightmare Punch made with candy corn infused East Van Vodka and a Fear Martini.
People who stop by in costume on Oct. 27 can expect a live DJ and best-dressed prizes.
Uva Wine Bar is another Downtown cocktail bar that comes through with themed drinks each year. There may be more announced in the next day or two, but the one currently on the menu that most fits the Halloween festivities is the Howlin Wolf. The cocktail is made up of Smirnoff vodka, house-made thyme syrup, Galliano vanilla liqueur, cranberry and lime juices, and is finished with a sprig of rosemary.
Want to mess with a friend in the lead-up to Halloween? Try hitting up Ancora and ordering them a Bloodshot. The cocktail is blood red and contains tequila, beet-infused Campari, Cointreau, red beet puree, Odd Society Cassis, lemon, and Free Pour Jenny's Solstice bitters. Oh, and did we mention it comes with a frozen eyeball floating in it?
It's only available between Oct. 28 and 31.
Tucked away in the back of Yaletown fried chicken spot Hundy, The Stock Room is a great Halloween speakeasy to hit up. Not only because of the atmosphere but also because of their current feature cocktail, The Castaway, which comes in a skull tiki glass for maximum vibes. The drink consists of Appleton eight-year rum, lime, pineapple, sugar, mint, soda, and black pepper for a kick.