There's a special satisfaction that comes from swiping a few bits of Halloween candy after the kids have gone to bed, but these fang-tastic goodies don't call for clandestine methods (unless you don't want to share, which we totally understand).
Halloween is up there with Christmas and Easter when it comes to sugar-fuelled holidays and the ghoulish inspiration is boundless. These confectionery treats from Vancouver bakeries manage to make the scary look delicious.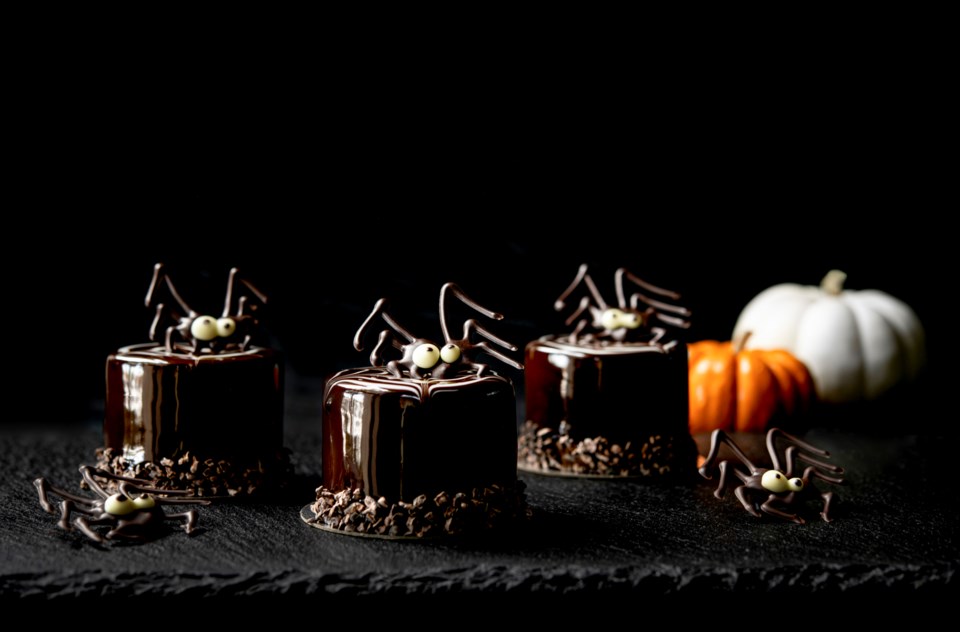 The Granville Island cafe associated with the Pacific Institute of Culinary Arts has transformed toasted Swiss meringue into delectable little ghosts atop lemon curd and hazelnuts. Joining them on the menu are spiders perched on cakes of dark chocolate mousse, crème brûlée, and cookie crunch. Mummy's Return cupcakes round out the Halloween offerings, the red velvet cupcake has seasonally appropriate pumpkin spice ganache, cranberry jam and cream cheese icing.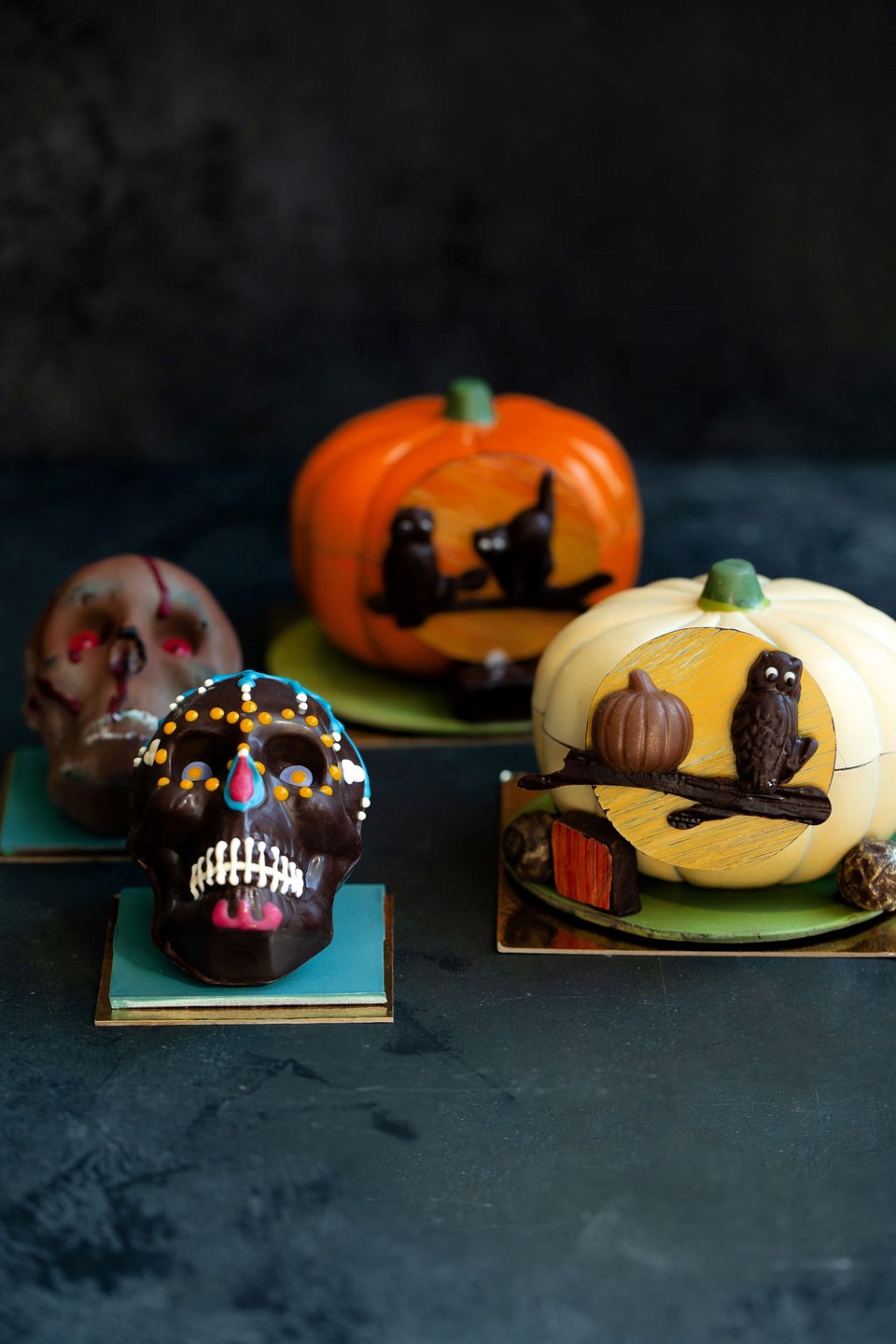 Temper Chocolate and Pastry is playing around with colour and serving up edible showpieces this Halloween. Pumpkins and skulls filled with miniature chocolates are the standouts of this season's collection. Milk and dark chocolate lollipops and bite-sized ghost, tombstone, and skull shapes will also be available by the bag.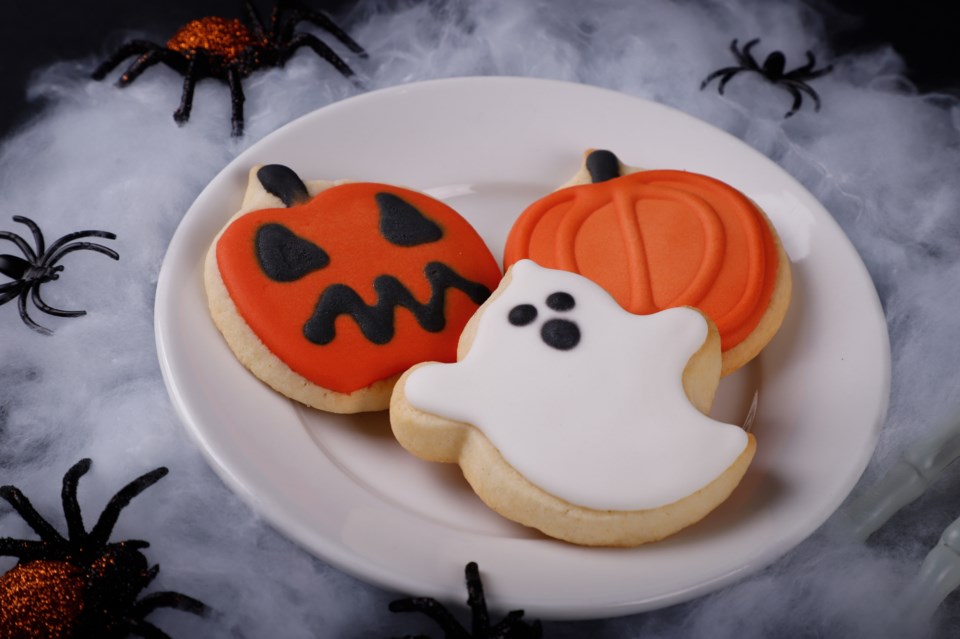 Kafka's is back with another round of seasonal sugar cookies in festive shapes like bats, pumpkins, and ghosts. In addition to the classic cookies, traditional Argentine alfajores are also on the menu for Halloween. Dulce de leche sprinkled with coconut is sandwiched between two cookies and finished with a dark chocolate spider web.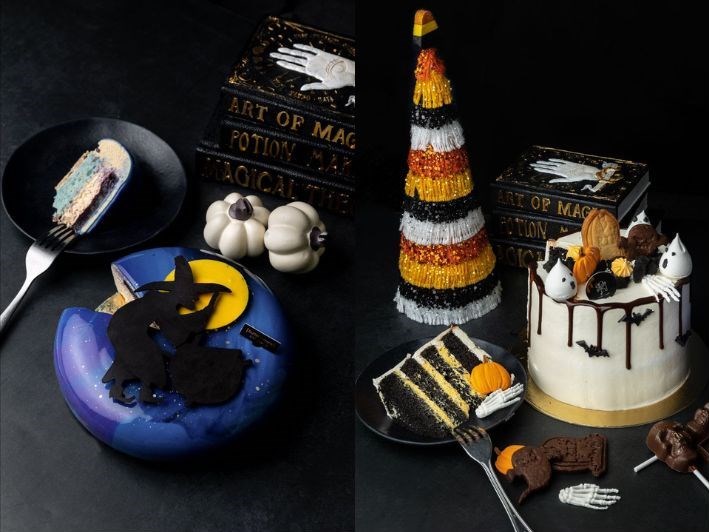 Buttermere has outdone itself with this year's Halloween cakes. Taking on the trendy galaxy cake, its version is coloured like the iridescent night sky with a full moon and a chocolate witch tending her cauldron. The sponge is pea flower and strawberry cake with a mix of crunchy and creamy textures thanks to Poprock feuilletine, Zephyr caramel mousse, and blueberry jelly.
The Boo Bash cake is black velvet sponge with orange Kabocha namelaka icing decked out in shortbread, Swiss buttercream, and meringue ghosts. This year they've also added chocolate lollipops to be the most popular house on the block with trick-or-treaters.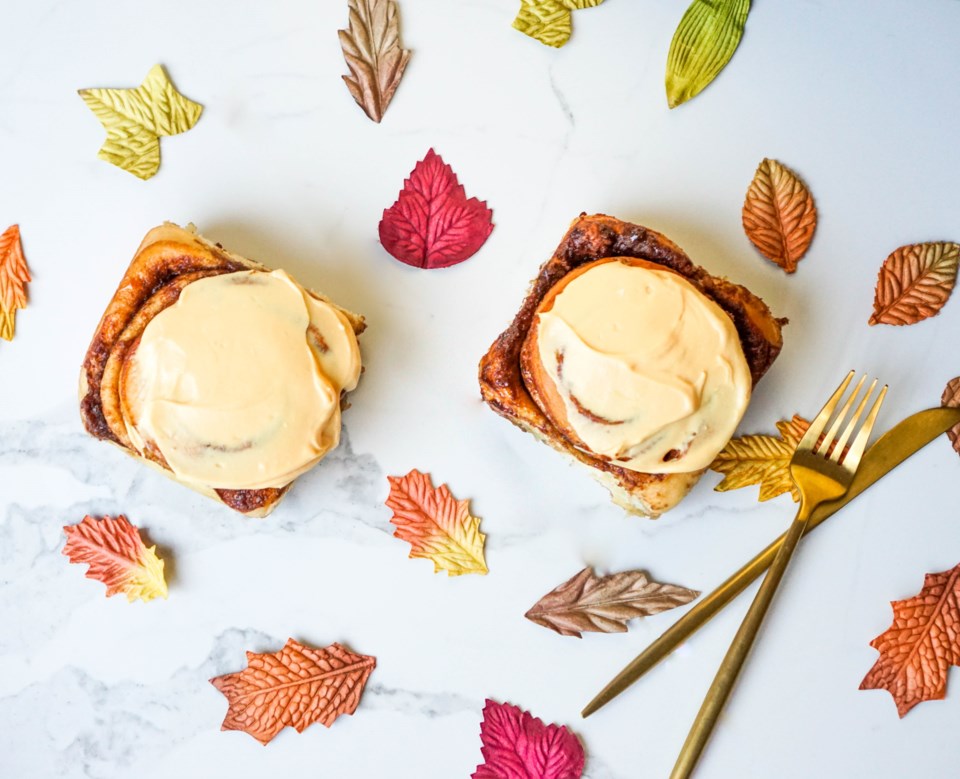 Every year Grounds for Coffee releases its annual pumpkin spice cinnamon buns for a limited time in October and they're back again October 28 to 31 just for Halloween.
Beta5 has been dreaming up different creatures to top their Halloween cream puffs for years. From little green one-eyed monsters to wolf-men what could they possibly come up with next? The answer: a whole lot. Poison apples, cauldrons, brains, eyeballs, mummies, ghosts, and more—for one week only (Oct. 25-29) there's a whole crew of cream puffs.
This Monday, Mello released a limited-time batch of stuffed Halloween donuts. Chose from black cocoa brioche bursting with cookies and cream filling and candy or blueberry cream cheese filling and a little meringue pumpkin. Only available until the October 31.
Where to begin? Rocky Mtn is coming through with a parade of Halloween treats including smashable chocolate pumpkins, mummies (named Murray) and skulls full of individually foil wrapped chocolates. Plus large festive chocolate bars swirled with ghosts and creepy orange eyes and devious decroated caramel apples.
Thomas Hass's autumnal offerings give people pumpkin to talk about. Airbrushed chocolate pumpkins and smiling Jack 'o' lanterns stuffed with treats and scarecrows in mini pumpkin fields make up the majority of the season showstoppers. Plus an edible cornucopia filled with seasonal truffles and fall-inspired chocolates.
Ladurée has released its limited-edition Halloween macaron box again this year but it's the pumpkin tart that has our attention. The butter tartlet is filled with almond cream, macadamia nuts and layered with roasted praline and popcorn miso caramel, topped with whipped corn ganache and a delicate chocolate bat.