Tri-City residents are already flocking to Pourquoi Pas Patisserie, a new Coquitlam pastry shop and café that has just opened up in Eagle Ridge Plaza at 304-1194 Lansdowne Dr, Coquitlam.
After much anticipation, Annie Chang's new French-inspired artisan bakery has opened its doors, offering a lesson in French baking to anyone who stops in.
In just a few minutes on a damp Friday morning, Pourquoi Pas was already busy with shoppers buying flaky croissants, delicate choux pastry, mousse cakes and more.
"I am really enjoying getting to know the people in the area and getting their feedback," said Chang, who opened the store on Dec. 18 — the coldest and snowiest day of the winter so far.
Chang didn't mind the chill, however, as she said it felt like home.
Updated French classics
What's more, Chang was reminded of the places she used to frequent when she lived in Montreal, the city where she first tasted French pastries.
She now aspires to re-create artisan French baking but with her own style — marrying traditional methods with new flavours, shapes and combinations.
For example, her spiced pear financier — a blend of almonds, cardamon, cinnamon and bourbon pears in a brown butter almond cake — is a twist on the French classic.
Financiers are typically rectangle shaped, to represent a gold bar, but Chang's financiers are shaped like cupcakes.
Soft and flavourful, her financiers melt in the mouth.
But her creativity with financiers is perhaps not coincidental: Chang began her career in finance after university, working in the Toronto finance industry for five years.
However, she turned to baking to explore her more more "creative" side.
"I'm trying to bring something new and elevated to the area," said Chang. "People like variety, and, for us in the back, it's fun keeping it fresh and interesting."
Chang said she enjoys putting a creative touch to the French traditions that she experimented with and developed after taking a pastry arts course at Vancouver Community College.
Pop up pastry shops
The selection at Pourquoi Pas is amazing, and a lesson in French baking.
At the front counter, Chang displays, seven different types of croissants, from chocolate and almond to a coconut apricot Danish for those with a sweet tooth.
Those stopping by for a hearty lunch can pick up a Croque Monsieur (ham and cheese with dijon béchamel sauce) or a giant French Onion pull apart, among her most popular sellers.
Next is a cinnamon swirl and four types of brown butter cookies, and two types of pastries, followed by financiers, canelés and chocolate banana loaf.
You can also purchase a variety of tantalizing palm-sized coconut mango mousse cakes, sliced coffee caramel cake by the slice, eclairs and cream puffs while topping it off with locally air roasted Honest to Pete coffee.
Pourquoi Pas also makes its own truffles and even granola.
The stunning selection didn't scare one fellow who stopped by to purchase a half a dozen pastries of varying kinds.
Apparently, his wife gave him a list of what to buy when he dropped off his kids at the local daycare.
"She was pretty excited that it has opened," the customer said.
Positive feedback from customers is what puts a glow on Chang's face.
But this isn't her first go-round with a bakery business.
Small business start-up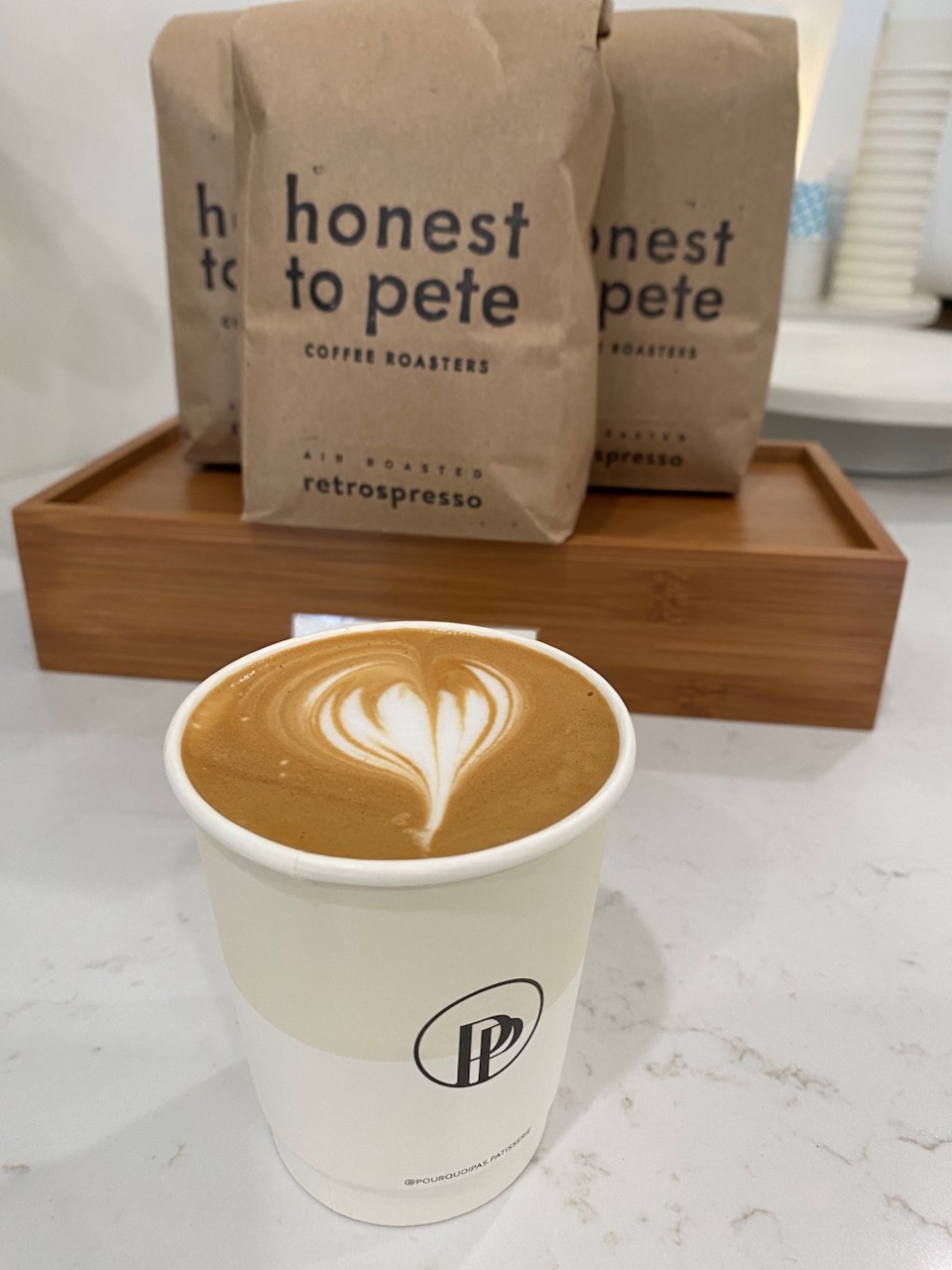 In Toronto, Chang had an online custom cake business, Annie's Oven, and took part in a televised baking contest called Cupcake Championship with the Food Network.
But it's through a series of pop ups in Vancouver after moving here with her husband that Chang began to envision a full-on brick and mortar store.
It took almost two years to find a space in Coquitlam, and the Port Moody resident said she almost gave up.
The Tri-Cities, it seems, is lucky she didn't quit, and residents now have French baking a short walk or drive away.
Chang says she kept going because she had a drive to create something special for the community.
"At the end of the day your passion keeps you creating and to take things to a new level."
Soft opening hours
Soft opening hours this week are as follows:
This week: Tuesday, Jan. 10 to Saturday, Jan. 14 from 8:30 a.m. to 5 p.m. (or when Pourquoi Pas is sold out).
Next week: Wednesday, Jan. 18 to Sunday, Jan. 22, from 8:30 a.m. to 5 p.m.
To find out more and get up-to-date hours visit Pourquoi Pas on Instagram.