There are no battles more closely and tirelessly fought than that between Cake and Pie. Cake is the flashier of the two, sure, but sometimes ... sometimes a Pie reigns supreme. Now, you may think, "Oh, pie, whatever. Who cares." Then obviously you've not been to the place for pie in Vancouver (OK, West Vancouver) - Savary Island Pie Company.
[caption id="attachment_38826" align="aligncenter" width="590" caption="Blueberry Pie made with certified organic blueberries from Matsqui"]
[/caption]
All of their fruit pies are made with certified organic fruit; in the case of the slice of blueberry pie pictured, they are from Matsqui Farms. The other thing that makes these handmade pies so amazing is the crust, which is insanely awesome. According to my friend Heather, "it's so good you could just eat the crust with ice cream!"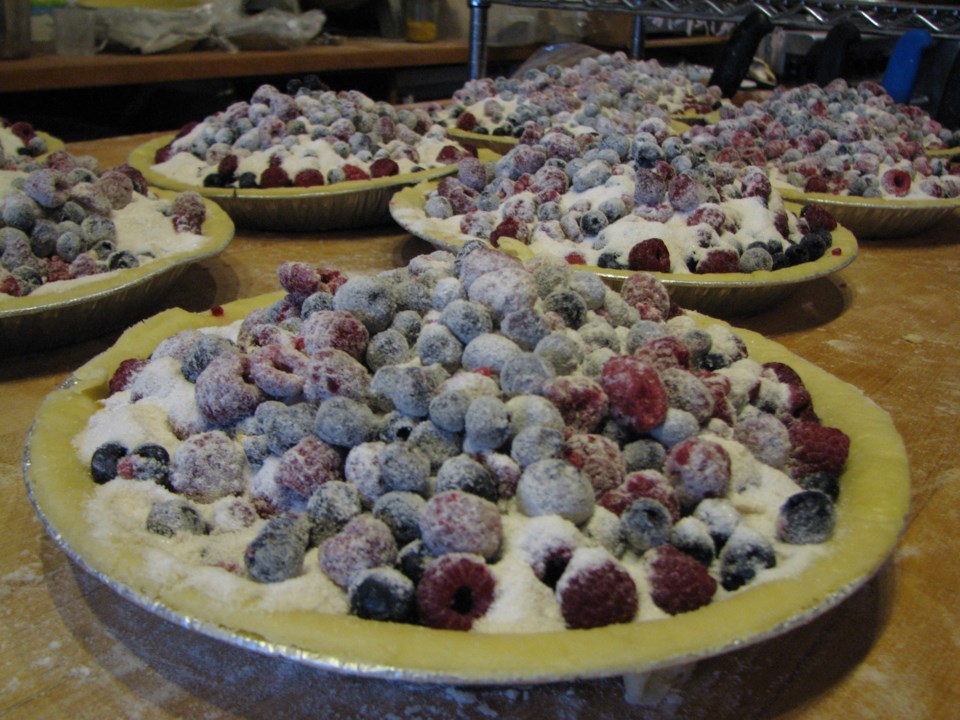 I asked Savary Island pie-girl Keira what makes the pies so special, and she cites that "all the dough is made on the day of production, so it's very fresh - it makes for a flaky and delicious crust." Probing for more into the secret world of Savary Island pie, I learned that orange juice is added to the dough to make it that much better than anything else you've ever had (apparently it's from an old family recipe).
Savary also makes incredible bread - let it be known that (IMO) their olive oil-laden Italian loaf is the best bread you can buy in the GVRD. (Yeah, that's right. I said it.) I like it as is, toasted with butter or in a grilled cheese sandwich. When you ask for one, make sure you get one with a big crack of olive oil down the middle - trust me. If you know of a better loaf, email me and we can go head to head with Battle Bread.