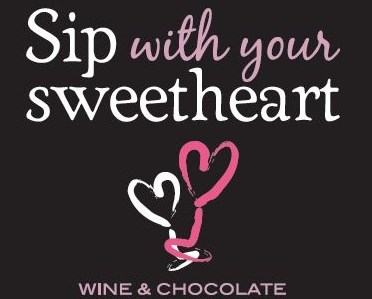 West Kelowna's Westside Wine Trail celebrates their 5th Annual Sip with your Sweetheart event on Sunday, February 7th with eleven wineries providing complimentary wine and chocolate pairings from 12pm-4pm. Heavenly tastings include Mount Boucherie Winery's Syrah with chocolate cinnamon heart tarts, Quails Gate Winery's Old Vines Foch with salted caramel and quince dark chocolate, the Hatch Winery's Pinot Noir with chocolate empanadas and Little Straw Vineyards Pinot Rose with chocolate lava cakes. Here's our recommendations for a long weekend 'Sip with your Sweetheart' wine escape to West Kelowna.
Dine:
Friday, February 5th.
Start the weekend at Mission Hill Winery which during the winter offers cooking classes in their state of the art culinary theatre. The theme of the evening is "The Bacon Nation" and watch the Mission Hill culinary team demonstrate how to prepare five gourmet bacon-based courses. Guests dine on each course with a specially selected Mission Hill wine pairing. The evening menu consists of Tiroler Bacon-Pork Tenderloin, Pancetta-Poached Hens Egg, Braised Wild Boar Belly-Mushroom Broth, Lamb Bacon-Pommes Gratin and Double Smoked Bacon Ice-cream-Apple Tart Tartin. $99.00+ per person. 6pm-9pm
Saturday, February 6th.
Enjoy lunch at The Blu Saffron Bistro located at Volcanic Hills Winery and then head out for an afternoon of wine touring on the Westside Wine Trail. End the day with a massage at the Cove Lakeside resort's spa. For dinner make a reservation at the award-winning Old Vines Restaurant at Quail's Gate Winery which boasts magnificent views overlooking the snow covered vines and Lake Okanagan.
Sunday, February 7th
Take a 12 minute drive to the charming Bliss Bakery located in Peachland for a casual breakfast (the cinnamon buns are a must) and then spend the afternoon indulging at your chosen wineries for the 'Sip with your Sweetheart' Westside Wine Trail event. After a hard day eating chocolate and drinking wine, enjoy dinner at the Cove Lakeside resort's Bonfire Grill Restaurant and a hot tub under the stars.
Stay: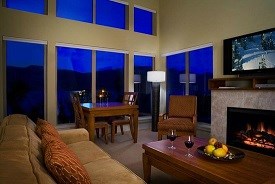 Located directly on Lake Okanagan enjoy special off-season rates. Book a massage at the onsite Spa at the Cove and relax in the outdoor hot-tub underneath the stars.
Private Wine Tours can be booked with Distinctly Kelowna Tours.
By car:
Driving time from Vancouver to West Kelowna is approximately 4 hours. Snow tires are required by law.
By air:
Flights from Vancouver airport to Kelowna airport are provided by Air Canada and West Jet. 45 minute flight time. Car rentals can be booked at the airport with an approximate 30 minute drive to the Cove Lakeside Resort.