Ready for some egg-citing breakfast news? The North Vancouver location of a popular Canadian all-day brunch spot has just opened up its doors.
OEB Breakfast Co., or just OEB for short, has become synonymous with decadent, filling brunch and breakfast dishes over the past few years, and they have expanded their footprint in Metro Vancouver yet again with a third location.
Launched Jan. 13 at 143 15th St E in the base of a new condo tower called The Royals, the Alberta-based OEB is serving up everything from loaded breakfast poutines to fried pierogies and a Korean bulgogi Benny among the many exciting options.
The 3,000-square-foot restaurant was designed by Ruth M'rav-Jankelowitz and her team at the Janks Design Group and seats 80 at full capacity. Each OEB location has its own look and feel but always features plenty of whimsical touches and definitely a clear chicken and egg motif.
"What we do differently, is acknowledge the hard work that the farmers and producers do, by focusing on the ingredients, and then making them shine, " said Mauro Martina, owner and founder of OEB in a media release. "That's what OEB is all about."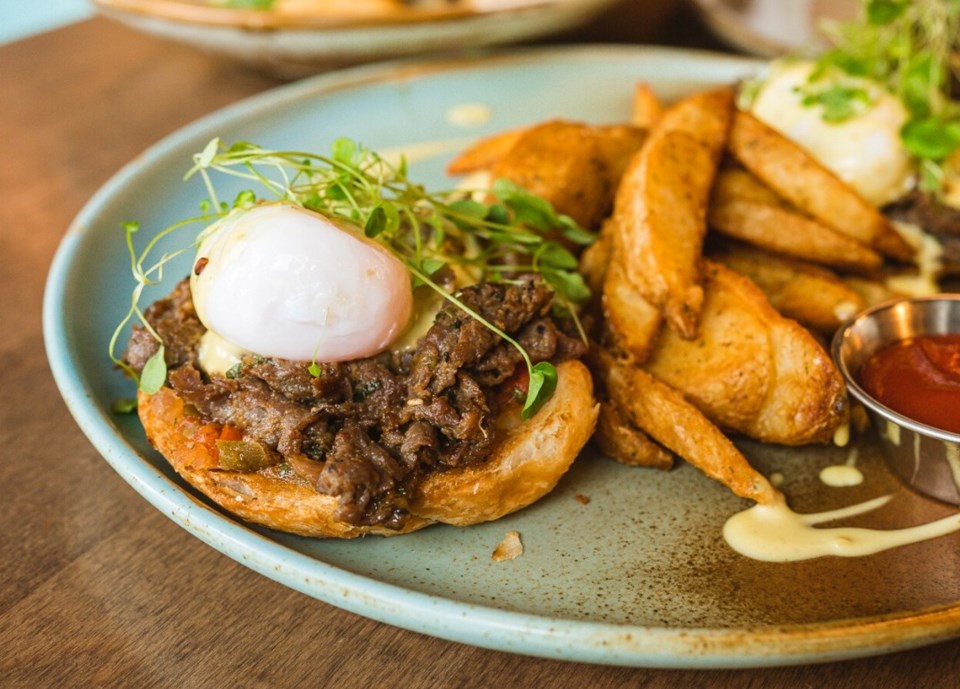 On the menu are modern takes on classic dishes, made using fresh, locally-sourced ingredients. Look for items like the Holy Crab Benny (Wild blue crab, fresh dill, Dijon mustard), Pierogies & Duck, or a Bacon & Buttermilk Waffle with salted caramel, powdered sugar and Quebec maple syrup. OEB has an entire menu section devoted to its loaded poutines, from their calling card Soul in a Bowl (duck fat fried herb potatoes, Saint Cyrille curds, slow cooked bacon lardons, brown butter hollandaise) to a kicked up Hog & Scallops version that adds - you guessed it - seared scallops to the mix.
Sandwiches, scrambles, lighter options, and even some traditional breakfast platters for the purists round out OEB's lengthy dish line-up.
The North Shore will also soon boast a second OEB, this time in West Vancouver in Ambleside at 1390 Marine Drive.
OEB has two other Metro Vancouver locations: 1137 Marinaside Cres in Vancouver and 4525 Lougheed Hwy in Burnaby. OEB is franchised in Canada and the U.S. with locations in Kelowna, Toronto, Saskatoon, Winnipeg, Scottsdale, and Newport Beach, in addition to several in its home province of Alberta.