Last week one of the partners in the Cascade Room and Main Street Brewing released a line of "beer cocktails" under the brand name Ascot. Nick Devine is a one-time Vancouver Magazine Bartender of the Year and despite being a partner in a number of businesses around town he cannot rest; he's always working on something new and I have recently become a big fan of this newest new thing.
In this poorly-Photoshopped image below I've illustrated a bottle of American-made Olde English 800 - perhaps the most well known malt liquor in the world - sitting next to a freshly cracked Ascot. Olde English (or "O.E.") is mostly known for tasting of swill, yet since the films Boyz N Tha Hood and Menace 2 Society made it a popular drink amongst aspiring rural rappers in the 90's it has firmly held a place on Canadian liquor store shelves. Adding to its appeal is that for a mere $7.95 you can buy a massive 1.183 litre bottle of this 8% ABV beverage.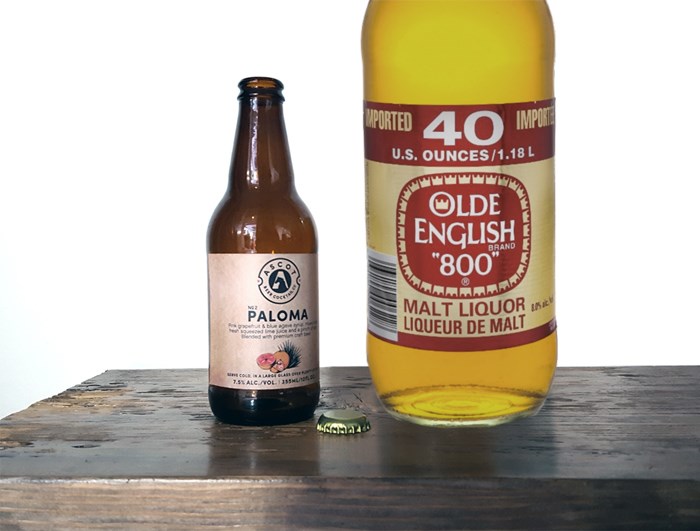 Ascot is 7.5% ABV, and a 4-pack will cost you $13.79. It's hardly the cheap buzz you can get from O.E. and the experience of drinking it is also at the opposite end of the spectrum (it is a wonderful drink!). I've Photoshopped them together and am presenting them as pals because they're actually quite closely related; Ascot is made from a base of malt liquor, which is all O.E. is. Nick and his team produce a base out of malts and to it they add a variety of fresh ingredients to turn it into "wonderful thirst quenchers". The mojito one features mint leaves muddled with cane sugar and fresh lime juice, blended with premium craft beer (malt liquor), and it actually doesn't taste anything like beer; as designed, it tastes like a cocktail.
When I asked Nick if this is the first BC-made craft malt liquor he explained that any strong beer could be considered a malt liquor - the definition is basically a high alcohol content beer. He thinks it may be "the world's first commercially produced craft beer cocktail with malt liquor as a base", but isn't 100% sure. What I am sure of is that this is one locally produced drink you're going to want to try this summer.
Learn more about it at ascotbeercocktails.com, and pick some up exclusively at Main Street Beer at 261 East 7th Ave.