A few weeks ago we found out how passionate some people are about Pizza Pizza.  On Friday while checking out the Burnaby store at 7348 Kingsway, I was treated to four time world champion pizza spinner Juan Hermosillo just killin' it on the sidewalk.  Stuffing my face with pizza just would have to wait until after I jammed with this guy about his art.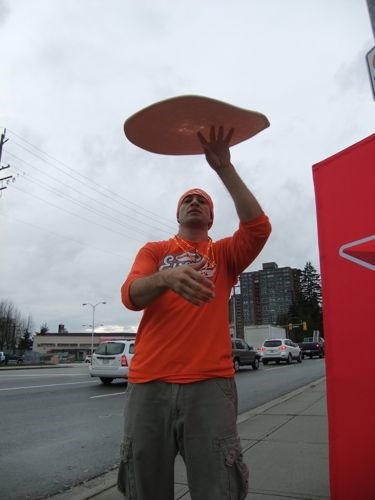 Q: Where in the world has pizza spinning taken you?
A: The first place I ever travelled to was Italy, then I went to France, then England, Thailand, Australia and now Canada.
(more)
Q: Where are you originally from?
A: I was born in Mexico but I'm operating out of Toronto now.
Q: What do you enjoy the most about pizza spinning?
A: I enjoy winning a championship but more importantly, I like entertaining kids.  Having fans...I think it's cool when they want to be like me.
Q: What are you listening to today?
A: Everything..Spanish music, English music, alternative, hardcore, techno, opera, house.
Q: Do you always listen to it?
A: Oh yeah, it's way more fun, like today...I don't want to listen to the sound of the cars.  With music, I love it and I get more pumped.  That's a talent I wish I had, to play music, but instead pizza is my instrument.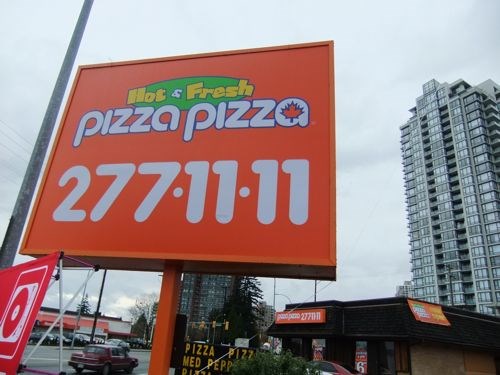 There are also two other full operations of Pizza Pizza : 2755 Lougheed Hwy. in Poco and 8737 120th St. in Delta.  Curiosity is going to get the best out of you, so you might as well go out and try it.
Juan just losing it: