Japa Dog on Burrard and Smythe is hosting the Smile Championship right now. Unfortunately the championship is only open to Japa dog staff... but that doesn't mean they don't need your help, "It's up to your voting". Here's how it works, pay attention now it's complicated..... while you are waiting in line carefully observe each of the staff , when you get to the front of the "order" line there is a tube and some post it notes. Don't worry if you haven't made up your mind who to vote for yet because after you place your order it's off to the back of the "pick up" line. From the "pick up" line continue to observe the staff, when you reach the front it's decision time! The pictures on the poster are a little dark and low resolution but thankfully all staff are wearing huge name tags. Fill out your vote and place it carefully in the tube. I don't even know what the staff win if they do win the Smile Championship, hopefully it's a huge trophy with their name engraved on a plaque, but who knows. I was too caught up in the excitement of voting to ask.
The soon to be Mrs. Belmont and I voted for Koji, because he was grinning like a ten year old boy that just got an AFX race track for Christmas, and he was the one manning the grill.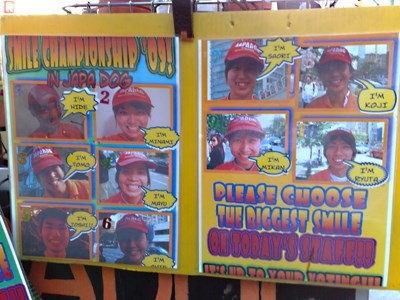 Like Diddy says Vote or Die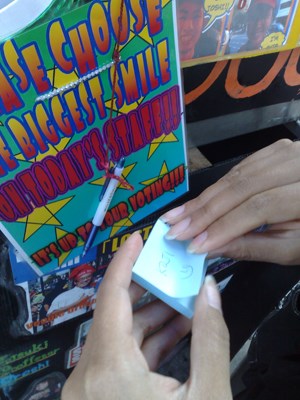 Bonus Picture, I love this one of Ice Cube. It's been updated with the frequency of his visits. Big fish in a small pond.... with a stomach full of Japa Dog! Wesssssiiiide!