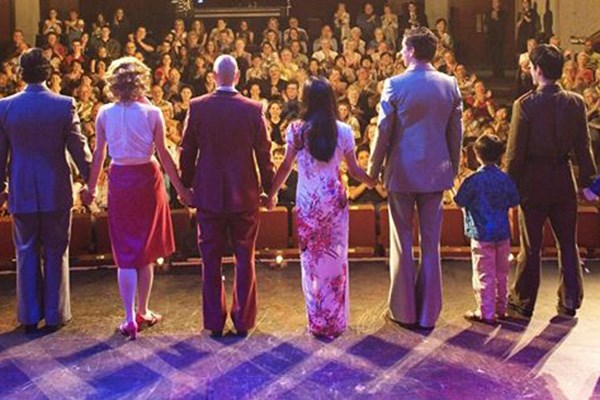 Photo: Stanley Industrial Alliance Stage
South Granville's landmark Stanley Theatre, now officially known as the Stanley Industrial Alliance Stage is one of Vancouver's best live theatre destinations with nearby restaurants and wine bars to enjoy both a pre-theater dinner and after performance drinks. The 2015/2016 season showcases five plays: Disgraced, A Christmas Story-The Musical, Pride and Prejudice, Good People and Billy Elliot. Season's passes as well as individual tickets are now on sale. Get dressed up and enjoy an evening of dinner, theatre and drinks on Vancouver's South Granville.
Time is running out to enjoy dinner at Vancouver's renowned Indian fine dining restaurant, Vij's. This iconic Vancouver restaurant will close when Vikram Vij opens his new restaurant, Mian Bawarchi at Cambie and 15 Street this winter. With a strict no reservations policy, it is a must to be in the line-up before the doors open at 5:30pm to guarantee a table for dinner before the theatre.
1480 West 11th Avenue. (604) 736-6664
Join Vancouver's powerbrokers, socialites, and movie stars at South Granville's upscale West Restaurant. Executive Chef Quang Dang, a rising Vancouver culinary star, showcases traditional French cuisine with local West Coast ingredients. Enjoy the pre-theatre, three course menu which offers excellent value at $38.00 per person. For after the theatre, West's bar is one of the best in the city for both wine and cocktails. Reservations are highly recommended.
2881 Granville Street. (604) 738-8938
Warm and inviting, Siena restaurant is always popular with the theatre crowd. The menu focuses on Italian and Mediterranean flavours along with local organic ingredients and hand-made pasta. The three course prix fix menu at $36.00 per person is a favourite with the theatre crowd. Reservations highly recommended.
1485 West 12th Avenue. (604) 558-1485
Heirloom Vegetarian Restaurant
Selected in 2013 as one of Canada's best new restaurants by enRoute magazine, Heirloom proves that vegetarian dining is sexy. This modern, beautifully designed restaurant offers both vegan and vegetarian options along with not to be missed sinful desserts. Heirloom's fabulous bar, a late night favourite, is perfect for after theatre wine and cocktails that even carnivores will like.
1509 W. 12th Avenue. (604) 733-2231
Executive Chef David Gunawan and Dara Young opened Farmers Apprentice in 2013 and overnight became one of Vancouver's "it" restaurants. Alexander Gill, the Globe and Mail food critic declared Farmers Apprentice "the best Vancouver meal of the year". Farmers Apprentice was also selected for enRoute magazine's Best New Restaurants in Canada and was the winner of Vancouver's Magazine prestigious Restaurant of the Year. This tiny 30 room restaurant, showcases hyper-local innovative dining. Reservations a must. Farmer's Apprentice is a short 10 minute walk to the Stanley Industrial Alliance Stage.
1535 West 6th Avenue. (604) 620-2070
Riding on the success of Farmer's Apprentice, David Gunawan and Dara Young have excitedly opened the Grapes and Soda Wine Bar with Ron Shaw, the former executive chef at Bishop's Restaurant, running the kitchen. If you can't manage to snag a reservation at Farmer's Apprentice, the Grapes and Soda Wine Bar (located next door to the Farmer's Apprentice) offers delicious small plates. With happy hour from 5pm-6:30pm and fifty percent off all menu items, this is a wonderful pre-theatre dining destination that won't break the bank. An innovative wine list accompanied with outstanding cocktails also makes this a great spot for after the theatre.
1541 W. 6th Avenue. (604) 336-2456
*Closed Mon. & Tues.
Stable House Wine Bar & Bistro
Newly opened in 2014, the Stable House Wine Bar and Bistro has become a favourite with South Granville locals for a glass of wine as well as their popular charcuterie plates. Perfect for a quick bite and a glass of wine prior to the theatre, the Stable House Wine Bar shines as a post-performance destination. Enjoy the cozy neighborhood vibe along with the fabulous wine list.
1520 West 13th Avenue. (604) 736-1520