Triple O's just announced their launch of a new Peanut Butter, Bacon, Jalapeno Burger (yes, really) as well as their new Peanut Butter, Banana, Bacon Milkshake (bacon in the blender!), and we've partnered with them to help spread the word!
So first things first: a photo of the burger! They are not messing around here...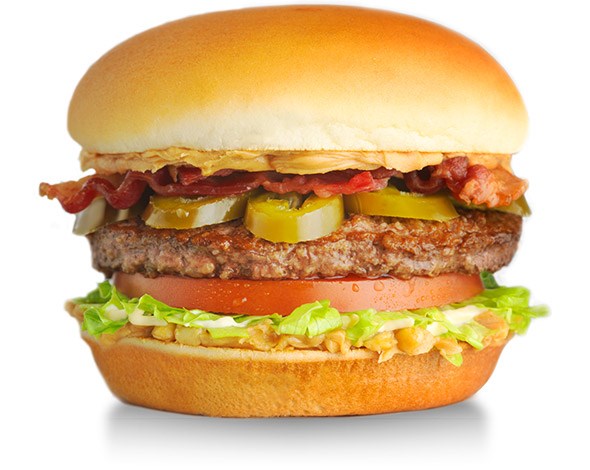 And second: Would you believe that the inspiration for this is Elvis? It's true. He was known for loving PB & Bacon, and apparently so does the rest of the world these days. It's a combination that people love and the burger plays on an intense flavor rush with sweet and salty, and has an added kick with the jalapenos. The milkshake uses a real piece of Canadian bacon... right in the blender.
Some other trivia we'll share with you beyond the news that they're releasing these new menu items have to do with the history that Triple O's has in our city and how they've contributed to its Awesomeness:
- You may or may not have known that back in 1928, a young BC entrepreneur by the name of Nat Bailey (the dude that they named our Vancouver Canadians' stadium after!) had a vision to build a restaurant that served high quality, unique tasting food. This latest item on the menu is keeping the vision alive
- Triple O's was one of Vancouver's original "food carts". Nat started Canada's first drive-in restaurant after transforming his own truck into a traveling lunch counter. In a parking lot on Granville Street, he took orders from parked cars using order pads that were printed with three X's and three O's. The phrase became part of the language as guests could choose specially made mayonnaise and relish for their burgers. X meant "hold" and O meant "extra" and Triple "O" meant "plenty of everything." Hence, Triple O's.
- Every year they fundraise to support local charities. Their most recent campaign was in support of KidSport, the community-based sports funding program that provides grants for financially disadvantaged children aged 18 and under to participate in amateur sport.
Find out more about Triple O's and these new menu items HERE on their Facebook page where they're daring you to try it.