Coffee!
Good morning! This AM I popped by my usual hang, Bean Around the World at Main and 20th (@BeanonMain20th), for some coffee as always. Today was Record Store Day in Vancouver and the streets were a buzz and Daniela and her boyfriend John came rolling in to Bean Around the World and I was happy to surprise them with a morning coffee! They were pretty happy, maybe a little confused, but happy.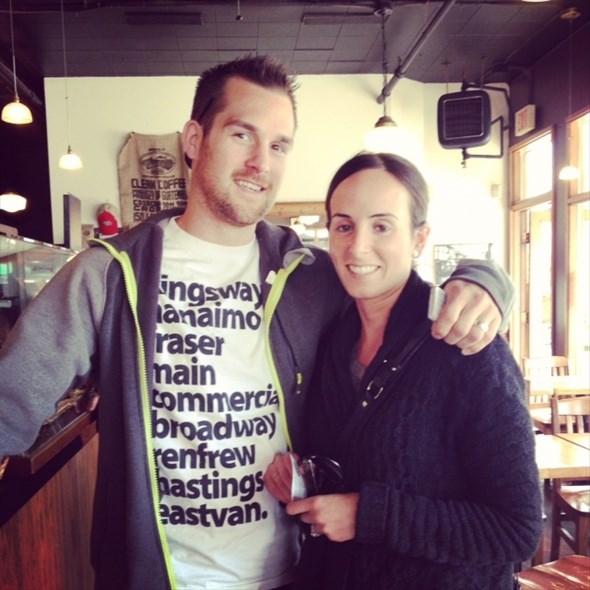 Breakfast
I was excited to go meet up with Mark Brand and his crew at Save on meats (@EastVanBrand & @Saveonmeats). Mark went in to the kitchen to help prepare a gluten free & veggie eggs benny for me and my #Tweettoeat journey. It was AMAZING. Served on polenta with a to die for salad with Sole Food tomatoes, quinoa & much more joyful bits. It was great to meet some of the team and enjoy some ridiculous Saturday morning conversation from Britany Murphy to dating people based on their level of IBS (Irritable bowel syndrome), to the internet cat video festival coming up this Summer. Yes, the morning was a good one. Good company, great laughs and a belly full of gluten free, veggie goodness.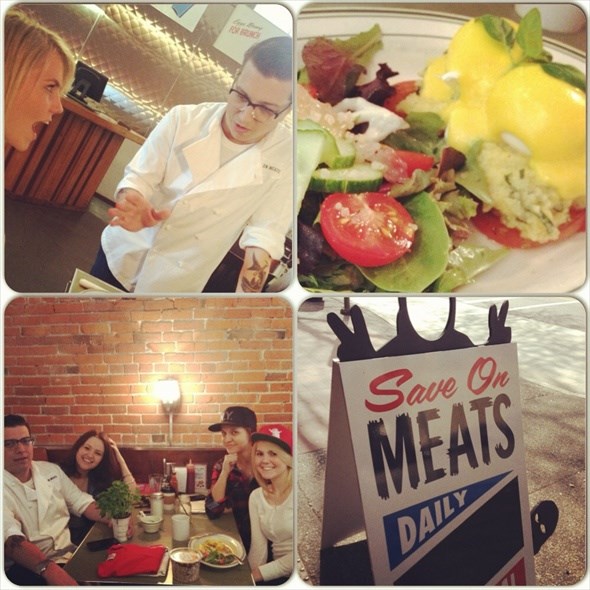 Mark hooked me up with some killer Save on Meats T-Shirts, a snapback hat, a basil plant (OOO!) and some granola! Oh sweet Saturday deliciousness. I am lucky.
Lunch
I was really excited to finally meet @Erin_Braincandy, and at the @JuiceTruck no less! My favorite Juice men are always a pleasure to visit! Erin and I order the Hybrid with spinach and wandered around and chatted. Erin is so interesting! Basically this year she decided to do one run every month. I don't mean just going for a run, I mean going to different races around the world and participating. She did a princess race in Orlando, where she dressed up as Ariel from the Little Mermaid, and she has a ton more planned for this year. Erin was so sweet! Such a pleasure to get to know her a little more.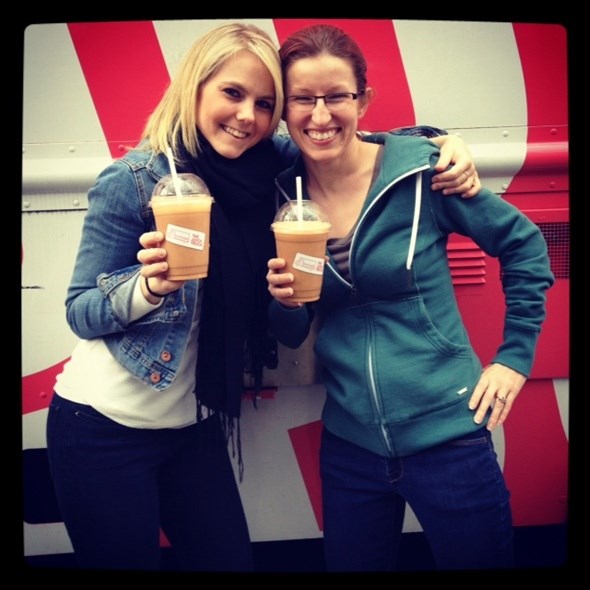 Dinner
I was really looking forward to visit @ForageVancouver today! It was quite amazing being brought in to the kitchen with @ChefWhittaker to learn all about the unique ingredients they use at the restaurant. We were working on fiddleheads which are A LOT OF WORK to prepare. The ones we get out west are covered in a bit of a 'fur' that needs to be rubbed off by hand, which takes a lot of time. Next time you get a plate of fiddleheads, appreciate! We also cooked up some of the most beautiful asparagus (the first of the season from local krause farm in Langley. They really pride themselves are beautiful, locally 'foraged' ingredients. The menu speaks for itself. I cannot wait to go back! Thank you to their social media dude, @StephenIrving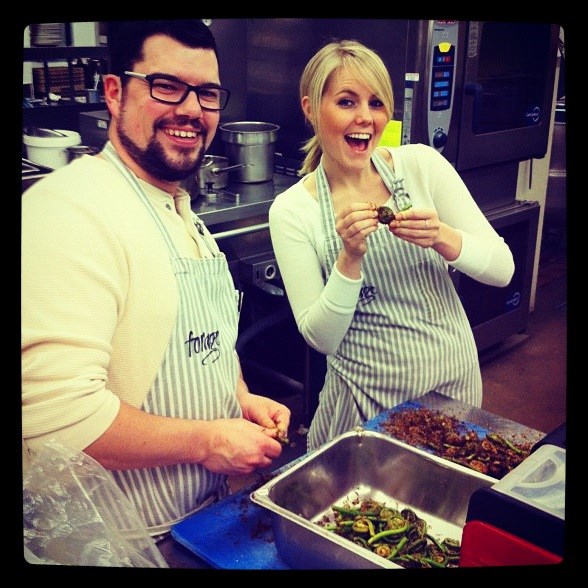 See you tomorrow for some more #Tweettoeat fun!
Quest Food Exchange
I have received so much generosity, that any of the food I cannot eat, I am planning to donate to questoutreach.org. Quest is a local not-for-profit organization that offers access to affordable and healthy food choices for those facing barriers to this basic necessity.
Follow up on the latest #TweettoEat news by following the hashtag or by following me, @VancityAmy on Twitter!