It's day 9 and I am feeling sad that at the end of this week, I won't get to meet new people each and every day. Sharing meals with strangers is beautiful and offers such an opportunity to get to know someone. Learning what they like, don't like and so much about their character. This has been a lovely journey.
Coffee time!
Another day, another cup of delicious Bean Around the World at Main and 20th (@BeanonMain20th) coffee. This morning I met the wonderful Michael! He was so surprised and wanted to know all about #Tweettoeat.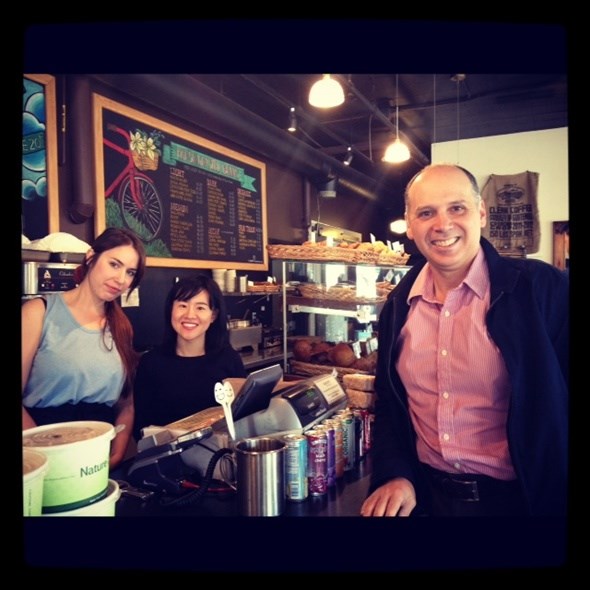 Snacks at work
When I got to work I was immediately tweeted to by Judith who sits right beside me! @JudithTracey tweeted me some delicious organic apples. Needless to say, I was pumped! Thanks Judith!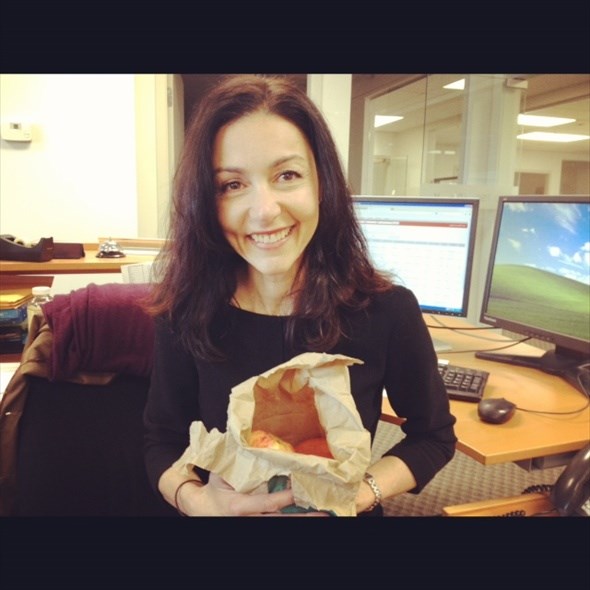 Kale pick up
In the evening I met up with Paulina (@Plipska) who took me for a walk around Yaletown where we chatted about life, her wedding that is coming up, work and relationships. It was great to feel immediately comfortable with a woman I have never met before. She is about to embark not only on a new chapter of her life with a husband but with a fabulous new career! This is someone to watch out for! Paulina gave me a gorgeous bunch of locally grown purple Kale and she immediately had my heart! It will go towards my lunch tomorrow.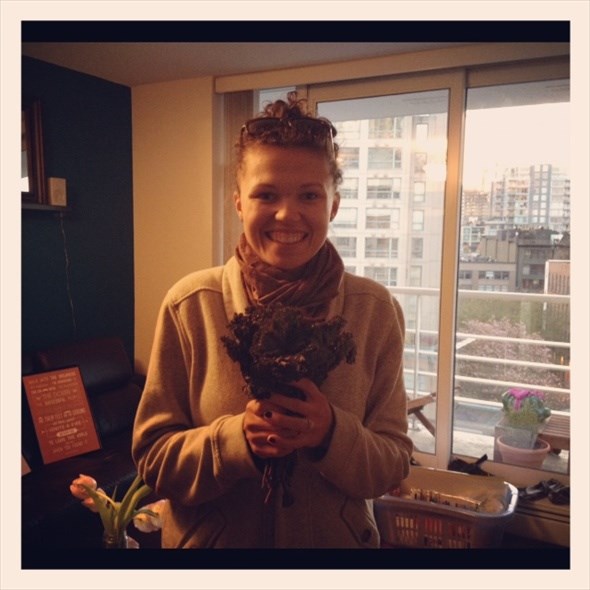 Projecting Change Film Festival
Projecting Change is a 5-day film festival featuring award-winning documentaries and exploring themes such as environmental and social sustainability, empowerment, identity, and global culture.  Hosted in partnership with SFU Woodward's, the curated film and speakers sessions and unique festival format are a platform for audience engagement, inspiration, and action.
On Saturday, April 27th at 4pm after the wonderful film, Eating Alabama I will be speaking about my 2 week #TweettoEat journey. I would love to see you there! Tickets are available here.
Quest Food Exchange
I have received so much generosity, that any of the food I cannot eat, I am planning to donate to questoutreach.org. Quest is a local not-for-profit organization that offers access to affordable and healthy food choices for those facing barriers to this basic necessity.
Follow up on the latest #TweettoEat news by following the hashtag or by following me, @VancityAmy on Twitter!