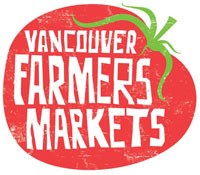 Vancouver Farmers Markets is about people who love fresh food at festive gatherings. With the initial goal in 1995 to create the fun and value of weekly Farmers Markets in urban settings, the Society and the Markets have become Vancouver plazas of fun, discovery, and connecting. Each month V.I.A. introduces you to one of the fabulous Market vendors!
K & M Farms
By Kim Peterson
Farming, for some, is a calling. Some where born into it. Some see it as a way to change the world. Still, for some, like Mark Robbins of Abbotsford's K & M Farms, it just kind of happens.
One day you're a diligent government employee, and, in a flash, it's 10 years later and you've got 4,000 chickens outside your back door. Happens all the time.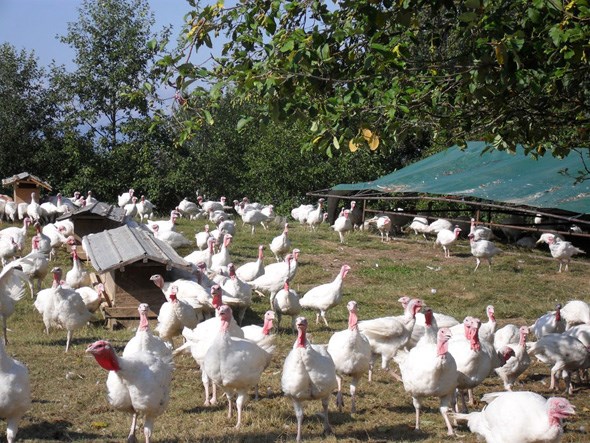 The chickens started as a hobby, but the popularity of his birds increased to the point where he had a full-sized commercial farm on his hands. "It grew out of demand for the product," he says. "We didn't just decide one day that we would have a medium-sized farm."
Since Mark didn't start out with a farm business in mind, his path has taken him in a different direction, out of the hen house and into the fields. The birds at K & M farms, both chickens and turkeys are entirely pasture-raised.
Visit the farm in the summer and you'll find 4,000 chickens and 1,200 turkeys and a few llamas foraging on five acres of pasture. "There was no epiphany," he says. A friend on Vancouver Island was raising poultry outside, and he thought he'd give a try. There was a lot of trial and error, but the unconventional method seems to work for the Robbins family, and Mark is sticking with it. "It's just the way we've chosen to do it."
As for the llamas, these dozy-looking camelids are more than good company for the birds, they're natural body-guards against owls, hawks, foxes and sometimes even coyotes.
"Mother nature is not very benevolent," says Mark. One of the problems with keeping birds outside is that they're much more vulnerable to predators than their indoor cousins, even with electric fencing to keep the bigger animals out.
The solution presented itself when a neighbours goat escaped into K & M's fields for three weeks.
"I just noticed that my losses from the foxes and the owls dropped off dramatically."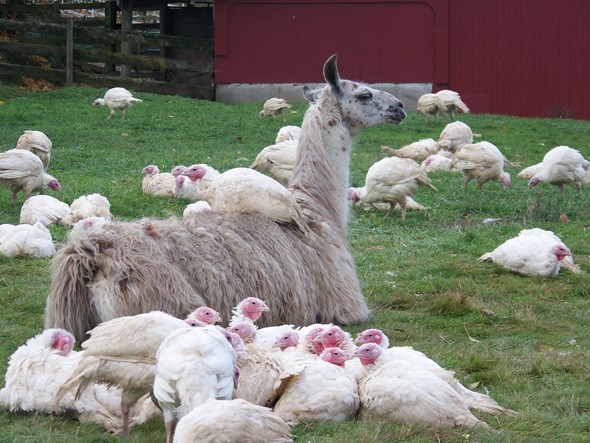 Clearly a pragmatist, Mark can't say the birds are always happier in the field ("they're not happier when it's raining outside, when it's sunny they are"), but will allow that many of his customers are people who prefer to buy birds that are raised outside, for one reason or another.
Grass-fed advocates point to studies that show meat from these animals have less fat, fewer calories, more vitamin E, and higher levels of Omega-3 fatty acids, which is good news for your brain and heart.
Mark still has his day job, a regional agrologist with the provincial government, which gives him a unique perspective. "I am what agriculture needs: urbanites becoming farmers."
He deals with local agricultural issues every day, one of those being a lack of young people following their parents' footsteps and taking over the family farm. Once again, K & M might buck the trend, with Mark's daughter Jill looking into taking over one day.
In the meantime, father and daughter sell their "beyond organic" poultry mostly straight off the farm, as well at the Vancouver Farmers Market and through a few meat shops in Kitsilano.