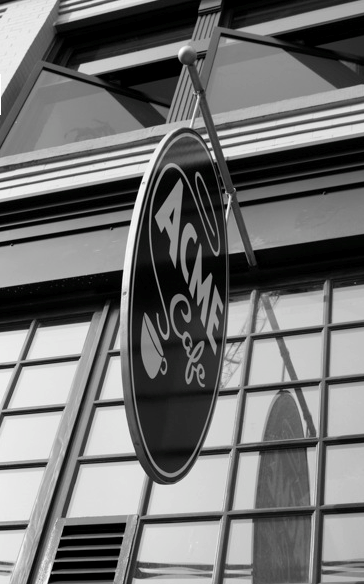 For those of you that can't handle gluten or have dined out with people that can't handle gluten, it's no understatement to say that it can be a real challenge trying to avoid the stuff while cooking at home, and even tougher while eating out.
Gluten is a protein that naturally occurs in found in wheat, barley, rye, spelt, kamut, and oats. That causes a whole host of problems for people that can't handle gluten: take a quick peruse of the ingredient lists for any processed foods you might eat, and you'd be surprised how often those items show up. The Mayo Clinic has this list of foods to avoid due to gluten content: beers, breads, candies, cakes and pies, cereals, cookies...I can't finish typing it out without weeping.
While there's a lot of gluten-free substitutes that one can have, they're not always, well, tasty. So we were delighted to no end when we came across Acme Cafe's gluten-free bread - a delicious alternative that's close to a cornbread in taste and just as great as regular bread - which they offer on a regular basis.
Grandma Gertie's Gluten-Free Bread from Acme Cafe
In a large bowl combine and blend well:
2 cups white rice flour
2 cups tapioca flour
¼ cup potato starch
¼ cup white sugar
2/3 cup dry milk powder
4 tsp xanthan gum
1 ½ tsp salt
4 tsp bread yeast (fast rising)
In mixing bowl combine and blend well:
2 cups warm water
4 tbsp melted butter
4 eggs
1 tsp vinegar
Add dry ingredients a small amount at a time, blending well. Increase speed and beat for 2 minutes. It will look like cake batter.
Grease 2 medium loaf pans and divide dough into the two pans, or one 9x13 casserole dish (to make foccacia).
Allow to rise to top of pans in a warm place (30-45 minutes).
Bake in 350 degree oven for 45 min to 1 hour till very golden brown.
Note: All ingredients are available at Famous Foods at 1595 Kingsway, Vancouver.
51 West Hastings St.
Vancouver BC V6B 1G4
604-569-1022