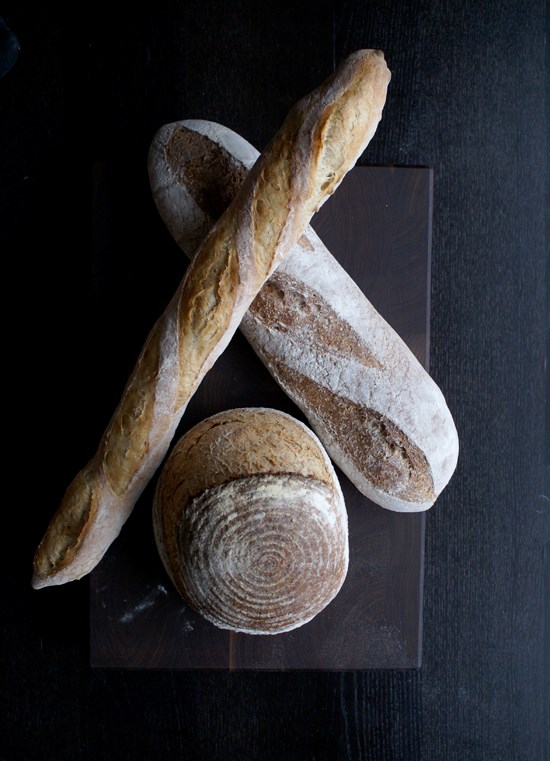 Fans of the old Transilvania Peasant Bread bakery in Kitsilano, take note: baker Floran Moldovan has now opened up his new spot, Beyond Bread Artisan Bakery, down a few blocks on Fourth Ave and Alma.
Those unfamiliar with Transilvania are missing out on what has been touted by numerous people as the best bread in Vancouver. Moldovan, who graduated with a degree in computer science and worked in the printing and publication industry in Transylvania before moving to Canada, opened up the rustic bakery a few years back.  The
former location on Broadway felt more like a workshop from yesteryear than a bakery, and featured a wood-burning oven which Moldovan used to churn out little more than a couple dozen loaves a day, which generally meant that most everything was sold out before the afternoon.
Having relocated to a new location in a relatively-newer building, the wood oven is now gone due to messy legalities.  In their place are more standard commercial ovens, which means that Moldovan can now churn out more loaves than before ("Bread all day long!" he exclaimed as we left the store).  He also has more staff and a cafe, though it's hard to take your focus off the bread.
The loaves themselves are beasts to wrestle down.  Weighing numerous pounds, carrying them home are in-and-of-itself enough of a workout to balance out any carb-guilt.  There are four to choose from: Moldovan's famous peasant bread, a whole wheat sourdough available in two sizes (the one featured above is the small); a light rye; a sprouted wheat loaf; and his rustic baguette.  Each still has that amazing crust, which helps to keep the bread v
iable for days.  They are a toothsome bite, require a solid effort, but give back in many rewarding returns...enough to take your mind off the heftier price tag (the large peasant bread loaf goes for $12, but it also weighs as much as a small newborn).
Joe.
Beyond Bread
3686 West 4th Ave
Vancouver, BC