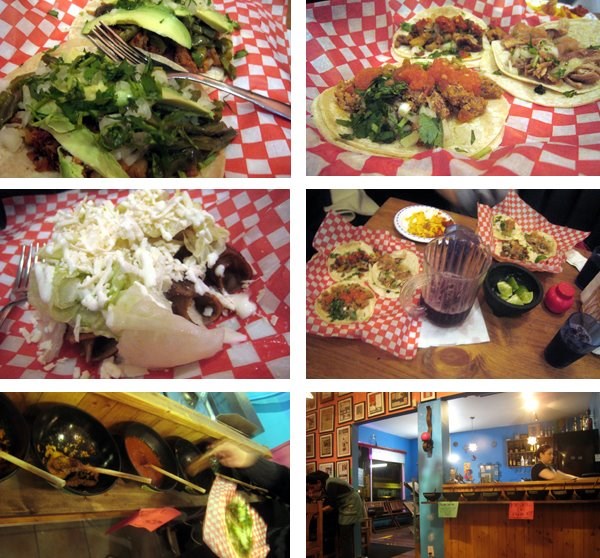 Dona Cata
This is my favorite Mexican Restaurant in Vancouver.  I used to visit it last year when it was this  tiny hole in the wall,  with very limited seating.  The space they now occupy is bigger and a lot nicer, however the tacos went from $1.50 to $2.00 each.
This place is very authentic, from the Spanish speaking staff, the Mexican clientele although more and more gringos have found out about this spot and the old Mexican men eating there that were checking out my latin friend. There are about eight home made salsas that you can choose from to flavour up your tacos and chips.
The menu has became a lot bigger and now folds out to be four pages. This time we ordered some soft tacos ($2.00 each - different flavours al pastor/carnitas/carne enchilada/longaniza), tacos dorados ($6 - three small deep fried tacos, filled with chicken and then covered with feta, sour cream and lettuce ), and tacos del mercado ($ 10 - two tender cactus, enchilada meat, avocado slices, beans on corn tortillas with cilantro and onion). Every item was really tasty, I am partial to the deep fried things so I love my taco dorados.
Overall,  go to Dona Cata for some authentic Mexican food at a very decent price.
Dona Cata
5076 Victoria Drive
Vancouver