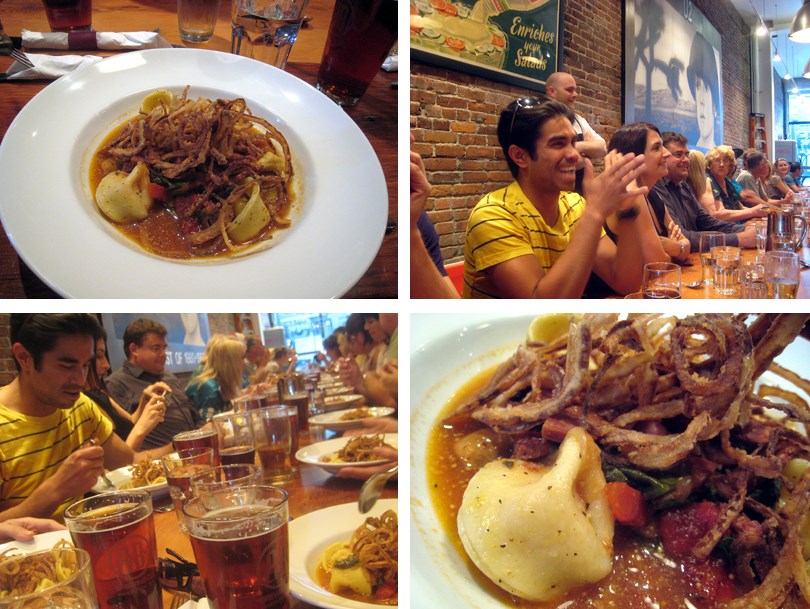 Irish Heather - Long Table Series
Jeff posted about this earlier but here is a review.
This is a must do for 2009. The long table series at the Irish Heather happens between Sunday to Wednesday where patrons can enjoy a set meal with a beer for only $12 dollars. The set menu is published on their website and seats book up fast.
We went on a Tuesday where the menu consists of:
Sweet Potato and Yam Stuffed Tortellini with Three Kinds of Sausage and Onion Ragout
-Pint R&B Red Devil Ale
The Irish Heather asks you to arrive at 6:00 and to have a seat/drink in the Shebeen before the 6:30 dinner. At 6:30 we were invited back into the Irish Heather and we all scrambled to find seats together, which was a lot easier than I expected. The meal starts off with a talk by the chef who explains what he has prepared for us, he told us that this was a variation of the traditional bangers and mash. I guess the sweet potato and yam replaces the potato and the cut sausage replaces the uncut sausage. Shortly, after the beer comes out and then the food.
This meal was incredible. The taste of the sweet potato and yam stuffed tortellini was fantastic and the breaded deep fried onions on top were wicked and added a great texture to the meal. We ordered some bread to dip into our ragout sauce.
We have already booked seats for the Sunday session for the Roast Beef.  Don't sleep.
Irish Heather
210 Carall Street
www.irishheather.com