A Bûche de Noël, also referred to as a Yule Log, is a holiday favourite around the world. The cake is similar to a Swiss roll with a sponge exterior and a swirly cream filling. It is served as a dessert on or near Christmas Day, especially in France, Belgium, Luxembourg, and Switzerland, though it's also eaten in Vietnam, Lebanon, and Canada because of its connection to France. Variations are also served in the U.S., U.K., Portugal, and Spain.
"History says the Yule logs were burnt on the shortest day of the year in promise to bring back the return of the sun in the spring," says Chef Steve Hodge, owner and pastry chef at Temper Chocolate and Pastry. "I'd say the cakes have become iconic to represent that tradition, and even more the flavours have been modernized to each pastry shop's style which makes it unique to each pastry chef."
These eight bakeries and patisseries in Metro Vancouver have done just that. The chefs have found new and creative ways to take the concept of a humble yule log and update it with exciting flavours. Here are some to try.
"Bûche De Noël is a classic holiday tradition in France," Chef Thierry Busset tells V.I.A. "Since I was a child, I have enjoyed this customary cake with my loved ones. My team and I take great pride in selecting unique flavours that express the spirit of the holidays with the goal of bringing joy to our guest's celebrations. One traditional flavour I take great pride in offering each year is our Chestnut Bûche De Noël as it was my father's favourite and one that my family always enjoyed."
Starting Dec. 1, Chef Busset's Bûche de Noël cakes will be available for pre-order in-store and online. The swirly cream filling comes in five flavours (chestnut, whiskey hazelnut, pumpkin, chocolate nougatine, lemon strawberry cranberry) and the cakes are available in two sizes for pick up on Alberni Street.
Mon Paris' Bûches de Noël cakes are available for pre-order now to be picked up between Dec. 22 and 24. The cakes come in three flavours with fun festive names. Blackcurrant Jingle Bells has blackcurrant mousse and blueberry compote with vanilla biscuit and cream. Chocolate Speculoos is a spiced vanilla crémeaux and ginger biscuit with dark chocolate mousse. And Cranberry Cheer has cranberry and ruby-chocolate crunch, vanilla crème brûlée, redcurrant confit, and almond biscuit with cranberry mousse.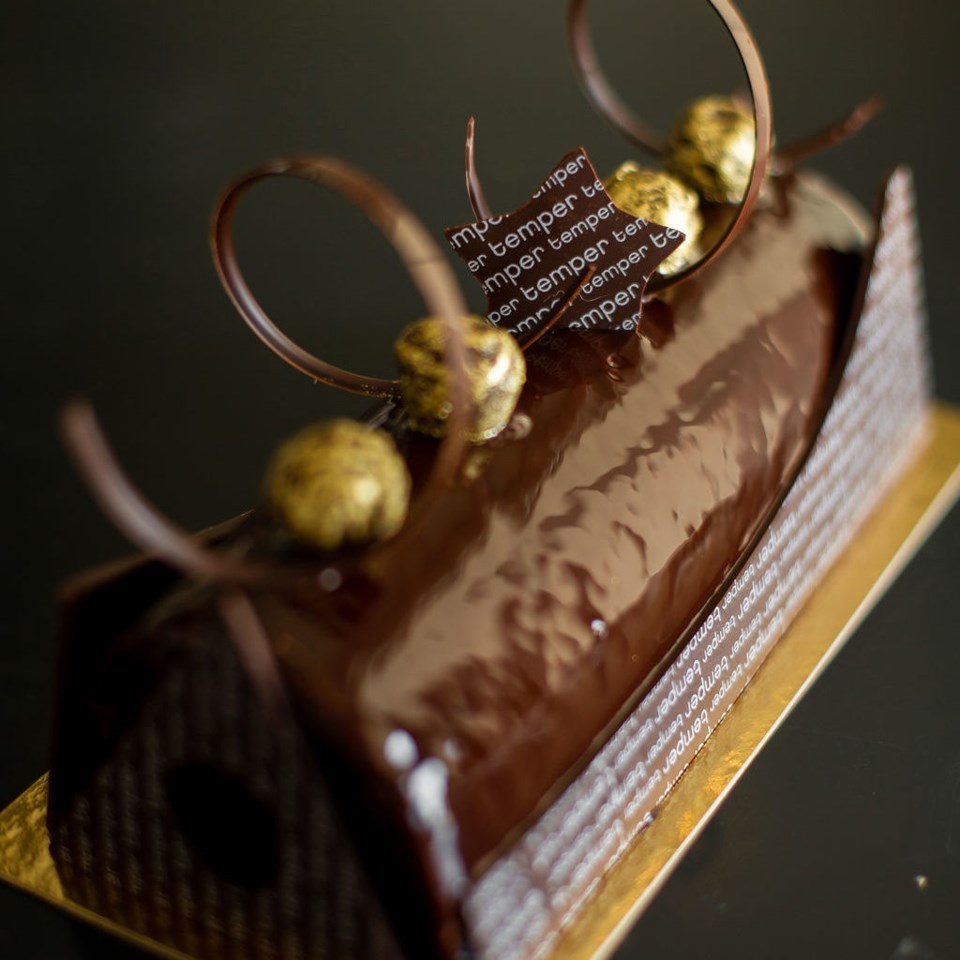 Temper in West Vancouver has three scintillating Bûche de Noël cakes to choose from this year, the lightest being vanilla raspberry with vanilla mascarpone mousse, raspberry cremeux and crunchy vanilla and chocolate chunk sponge. The richer options include salted caramel with 70% dark chocolate mousse, salted caramel cremeux, chocolate biscuit and hazelnut feuilletine, and chestnut which has chestnut cream, rum-infused chestnut mousse, hazelnut dacquoise and a hazelnut crunch. Pre-orders close on Dec. 20 for pick up before 1 p.m. on Dec. 22, 23 or 24.
The signature Faubourg Yule Logs are among the most traditionally decorated and the flavours are more like a classic Swiss roll with almond jaconde, raspberry confiture, white chocolate ganache montée and praline ganache. They are only limited quantities available and pick-up is on Christmas Eve. The bakery has also added two new less traditional Bûches de Noël: a Golden Christmas Bûche and a Hazelnut Chocolate Bûche.

As part of Beaucoup Bakery's Yule be Home for the Holidays collection, inspired by the childhoods of co-owners chef Betty Hung and her brother Jacky, two special Yule Logs are on the menu. Framboise Vanille has vanilla bean mousse, raspberry pressed sablé, raspberry ganache and jam and the Chocolat et Mont Blanc has chestnut mousse, chocolate sponge, dark rum ganache, chestnut frangipane and cream with chocolate feuilletine crisp.
Chez Christophe in Burnaby has introduced a new flavour for 2022 in addition to the old favourites. The layered Gingy Buche de Noel is new this year with a Gingerbread cookie base, ginger confit, cardamom cremeux, and a coffee zephyr caramel monte and glaze. Back for another season is the Pear Rocher Buche, La Chocolatee Buche, and the chocolate mango passionfruit Oh, Deer Buche. There are only 100 of each flavour available and pre-orders are open now.
Celiacs are also taken care of this holiday season thanks to Lemonade Gluten Free Bakery's Yule Log. The massive cake resembles a toasted campfire more than a single log. It has a chocolate and raspberry filling and is covered with toasted meringue icing. On top of being gluten-free, the cake is also dairy-, corn-, and nut-free.
Thomas Haas has a whopping eight different Bûches de Noël on the menu this year. The flavours are modelled after the chocolatier's most popular cakes: dark chocolate orange, hazelnut praline, milk chocolate tiramisu, champagne truffle, chestnut mont blanc, crispy chocolate raspberry, mango coconut, and caramel chocolate pecan brownie. All of these are available for pre-order now to be picked up on Dec. 23 or 24.
Only residents of the Greater Vancouver area are able to order the French macaron chain's Bûches de Noël this year. There are four options on the menu, of which is the decadently pink Marie Antoinette cake with Ladurée's signature rose mousseline cream and a raspberry and lychee confit and is oblong instead of the traditional log shape. The cakes come in two sizes for personal consumption or sharing.
Considering there's only one person in the kitchen at Remi Patisserie, the five cakes on this year's Bûches de Noël menu are very impressive. People can preorder flavours such as Thai tea panna cotta, banana cream, matcha mousse, passionfruit mango, and chocolate raspberry praline for pick up between December 22 and 24.