An investigation into the ownership of what could soon be Canada's largest forestry company has found "substantial evidence" the Indonesian multinational Sinar Mas Group — known for widespread deforestation and displacing a number of iconic species — secretly controls the firm.
In a report released by Greenpeace Monday, the environmental group says it analyzed hundreds of corporate registry documents and official filings across several countries, including Canada, Indonesia, France, Brazil and the United States.
Those documents pointed to a complex nexus of family ties, shell companies, and overlapping management positions linking Sinar Mas and the B.C.-based company Paper Excellence.
"The Sinar Mas Group has been one of the most destructive companies that Greenpeace and many of other organizations have come across," said Shane Moffatt, head of nature and food with Greenpeace Canada.
"The question that we're asking: is that the kind of behaviour that we're seeing going to be replicated right here in Canada?"
Between 1984 and 2010, one report found Sinar Mas's subsidiary Asia Pulp & Paper (APP) was responsible for cutting down two million hectares of forest — equivalent in size to the country of Israel. That has meant the destruction of huge swaths of critical habitat for Sumatran elephants, orangutans and tigers.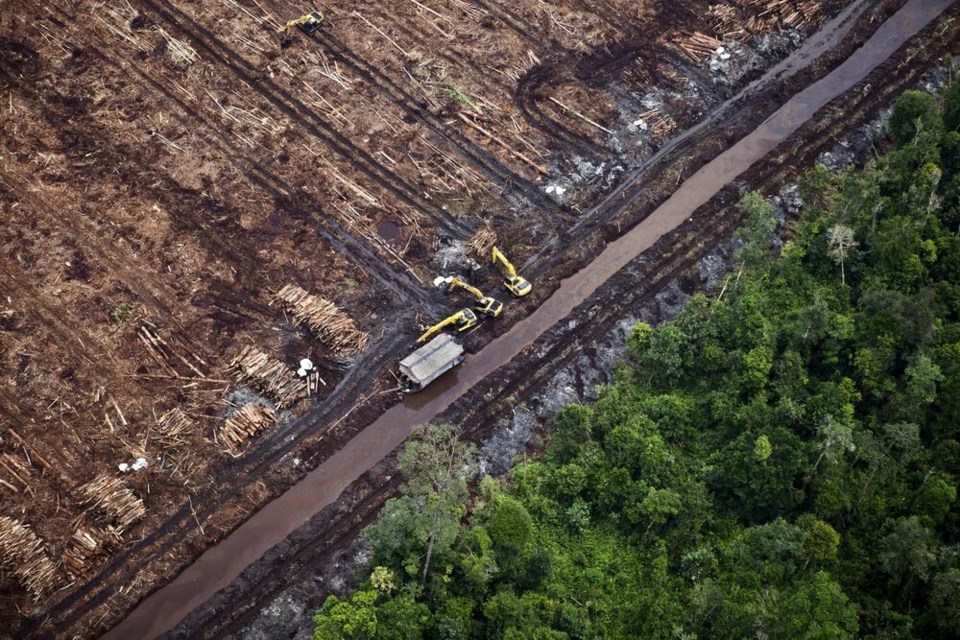 ​Today, forest and peat land destruction continues, despite APP's promises to commit to "zero deforestation" in its pulp and paper supply chain, found the Greenpeace report.
Such pulp and paper plantations, meanwhile, have led to some of the biggest wildfires in recent years. In 2015, widespread fires covered Southeast Asia in smoke, releasing 1.75 billion tonnes of carbon dioxide, and over the long-term, possibly triggering the premature death of more than 100,000 people.
APP operations have also led to a number of conflicts with nearby communities. A 2019 report found Indonesian pulpwood plantations were in conflict with over 100 communities — many of them Indigenous. APP said it would be more transparent, and in 2021, said more than half of the conflicts had been resolved.
A B.C.-based company growing fast
On the other side of the world, the rise of another pulp and paper behemoth began in 2006, when Paper Excellence was founded in Richmond, B.C.
At least, that's the story it tells the public, according to Greenpeace.
The company has massively expanded in the years since, with B.C. operations in Crofton, Port Alberni, Howe Sound, Powell River, Surrey and the community of Skookumchuck, just north of Cranbrook.
By the end of 2020, Paper Excellence had bought out nine mills in Canada — across B.C., Nova Scotia, Ontario and Quebec — as well as one in Brazil and two in France.
In 2021, it announced a $3-billion acquisition of the Domtar Corporation, which has 13 pulp and paper mills and 10 manufacturing facilities across North America.
And this summer, the company said it was purchasing Resolute Forest Products, which would give the company several more pulp, paper and lumber mills across the southeast U.S., Ontario, and Quebec. It would also take over the management of 20 million hectares of Canada's boreal forest.
If that last deal goes through in 2023, Paper Excellence will become the largest forestry company in Canada, and one of the largest pulp and paper operators on the continent.
"We've been following their takeover of forests across Canada for at least a decade," Moffatt said, who was involved in drafting the Greenpeace report.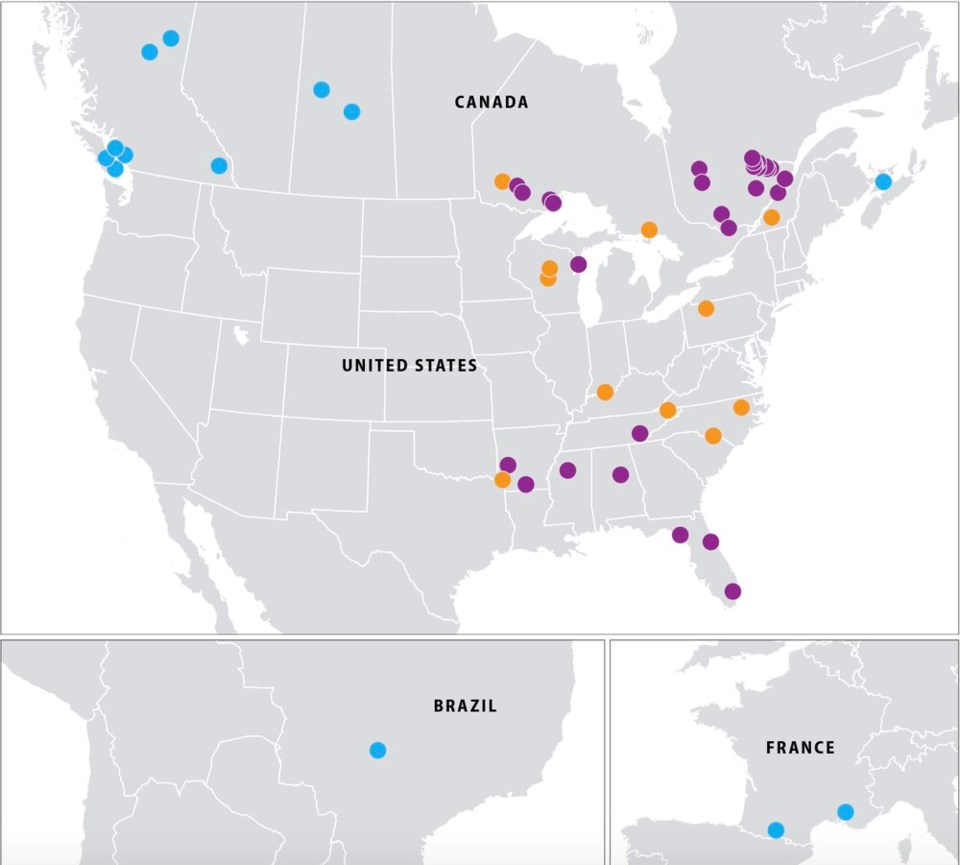 But who is benefiting from Paper Excellence's operations — and what will flow from the over $10.9 billion in acquisitions its made in the last few years — is less clear.
As the company has expanded over the years, Greenpeace says there is a growing body of evidence the company isn't as homegrown as its image would suggest.
"When local communities or Indigenous peoples are looking to kind of hold a company like Paper Excellence to account for its long-term commitments, they need to know who they're dealing with," said Moffatt.
The letterhead, a suspicious loan and family ties
The first piece of evidence the Greenpeace investigation cites that Paper Excellence is controlled by the Sinar Mas Group dates back to 2007, just after the company purchased Meadow Lake Mechanical Pulp Inc. in Saskatchewan.
In at least six letters to the environmental division of the Saskatchewan government between 2008 and 2010, the mill used letterhead stating it was "A Division of Sinarmas Group."
"In 2010, when Meadow Lake's letterhead switched from 'A Division of Sinarmas Group' to 'Paper Excellence,' there is no filing in the corporate registry that indicates a change in corporate control or ownership," states the Greenpeace report.
That same year, the report says Paper Excellence received a bank loan from Bank International Ningbo, which is owned by the Sinar Mas Group in China. The nearly $24-million loan was handed out at a non-market interest rate of 0.1 per cent, at a time when the average lending rate was 2.6 per cent in Canada. That's a 26-fold difference and another piece of evidence the Greenpeace report says may point to "transactions between related parties."
Then there's a pattern of family connections. The report says Paper Excellence's self-reported owner, Jackson Wijaya Limantara, holds one of several family leadership positions handed down since his late grandfather, Eka Tjipta Widjaja, founded the Sinar Mar Group.
The report outlines a vast network of family connections, cross-posting between related companies, and several shell companies that obscure the true beneficiaries of Paper Excellence.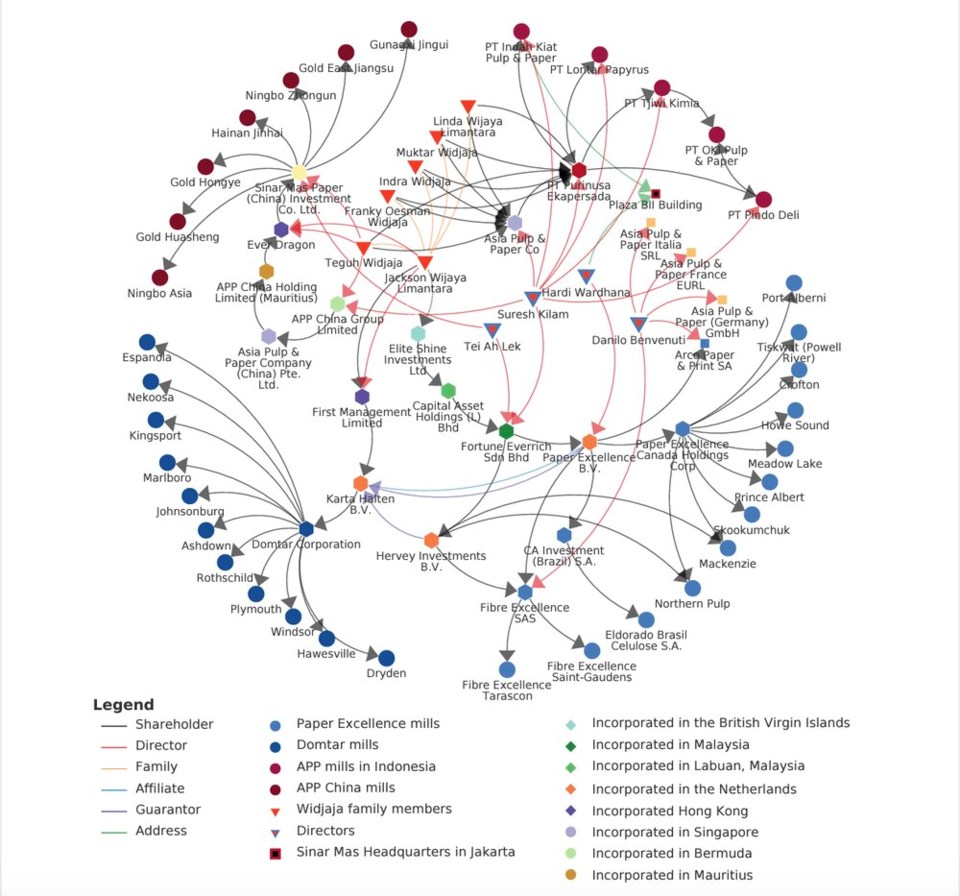 Paper Excellence did not respond to Glacier Media's requests to explain its alleged family and corporate ties with the Sinar Mas Group.
Moffatt says Greenpeace's team of investigators reached out to Paper Excellence for a response to its findings. The report includes a number of comments from Graham Kissack, Paper Excellence's vice-president of corporate communication.
In one instance, Kissack described the evidence linking cross-ownership and family connections as not relevant.
"Trusted advisers, former colleagues, even friends are sometimes asked to play a role. But this has nothing to do with the ultimate ownership and control of any company," Kissack is quoted in the report.
He is later quoted: "There are no ownership or control links with APP/Sinar Mas or anybody else."
B.C. lobbying documents reveal connection to Indonesian company
The report also points to Paper Excellence's lobbying activities in British Columbia, in one case involving former NDP president Moe Sihota.
In 2020, documents show Sihota registered with the B.C. government as a lobbyist for Paper Excellence Canada Holdings Corporation.
Those documents, submitted to B.C.'s Officer of the Registrar of Lobbyists, also show a list of Paper Excellent's affiliates, including five of the company's B.C. mills and the Sinar Mas Group.
Sihota's lobbying activities indicate that while lobbying on behalf of Paper Excellence Canada Holdings Corporation, the Sinar Mas Group — headquartered in the heart of Indonesia's capital, Jakarta — has been an "affiliate with direct interest in the outcome."
Sihota has been registered as a lobbyist for the company from August 2020 to October 2022.
Lobbying for the logging status quo in B.C. forests
Paper Excellence's lobbying records also reveal how the company has viewed the future of B.C.'s forests, particularly how to harvest old-growth stands.
Seven months before Sihota registered as a lobbyist for Paper Excellence, the company's chief forester Quinton Hayward sent a letter to the B.C. government lobbying it to maintain old-growth harvesting practices "in their current form."
The letter, sent as a submission during the province's Old Growth Strategic Review process, was made public as a filing with B.C.'s lobbyist registry.
The lobbying efforts came as protests against logging B.C.'s old-growth trees reached levels not seen in decades.
Last year, logging blockades at Fairy Creek on Vancouver Island led to over 1,000 arrests in the largest act of civil disobedience in Canadian history.
Since then, activists have turned to a number of tactics to keep pressure on governments to take action on climate change and a growing biodiversity crisis — from blocking highways, to staging a hunger strike and deflating tires.
At the provincial level, the B.C. government initiated a deferral on old-growth logging in 2021, and has since moved to negotiate with First Nations one on one to decide how to manage their forested territories going forward.
That move came after the Old Growth Strategic Review recommended a "paradigm shift" in the way forests are managed, from one focused on harvesting to one that upholds biodiversity as a guiding target.
Through it all, it's not clear if Paper Excellence's history of lobbying for the status quo in the logging industry still holds two years later.
Glacier Media reached out to the company with several questions — from its links with the Sinar Mas Group to its current view on where forestry policies should go — but did not receive a response by publication time.
"If a company is going to maintain that position [on old-growth logging], if that's what they're going to be advocating for, at least be transparent about it, at least be public about it," said Moffatt.
"They're clearly going to be one of the biggest operators if not the biggest operator on the landscape for many years to come. So the decisions that they take, and who they are is gonna have a profound effect on forests for generations."