August thunderstorms are falling over B.C.'s coast and are creating the potential for new wildfires.
Environment Canada posted the thunderstorm outlook for Monday, saying on the heels of a hot spell, the public should watch for thunderstorms.
"Lightning combined with ongoing dry conditions will give a possibility of new wildfires," said the national weather agency.
Inland Vancouver Island and North Vancouver Island are under a severe thunderstorm watch by Environment Canada.
"Conditions are favourable for the development of severe thunderstorms that may be capable of producing strong wind gusts, large hail and heavy rain," states the watch.
The threat area is largely inland areas and mountainous terrain. Environment Canada says this includes portions of Highway 19 and 28, west of Campbell River.

A severe thunderstorm warning was issued for Inland Vancouver Island but was changed to a watch at 1:41 p.m.
Severe thunderstorm watches are issued when atmospheric conditions are favourable for the development of thunderstorms that could produce one or more of the following: large hail, damaging winds, and torrential rainfall.
As of 1 p.m., Environment Canada meteorologists are tracking a severe thunderstorm capable of producing strong wind gusts, up to nickel-size hail and heavy rain. The severe thunderstorm warning is for 20 kilometres southwest of Upper Campbell Lake and moving northwards at 30 km per hour.
"This severe thunderstorm is expected to move over Highway 28 near Elk River Bridge within the next half an hour," states the warning.
The warning falls over a large area of Vancouver Island and can be viewed on Environment Canada's website.

People are taking to social media on Monday afternoon confirming they've heard thunder, including in Victoria's Oak Bay area.
A map showing the 'weather threat' shows B.C.'s coast at a moderate threat. Areas near Haida Gwaii and closer to the Interior are listed as a minor threat.
The Canadian Lightning Danger Map shows Vancouver Island at greatest risk of being struck by lightning as of 1 p.m. on Monday.
Environment Canada advises people in these areas are in immediate danger if outdoors. They should go to a safe location, either a building with plumbing or wiring or an all-metal vehicle.

The risk of thunderstorms continues on Tuesday afternoon, but is not forecast for Wednesday.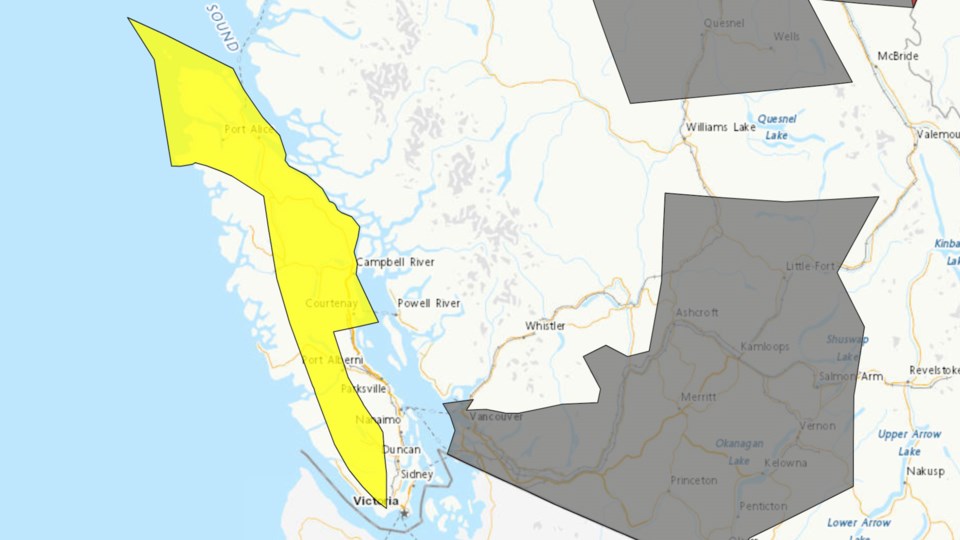 High smoke levels continue
An air quality advisory remains in place in many areas of the province due to wildfire smoke from wildfires burning in B.C. and Washington.
Environment Canada issued a special air quality statement for much of B.C. on Aug. 25 and it remains in place.
Bulkley Valley, Cariboo, Central Okanagan, Elk Valley, Fraser Canyon, Fraser Valley, Howe Sound, Lakes District, McGregor, Metro Vancouver, Nicola, North Okanagan, North Peace River, North Thompson, Prince George, Shuswap, Similkameen, South Okanagan, South Thompson, Stuart Williston and 100 Mile are all under a special air quality statement.
Smoke levels have started to improve on Vancouver Island, expected to expand to the Lower Mainland.
On Monday, smoky conditions persist and PM2.5 levels continue to be elevated across the region, with the highest concentrations in the eastern Fraser Valley.
It is expected that PM2.5 concentrations will remain elevated for much of the Lower Mainland through Monday and the air quality advisory for fine particulate matter is expected to continue today.
Relief is expected with smoke models showing an improvement in air quality starting Monday night and into Tuesday "due to a change in weather but there is still a large amount of smoke present and it may take some time to see significant improvements."
Heat warning still scorching
A heat wave continues to send temperatures soaring in B.C.'s north coast on Monday.
Environment Canada has issued a heat warning for the North Coast inland, including Kitimat, with temperatures reaching 30 C.
The heat is expected to cool off on Tuesday as the ridge breaks down and moves east.
B.C.'s Peace Region and Fort Nelson are also under a heat warning on Monday with daytime highs between 30 to 32 degrees. Temperatures are expected to cool off by Tuesday night.