As extreme drought levels prompt authorities across B.C. to ban lawn watering, several municipalities across Metro Vancouver have moved to take a different tack: reward the best brown lawn.
The cities of Chilliwack, Abbotsford and Mission are calling it the "Ugliest Lawn Contest." In Port Coquitlam, it's been dubbed "Golden Streets." The idea, municipal staff say, is to flip the narrative — instead of threatening scofflaws with fines for breaching watering regulations, the competitions are meant to spur a culture that embraces a sprinkler-less summer.
"Why not have some fun with everyone's lawns having to go brown or gold?" said Port Coquitlam Mayor Brad West.
"It's kind of a creative way to encourage people."
Each of the communities is offering residents prizes for the ugliest or most golden lawn. In Chilliwack, the city is giving out three Visa gift cards of up to $150 for the best photo of a dry lawn. In Mission and Abbotsford, the best dormant lawns will be awarded points for using grass alternatives, such as perennials or stone landscaping that requires little to no watering.
In Port Coquitlam, prizes for the best "maintained, but not watered" lawn include a $150 credit to host a block party and three gift cards to local businesses.
"There's nothing wrong with a brown lawn," said Karin England, a landscape architect with Metro Vancouver Regional Parks. "Think of the prairies, the golden swaying grasses. It's natural. It's saving its energy and resources."
A guide to planting better
England said lawns were invented in the 17th century by the upper class in Britain.
Today, with a changing climate and housing crisis, filling up a backyard with grass makes increasingly less sense.
"Only really rich people had them. It took so much maintenance that it was a way to show your power and wealth," she said.
Besides avoiding lawn watering in the hot and dry summer months, England said the regional body is doing what it can to help people transition permanently away from grass lawns.
England suggests using Metro Vancouver's Grow Green Guide to plan out a more sustainable backyard. The guide helps people across the region design an outdoor space and plan what to plant based on local climate conditions.
Some examples include using native plants or rock gardens to create low-maintenance outdoor spaces. Grass replacements such as creeping thyme require very little water and are excellent for pollinators. England said they grow less than an inch tall, are evergreen and require no mowing, no fertilizing, no aerating and no patching.
"So prettier, less work, better for the environment," England said.
A cultural shift
Even without a municipal competition, many people across B.C. appear to be more amenable to letting their lawns go brown.
When Deborah Curran moved into her home 10 years ago, she said only a handful of neighbours let their lawns dry out in the summer. Today, of the 80 odd homes in her District of Saanich neighbourhood, that ratio has flipped.
"There are now only three or four where they actually water through the summer," she said. "So it's completely brown lawns, except for a few."
Curran, who is the executive director of the Environmental Law Centre at the University of Victoria, attributes that cultural shift to the Capital Regional District's water restrictions and education promoting people to take the "brown lawn approach." But Curran said there's still a long way to go.
"The reality is that 50 per cent of our water use in the summer is outdoors," she said. "A lot of it is attributed to lawn watering and flowers."
Getting away from a culture of lawn watering would free up a huge amount of water that could be used to fill rivers for fish during drought periods, or be redirected to whatever other priorities a town or city has, she said.
Brown lawn competitions need to grow alongside metering, says expert
Curran said that offering "brown lawn awards" is a very good first step. But it needs to happen alongside an amendment of water rates to charge more for how much water people consume. Much of the province has water meters in place and so is set up to do that. But in Metro Vancouver, that infrastructure is absent and would require a significant investment.
The benefits, said Curran, are invaluable. First, it would allow cities to charge a block-rate system where everyone would receive a base rate for the water they require to bathe, do laundry, eat and drink. More expensive tiers would be charged to households that go above and beyond that base rate — to water lawns, wash a car or fill a swimming pool, for example.
Curran said the system, which she said would pay itself off within a few years, has been shown effective at conserving water in other jurisdictions.
"The brown lawn competitions is a great start, but we're going have to take a much more concerted action in the next five years to shift the way that we use water," she said, pointing to meeting basic potable water needs across B.C.
"It's going to have to happen pretty quickly."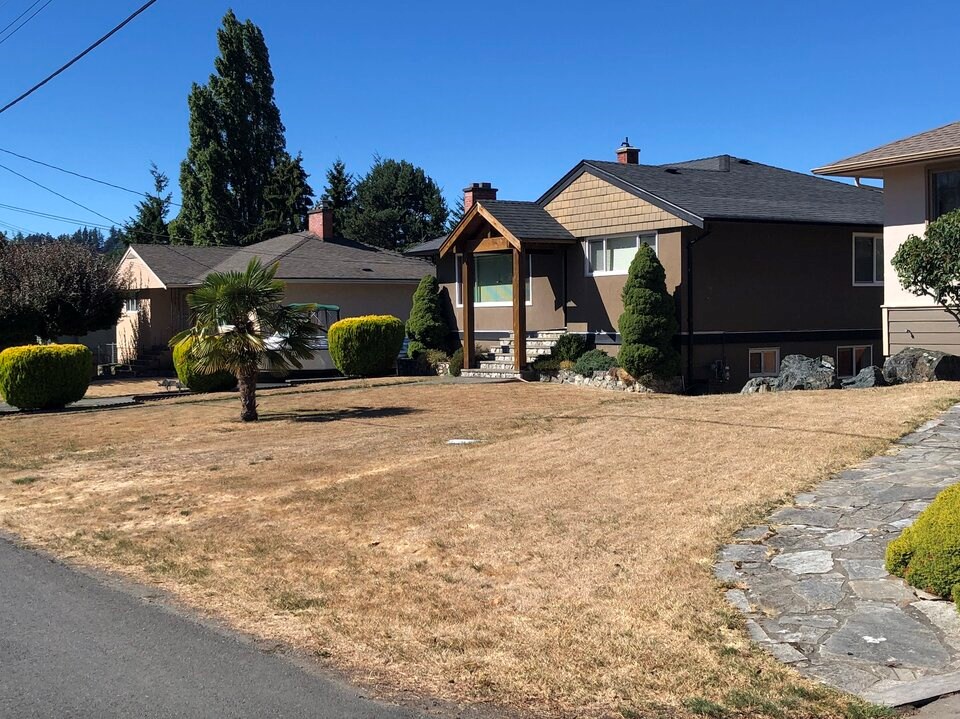 If it doesn't, some drastic actions now being taken in drier parts of North America could make their way north. Consider California, where residents have been offered rebates to replace lawns with drought-resistance foliage since 2009. The Grass-for-Cash program, as it's known in Los Angeles county, offers $1 per foot up to a maximum of $5,000.
But for Port Coquitlam's mayor, persuading residents to let their lawns go golden is still about making a good personal choice before collective water levels hit dangerous levels.
"We're in this place where we're all being asked to do this and people's lawns are going brown," West said. "How can we have some fun that provides encouragement to folks, and, you know, maybe takes advantage of people's competitive nature.
"We are the hometown of Terry Fox, after all."