Collector and historian Jason Vanderhill has been contributing to our blog for some time, as well as to our real-life pile of Vancouver historical artifacts. A tall man with a tall heart, I often find myself on the receiving end of old books and collectibles that have to do with our city's history. He's constantly surprising me with the incredible gems that he digs up, and what has become almost a library of Vancouver-related books at our downtown office holds many pieces that have been donated by Jason.
While he was working on his exhibit, Vancouver Imagined: The Way We Weren't (on now at the Museum of Vancouver), he came across a map/blueprint of the False Creek Basin that was drafted (by hand, on a drafting table no doubt) by the City Planning Department back in May of 1987. Jason came by my home (in Southeast False Creek) for a visit yesterday and dropped it off as a work of art, with a number of my photos I've shot in my neighbourhood on top of it. I'm not sure how I'm going to display this great piece of Vancouver - with the photos on it or not - but guaranteed it's going up on the wall.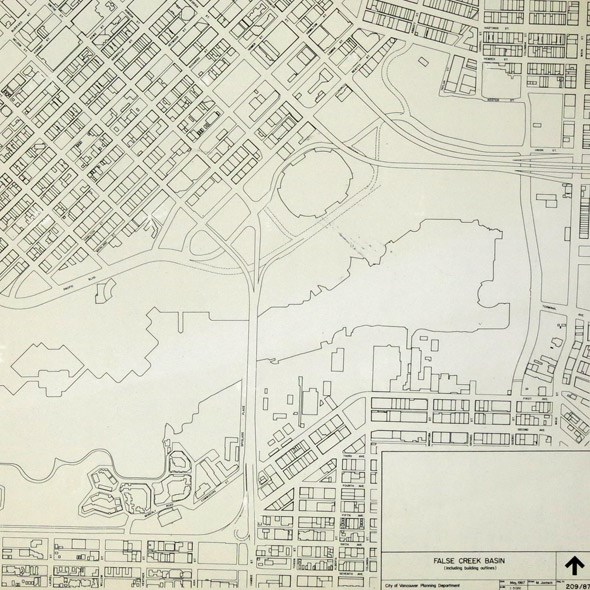 Have a close look above. This was a time before Rogers Arena was built. Yaletown as we know it now was but a glimmer in Concord Pacific's Li Ka-Shing and Terry Hui's eyes. And my neighbourhood of Southeast False Creek was still zoned as industrial. So many changes have occurred in our city since this was drafted up, and many more are on the horizon as SEFC gets built out further, the viaducts evolve (disappear?), and more change results. This piece of 80's Vancouver is such an amazing addition to our collection!
Head to the Museum of Vancouver and check out Jason's exhibit which runs into this summer. More info HERE!