Last summer, writer Eve Lazarus was wrapping up a book on Vancouver's most infamous unsolved murders: 17 cold cases she handpicked from hundreds still on the books of the Vancouver Police Department and surrounding suburbs. Shortly after sending the manuscript to her editors, Lazarus received a phone call from a historian at the North Vancouver Museum and Archives. They had inherited a photo album belonging to Jennie Conroy, a 24-year old war worker murdered near the West Vancouver cemetery in 1944, whose killer was never found. Would Lazarus be interested in taking a look? Intrigued, Lazarus wrote about the photo album on her blog, noting there was little information about Jennie in online databases. She soon heard from the victim's niece who revealed that Jennie was an unmarried mother who - unbeknownst to her family – had given birth to a daughter three months before her death. The exchange between Lazarus, Jennie's niece, and eventually Jennie's daughter (who was now in her 70s and living in New Zealand), sparked a collaborative investigation that became Chapter 1 in Cold Case Vancouver.
On Thursday May 26, Eve Lazarus will give an illustrated talk on Vancouver's history of crime, corruption and unsolved murders featuring stories from her books Sensational Vancouver and Cold Case Vancouver. The talk, part of the Vancouver Historical Society speaker series, is by donation at the Museum of Vancouver (1100 Chestnut St) at 7:30pm.
In an interview with VIA, Lazarus shares how she became fascinated by Vancouver's criminal past, the challenges of pulling apart evidence on decades-old cases and why it's a myth that this city was a safer place in the 'good old days.'
1) How do stories about unsolved murders shed light on the city's history?
When I was writing Cold Case people were always telling me how much safer Vancouver was in the old days. It wasn't. Vancouver had a violent streak and a string of sexual predators.
During the post second world war years right up until the 1980s Vancouver could be a dangerous place for women, children, immigrants, and gay men. The murders, or perhaps the way the murders were investigated were a product of their times. Take Jennie Conroy, for instance. When police leaked to the media that she was a 24-year-old unwed mother, she was blamed for her own murder [police suggested Jennie's behaviour had become "obscure" in the year before her murder and that she was likely associating with "questionable companions"]. Her story allowed me to explore what it was like to be a single mother during the Second World War. In 1954, Robert Hopkins, a 48-year-old gay printer, was strangled and shot in his quiet suburban home. Homosexuality was illegal and gay men lived closeted lives otherwise they'd be ostracized socially, lose their jobs, their place in the community, and most likely their families. If a crime against a gay person did make it to court, the "homosexual panic defense" kicked in and was highly successful in beating the charge.
2) Previously, you've written about Vancouver's heritage homes (At Home with History) and on the history of entertainment and police corruption in Vancouver (Sensational Vancouver). How did you become interested in unsolved murders?
In each of my last three books I've written a chapter about murders filtered through the houses where they happened. The ones that really stuck with me were the unsolved ones and I really wanted to write a book that looked at the whole psychology of murder—the victimology, the forensics and the police investigation. With cold cases, I'm really interested in telling the story of the victim and then putting the murder into a historical context—or what I mean by that is giving the murder a sense of time and place.
3) Tell us about the research process behind your latest book: What was most challenging?
Because police won't talk to media about unsolved cases, even really old ones, wherever possible I tried to track down the original investigating police officer, as well as family and friends who could give me personal, first-hand accounts. Finding people from 40, 50 even 60 years ago, was a full-time job in itself. As well as the interviews I relied heavily on original newspaper accounts, vital statistics—especially death certificates, autopsy reports, obituaries, and the archives of the Vancouver Police Museum.
4) Why do you think murder is a topic that intrigues people so much?
There seems to be an endless fascination with murder, especially when you see all the crime shows, true and fiction, podcasts and bestselling books. I think with unsolved murders it's the mystery of it, and particularly with the murders that I've chosen to include in the book, it's the randomness, the fact that they were just in the wrong place at the wrong time. For instance, there's the seven-year-old boy murdered on his way to school; the 39-year-old mother of two stabbed to death just blocks from her house, or a 16-year-old girl raped and strangled on the way home from a North Vancouver party.
5) You have a widely read blog and facebook page. What has the public's reaction to Cold Case been? Have you reached a different kind of audience than you did with your earlier books?
It's really hard to tell who is reading Cold Case, but intuitively I'd say it is a different audience from my other books. At Home with History and Sensational Vancouver for instance were "popular" history books with a touch of crime, Cold Case is part crime story, part history book. Shortly after the book came out I started a Cold Case Canada facebook page so people could comment on these stories or others outside of Metro Vancouver. At the moment it's mostly me posting stories on the anniversaries of murders or about new developments in forensics or investigative techniques, but quite often, family members and friends leave comments, and I'm hoping other people will start posting stories, information, and maybe even tips.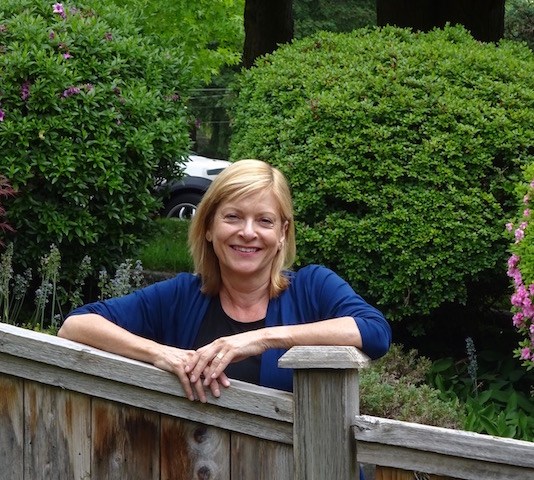 Eve Lazarus' latest book, Cold Case Vancouver: The City's Most Baffling Unsolved Murders, is a BC bestseller and a 2016 finalist for the Bill Duthie Booksellers' Choice Award. Her other books include Sensational Vancouver and At Home with History: The Untold Secrets of Greater Vancouver's Heritage Houses. Eve blogs at Every Place has a Story.