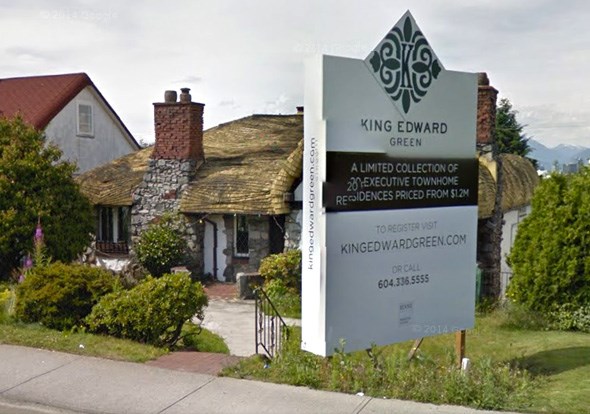 Photo: Google Street View
Seeing a sign like the one pictured above pop up in front of an iconic residence like the Hobbit house on King Edward near Cambie can be disconcerting to say the very least. As necessary densification happens in our neighbourhoods in order to make way for all the new residents coming in, heritage sometimes takes a back seat and beloved landmarks disappear. While it may look like it's about to get bulldozed here to make way for condos, I have good news: the house isn't going anywhere. In fact it's being restored.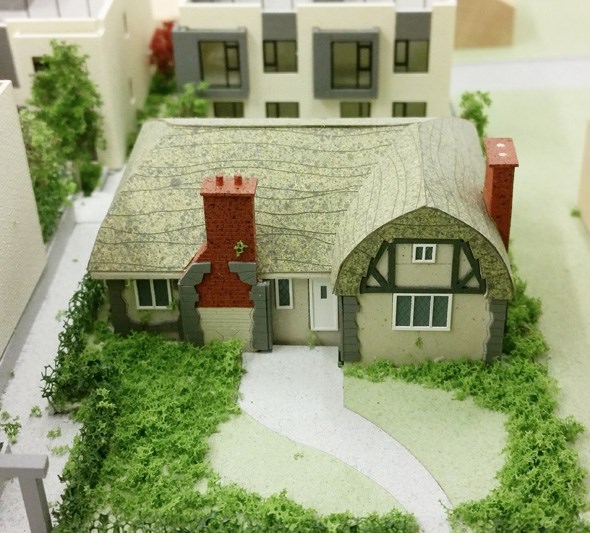 I happened upon the story while I was visiting a friend at Rennie Marketing Systems yesterday and spotted an architectural model of a new townhouse development which included a teeny tiny Hobbit house.
Since 1942 The James Residence (as it's officially known) has been one of a few of this style of storybook homes standing in the Lower Mainland. There's another one on West Broadway which was restored recently, this one actually has an identical twin out in West Vancouver, and it's not likely that we'll see a thatched cedar roof like this built here again.
Last May some of the local media outlets (CBC, The Courier, etc) wrote about the property being bought and that the developer had applied for it to be rezoned. The news was that they had picked up 4 parcels of adjoining land and were hoping to build 20 townhouses on them, all the while restoring the Hobbit house and getting it a better heritage designation so that it will always be a part of our landscape. I didn't see anything written about it after it was approved and while it was almost a shoe-in I'm pretty happy to bring you the good news.
The development being built is called King Edward Green and the Hobbit house is actually already sold! A few of the townhouses adjacent to it are still available though, and they're all 3 storeys (with basements), starting at $1.2m. Not exactly in the range of my Hobbit-sized budget but those 20 homes will surely sell out soon.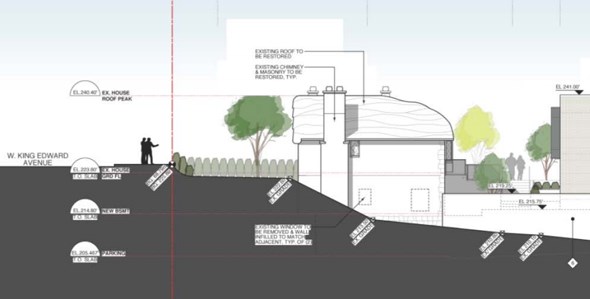 If you want to dig deeper (like real deep) into the story of how it was saved have a look at the approved 42-page rezoning application on the City of Vancouver's website HERE.