A Vancouver time travelogue brought to you by Past Tense.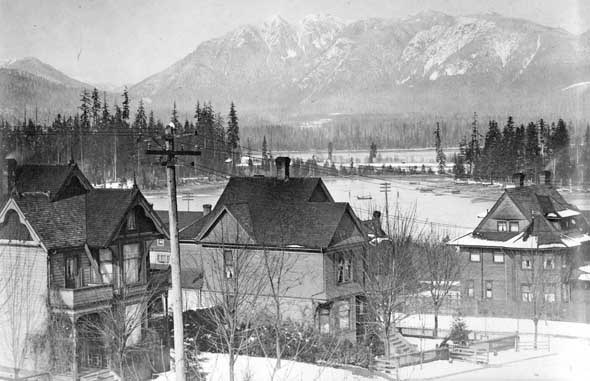 The first exclusive neighbourhood in Vancouver was on the CPR land acquired from the Three Greenhorns, on the bluffs overlooking Coal Harbour and nicknamed Blue Blood Alley. Some sources say Blue Blood Alley refers to West Georgia Street, while others say it was Seaton Street (now Hastings west of Burrard), but it may have been the general area. Note the killer view, including the squatter shacks on Deadman's Island.
When the rest of the West End was cleared and developed as a residential neighbourhood, it was similarly well-heeled. Eventually less well-to-do folks, even renters, began seeping into the area, and the uppercrust decided it was time to go.
The CPR opened up Shaughnessy Heights in 1909 with the intention of it developing as the new prestigious neighbourhood. Lots were offered for a mere $50 down, but only on the condition that the buyer spend at least $6000 to develop their property. During the Depression, many people lost their homes and the area was derisively called "Poverty Hill" and "Mortage Heights." TheGlen Brae, or Tait Mansion, was being rented out as a kindergarten for $75 per month.
Later in the 1930s, the British Properties in West Vancouver was developed as the next posh neighbourhood. This time the development was financed by the Guinness beer family, not the CPR, which included construction of the Lion's Gate Bridge to make it accessible. Earlier attempts to build a crossing at the First Narrows were thwarted by a city council wanting to preserve the integrity of Stanley Park, but during the economic crisis, the City was in no position to turn down such a major financial investment and job creation project.
As for the West End, most of the mansions there were converted to apartments or rooming houses, and were then torn down mid-century to make way for the densely populated West End we know today. A handful remain, includingRoedde House, Gabriola Mansion, and Abbott House, the only survivor of Blue Blood Alley.
Source: View from 1287 Robson Street, ca. 1902, City of Vancouver Archives#Van Sc P123.1