A Vancouver time travelogue brought to you by Past Tense.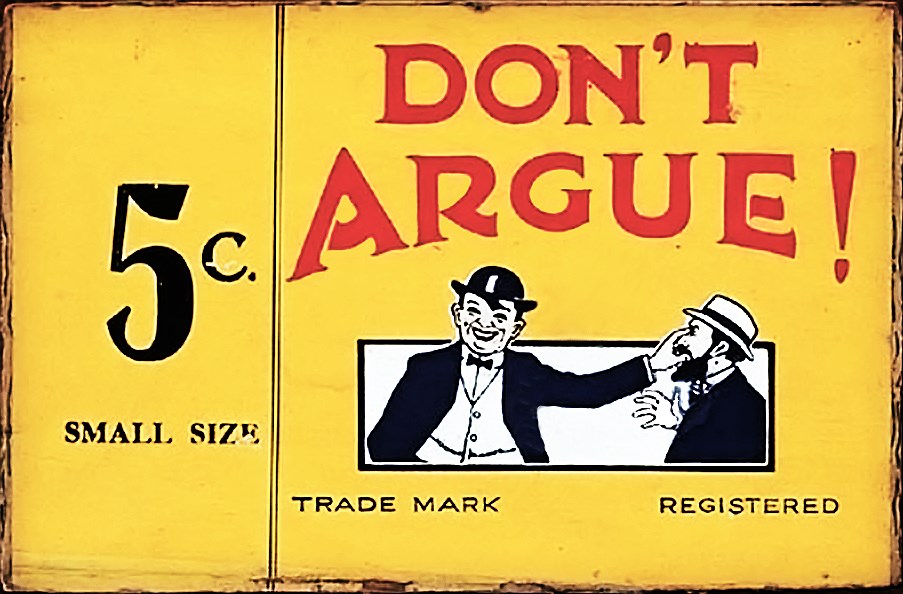 Con Jones came to Vancouver from Australia in the early 1900s. He opened a chain of billiard halls/tobacco shops using this brand as his signature. His advertising slogan was "Don't Argue - Con Jones sells fresh tobacco," which was accompanied by the vaudevillian image shown above. Jones' "Don't Argue" signs were a familiar sight around town, and his brand could also be found on tokens, match boxes, and other products sold in his stores. He's also credited with installing the first neon sign in town.
Con Jones was also a major sports promoter in Vancouver, particularly of lacrosse and soccer. Callister Park on Renfrew was once owned by and named after Jones, and was the city's top soccer field. In the 1910s, Jones was determined to bring the Minto Cup to Vancouver, at a time when lacrosse was far more popular - and lucrative - than hockey in Canada. Jones succeeded, and in 1911 Vancouver won both the Minto and Mann cups, in part because he used buckets full of money to lure top players from the east, including hockey legend Newsy Lalonde.
Con Jones had a seizure and died in 1929 while watching a soccer game at Con Jones Park.
Source: Don't Argue trimmed wood cigar box lid, Canadian Museum of Civilization #CNC 2001.185.37, Tony Hyman Collection